Some new rumors about true wireless earphones have surfaced on the web Samsung Galaxy Buds Live. This product, which will go alongside Galaxy Buds + (available on Amazon), will have a new one design and some very cool features.
First of all, according to rumors, the earphones will be recognized as Samsung Galaxy Buds Live. Previously, there were different speculations names, including Galaxy Buds Bean, due to their bean-like shape, and Galaxy BudsX. The name was confirmed by an update of the Galaxy Buds app for iOS.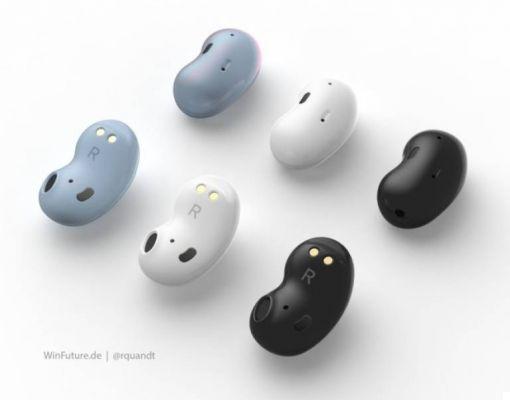 We should find gods driver from 12 mm signed AKG - a well-known Austrian manufacturer of microphones and earphones -, two microphones internal and one external. As for the battery, there is talk of 7,5 hours of autonomy, therefore more disappointing than the model currently available on Amazon. However, battery life could drop to 5,5 hours with the microphone always on and 4,5 hours with noise cancellation always active.
You will be able to recharge the battery with the CASE​ included in the package: by doing so, the maximum duration should reach approximately 28 hours (20 hours if the microphone and noise reduction are active). According to colleagues at Winfuture, it should take just 3 minutes to get 35 minutes of music playback.
As regards the price, we talk about 190 € for the European market. To find out all the official details we should probably wait for the event set for August 5, in which we will perhaps also find Galaxy Note 20.
Looking for high quality, comfortable and inexpensive earphones? The popular Samsung Galaxy Buds +, the new true wireless earphones, are available for purchase on Amazon. You can find them at this address.