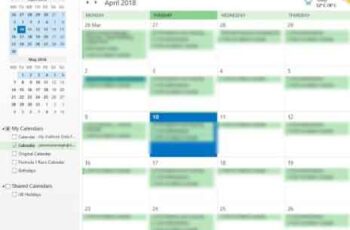 If you like to mix and match your applications or work somewhere that uses G Suite or Microsoft Office, you may want to sync Google Calendar with Outlook or vice versa. This tutorial will show you how to do it.
Both apps work (mostly) well together, and you can sync one calendar to the other so you never miss a meeting again.
Google Calendar comes bundled with Google Apps, which includes popular apps like Gmail, Google Docs, and Google Sheets.
Google Apps is free although the business version, called G Suite, comes with email hosting and other features that organizations need have a monthly fee and different levels of service. Google Calendar is a simple but effective calendar app that you automatically have if you use Gmail.
Outlook also has a built-in calendar which is a slightly more complex calendar app.
Both calendars let you go through other calendars and show reminders, which is great for work and home and has great potential to help you stay organized.
How to add and manage Zoom meetings using Google Calendar
Synchronize Google Calendar with Outlook
To truly sync your calendars you will need another third party tool. While you can add your Google Calendar to Outlook and vice versa, neither will update properly on the other's platform.
There is a wide variety of useful tools available on the web. Some have free options, but to get an optimized experience, you'll likely have to pay a monthly or annual fee to use services like auto sync.
SyncGene - This service offers a free version that allows you to sync your calendars, but unfortunately the two won't update automatically. If you're particularly interested in having everything in one place while keeping yourself organized, it might be worth it.
CalendarBridge - CalendarBridge offers the same features as SyncGene, but doesn't have a free option. Fortunately, the paid options are slightly more affordable and include automatic syncing.
If you're thinking this is starting to look a little harder than it should be, don't worry. You are not alone. Fortunately, below are some options for linking your calendars without external services. However, this won't include the same perfect functionality as the options we've listed above, but there are simple steps to get you going.
How to get Google Calendar to appear in Outlook
It's very easy to connect your Google Calendar with Outlook and should only take a minute or two:
Open Google Calendar and log in.
2. At the bottom left, hover over the calendar you want to view in Outlook (if you need to add multiple calendars, simply repeat this procedure for each one). Hovering the mouse cursor will show three vertical dots, tap there.
3. Next, click on the option Settings and sharing .
4. A new page will open, scroll down to the "Integrate Calendar" header. From here, you will find a clickable link below Secret address in iCal format . We like this link because your Google Calendar will remain private. Copy the link to your devices clipboard.
5. Now let's move on to Outlook. Note that it works best with the desktop client. We have encountered some problems with the web version. In Outlook, click Menu icon in the upper left corner, then click Add calendar .
6. In the new window that appears, click Subscribe from the web and paste the link from Google into the URL box, then click Import.
7. Now, follow the steps to complete the process. Open the Calendar tab in Microsoft Outlook, you can see all your Gmail calendar reminders synced perfectly with Microsoft Outlook.
Your Outlook calendar should now be populated with your Google Calendar entries. Outlook uses the same update mechanisms to download new emails and any calendar updates so that your calendar stays up to date
If you're having trouble and just want to clear your Google Calendar and start over, we recommend clearing all events from your Google Calendar.
Microsoft Office alternatives, the best
Synchronize Outlook with Google Calendar
If you want to keep both calendars up to date instead of just syncing them with each other, you can too. How can you sync Google Calendar with Outlook, you can do it in reverse and sync Outlook with Google Calendar
I'll start with the steps for Outlook installed on your computer from within the Office suite as an example, then I'll cover how to do this for Office 365 later.
Open Outlook and select the calendar.
Select Publish this calendar from the ribbon tools.
Outlook Web Access will open in your browser, sign in.
Select a calendar from the OWA page that opens. Make it public the calendar so you can share it.
Select Save to keep your settings.
Copy the link in the next window. You should see two, one HTML and one ICS. Copy the ICS link.
Access your Google Calendar via the browser.
Select I my calendars a left and select the icon + next to Add a friend's calendar .
Select Yes UR L and paste the URL where it says Calendar url .
Select Add calendar .
Your Google Calendar should now be populated with your Outlook calendar entries. Since you signed up for the calendar, it should be regularly polled for changes just like for email.
For Outlook within Office 365, the process is pretty much the same for the Google part but different for the Outlook part:
Select the gear icon from the Office 365 dashboard to access Settings .
Select Share .
Enter your Gmail address in Share with and select Send .
Open your mail and copy the URL ending in "reachcalendar.ics".
Access your Google Calendar via the browser.
Select I my calendars a left and select the icon + next to Add a friend's calendar .
Select Yes URL and paste the URL where it says Calendar url .
Select Add calendar .
As with Outlook, Google Calendar should regularly poll your Office 365 calendar. Depending on how your Office 365 installation is configured, you may need to change permissions to allow Google Calendar to read your Office calendar.
To do this, select I my calendars in Office and then Permissions. Select your chosen sharing options and then Save .
If you are a home user, you should be able to do this without a problem. If you're at work, you may not have permission to change sharing or any Office settings. If so, you should follow it up with your IT team.
Syncing Google Calendar with Outlook and vice versa is an easy way to use multiple applications to manage work-life balance and stay organized.
FAQ
Does Outlook have a calendar app?
Not exactly, if you have the Outlook app on your mobile device on your computer, you can access the calendar from there. Open the Outlook app on your device and select the small calendar icon in the lower right corner.
From here, the calendar will occupy the entire app interface (acting very similar to your own app). You can schedule meetings, create alerts, and invite people right from the Outlook app.
How do I make my account private again?
After following some of the above steps, you may be concerned about account privacy. To restore your account privately, simply follow the same steps above and uncheck the "Public" option.
Can I add other email accounts to sync all my calendars?
Yes, you can add any email server to Outlook. Assuming the service provider offers a calendar option, they should sync automatically. Depending on your email client, you may need a port number or other information to complete the merge.
Particularly in the case of ISP email clients, you can visit the email help page to get the information and instructions to add your email address to the Outlook app.
If you have other ways to do this, please let us know in the comments below!
Further Reading:
How to sync your Outlook account with Gmail
How to enable or disable Google Sync
How to add and manage Zoom meetings using Google Calendar
How to use iCloud on Android
Google Meet and Zoom: what are the differences?