After being anticipated by dataminers, as is increasingly the case, even this Thursday the fans of Fortnite found themselves facing a new series of weekly challenges. The current one is there fourth week for this fourth season, and has brought as usual a series of new content that will keep players of the hit Epic Games title busy for several hours.
The main challenge of this guide requires players to find the remains of a Binder and then use it as a real one doing a variety of damage to enemies. Precisely it will be necessary to do a damage equal to 10.000 damage points in total to complete this challenge. The interesting thing is that by completing this challenge, you will be able to complete a second one as well as to use a Collector you will necessarily have to destroy one of the robots.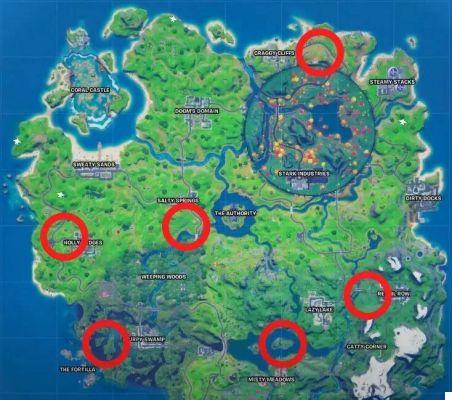 To find the precise locations of the Binders you can take a look at the map also published by the Fortniteinsider editorial staff. Once you have reached one of the points of interest, all you need is destroy one of the Collectors and use it as a real laser shooter. Be careful though, you will have a time limit to take up these strange weapons, since once destroyed they will take very little time before they destroy themselves in a thousand pieces.
Obtained a Collector you will have to use it as a weapon starting to shoot at the enemies that you will find in your surroundings. What do you think of this new Weekly Challenge? Have you already managed to find one of the points of interest where to find the Binders? Tell us yours in the comments section.
Fortnite | Helpful guides and articles
To stay tuned to all the updates happening in the world of Fortnite, these other articles of ours will surely be for you.
Where to destroy the collector's windows at the Collection
Apple again lashes out against Epic Games
Fortnite, PS5: the new trailer shows the next-gen version with release date
If you are a Fortnite fan, you can buy this colorful themed T Shirt on Amazon at this address.