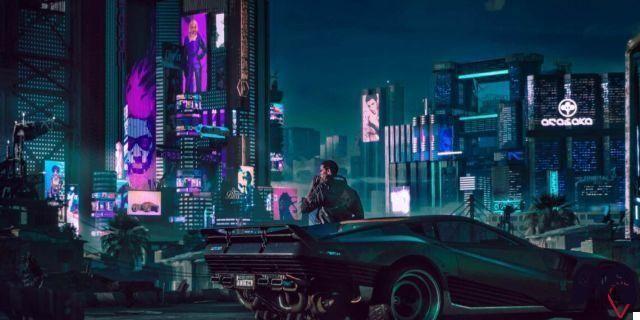 This mission of cyberpunk 2077, license plate title CD Projekt RED, unlocks after completing Double Life. In this guida a The Beast in Me we want to provide you with all the details on it, explaining how to complete it easily.
For more information on the game, we refer you to our specific section of Cyberpunk 2077, here is the link to access it, we also attach below all our guides on the game.
Guide to all love affairs in the game
Complete guide to all Tarot graffiti
Guide to trophies and Platinum
Guide to the endings and how to unlock them
Guide to all legendary and unique weapons
Guide to all legendary and unique armor
Complete guide to the skills, attributes and talents of the game
Complete guide to all vehicles in the game
Complete guide to all bosses in the game
Complete guide to tutti i Cyberpsicopatici
Drive the Porsche 911 and Johnny Silverhand's pistol for the Samurai Jacket
Guide on how to repair your car
Guide on how to make money quickly
Guide for quick travel and points on the map
Guide to creating objects
Guide on how to get infinite money
Here are some builds that are ideal for the game
Guide on how to take the Akira inspired motorcycle
Guide on how to unlock the secret ending
Guide for resetting Skills, Attributes and Talents
Beat on the Brat side mission guide
The Prophet's Song side mission guide
I Fought the Law side mission guide
Tune Up & Epistrophy side mission guide
The Beast in Me side mission guide
Complete guide to all Contracts
Guide to the choices to be made in the story
Complete Guide to Legendary Cyberware
Guide to all websites related to missions
Guide to the Colombario and who you can find us
Guide to the most interesting Easter Eggs
Guide to all side missions
Complete guide to hacking and hacks
Before leaving you to guide, we remind you that in the following text you could read some major or minor spoilers related to Cyberpunk 2077, regarding various playful sections and different details on the story created by CD Projekt Red. We therefore advise you to proceed with caution before completing the game's campaign in its entirety.
Claire will call you, then go to Arroyd's workshop during the day. However you can also meet at Afterlife at night. Accept the assignment he offers you. To get to the finals it is necessary achieve satisfactory results in three different qualifiers, which do not take place soon, but you will need to go to designated meeting places in each district, then call Claire after receiving her message. In the initial part of this mission you will choose to race with your car, or use Claire's car which is called Beast, undoubtedly it is a well balanced vehicle.
City: It's a race based on speed and tight corners. Know that the cars driven by your opponents are corporate and of high quality. The route is busy and try to keep a brisk pace, but remember to slow down before taking the curves.
Bandlands: You will drive on a path with little traffic but very bumpy. When you realize that the car will no longer hold the road, slow down and do not lose sight of the path in front of you.
Santo Domingo: This is a very treacherous course that will require all your piloting skills. The roads are busy, the bends even at 90 degrees, there are straights to go through at full throttle and dangerous hairpin bends. At the end of the race Claire will want to meet you at the dam. You will have three choices, either to agree to help her kill Sampson, or to convince her not to by letting her know that you will continue to compete to win, "My priority is to win", or to refuse to be involved in situations. With this refusal, the mission will be interrupted.
The big race: This race will start normally, but when Sampson's car has to retire due to damage, you will have choices to make. If you ignore Claire's request and continue to compete, you can win and get the cash prize. This choice will have consequences, that is, Claire will get mad at you and carry back some afterlife in your later encounters and her bartender skills at Afterlife. Otherwise, you can abandon the race to hunt down Sampson and an accident will occur. Claire will kill him anyway because she wants to avenge her dead husband. Finally, if you tried to convince Claire not to kill Sampson at the end of the Santo Domingo rush, you can act before she takes him out. Approach them and tell Claire you want to hear from Sampson why he is not responsible for her husband's death. During the dialogue always respond in such a way as to maintain her position taken by her, until you convince her to let go of her and save Sampson's life. In both situations where you go after Sampson, Claire will give you her Beast car. If you finish the race, however, you will not be able to have it. If you save Sampson's life, he'll give you his car as a thank you.