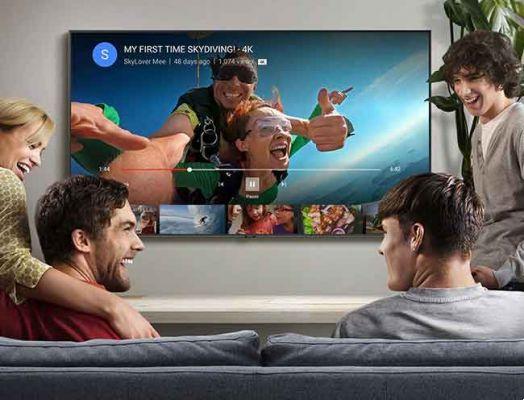 In the Samsung smart TV app market, you'll find all the obvious highlights, including Netflix, Hulu (for those in the US), Amazon Prime Video, and YouTube. However, the Samsung Smart Hub is filled with all kinds of other great smart TV apps, all available for download from the Smart Hub Store right now.
After testing dozens of the best Samsung TVs over the years, we have narrowed down a list of Samsung Smart TV apps for download on the platform that will offer entertainment galore.
That's why we've rounded up 13 of the best Samsung Smart TV apps for your new Samsung smart TV. If you want the complete and exhaustive list, you can find it on Samsung's website, although our summary should save you some time.
Today we bring you the best Samsung Smart TV applications, the ones that have the Tizen operating system. This includes both new models with Tizen 5.5 and other TVs from a few years ago with older versions.
On Samsung TVs, applications can be installed via Smart Hub. The TV brings some pre-installed apps, although it has many other apps in its store, which you need to download in order to use them. We have chosen the most interesting Tizen Smart TV apps available in the Samsung Smart Hub.
Best Samsung Smart TV Apps with Tizen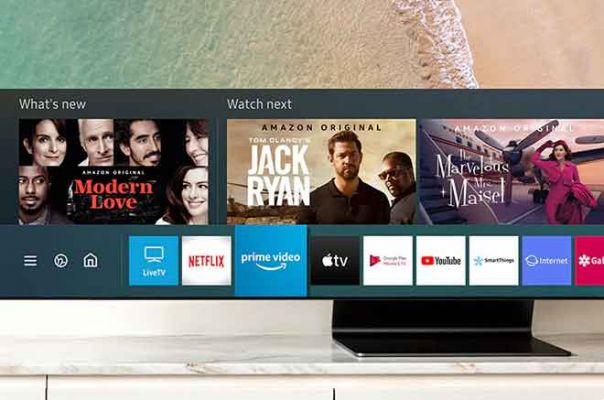 Netflix
Having the Netflix application installed on your TV is practically essential, as it is one of the services of streaming more appreciated for movies and series, with a mix of hits from yesterday and today and exclusive content. The application works quite well and is not very different from the mobile and tablet version.
Amazon Prime Video
Amazon Prime Video follows more or less the same premise as Netflix, albeit with its own selection of movies and series. Like Netflix, it is a paid service, although the service is included in Amazon Prime. That is, if you come from Amazon Prime, you have access to the Amazon Prime Video catalog without paying anything extra.
HBO
HBO is another streaming service that mixes series and movies. The cost of the subscription is around € 8,99 per month, and while the app itself is not as refined as the competition, it gives you access to quality exclusive series such as Game of Thrones, Chernobyl, Westworld and many others.
Disney +
Disney + is one of the latest streaming platforms to launch, although it has come out in a big way with versions for just about any device, including televisions. This streaming service is priced at around € 6,99 per month and includes content from Disney, Pixar, Marvel, Star Wars, and National Geographic.
Youtube
An application that cannot be missing on any TV is YouTube. Unlike the previous ones, you don't have to pay if you don't want to, in return you have to look at some announcements from time to time. The YouTube version for Samsung Smart TV is quite acceptable, with subtitle support and easy to control with the TV remote. YouTube content needs no introduction - you'll find everything from authentic masterpieces to hard-to-digest content. This is the TOP of the Samsung Smart TV apps.
DAZN
DAZN, the sports streaming service, can not miss on Samsung TVs for sports lovers. The cost of the subscription is around 9,99 euros per month, which gives you access to Premier League matches, Moto GP, Copa del Rey, UFC, boxing and other sports content.
TDP
Also sporty, but free, RTVE Teledeporte is another application that cannot be missed by those who love watching sporting events on TV. In the application you will be able to see sporting events both live and recorded and with a higher quality than the traditional broadcast on DTT. The broadcast covers all types of national and international disciplines and competitions, from athletics, skating, football, basketball or sailing.
Rakuten TV
Rakuten is a streaming service for films, series and documentaries in which you can choose how you want to consume its contents. Either you pay a monthly subscription like in Netflix, or you rent or buy the movies or watch the content for free, but with ads. The subscription costs around 6,99 euros per month and the rental of a film costs from 0,99 euros to 4,99 euros.
Apple TV
Those who are part of the Apple ecosystem can bring a piece of the apple to TV with the official Apple TV app. This means that with the application you can access the your library of movies, series and music, as well as content from Apple TV +, Apple's streaming service.
Samsung TVPlus
Samsung TV Plus is an application pre-installed on Samsung TVs that offers you free content: news, sports, entertainment. The offering available is a medley that mixes open channels with content from YouTube creators, music and more. In total it is something like adding another 50 channels to the TV.
Facebook Watch
The Facebook Watch application is a kind of spin-off of the Facebook video section. It's not at the same height as YouTube, but after installing it you can send videos to play on TV from your PC or mobile from the Facebook application or the web, so it is a good resource if you use this network frequently and want to see some video or direct on the big screen.
Spotify
Spotify is one of the most popular music streaming services, with both a paid version and a free, ad-supported and limited version. The TV application allows you to listen to your favorite music on TV, which is a good alternative if you don't have a speaker to connect your cell phone to.
TuneIn
Another interesting application is that of TuneIn, the largest collection of radios. With TuneIn, you can use your Samsung Smart TV for listen to radio stations from around the world on the Internet, that is, without worrying about reception or antennas. The stations are classified and you also have a search engine.
Steam Link
Steam Link is an interesting application for most gamers. With Steam installed on a PC, you can connect a controller or keyboard and mouse to the TV and play using the TV screen. This app is only available for Samsung Smart TVs from 2016 onwards (or 2017, if 4K resolution is desired).
Plex
Plex is something like Steam Link. You create a Plex server on a PC and put videos and photos into it, creating the that Netflix in a sense. In addition, free channels with varied content are also included that you can consult from the application.
Web Video Caster receiver
If you are having trouble casting content to your Samsung TV, you can try using Web Video Caster. With this application you can send content to the TV in a similar way as if you had a Chromecast, although for this you have to download and use your application, available for Android and iPhone mobiles.
AccuWeather
Finally, it never hurts to be able to see
the weather forecast
at any time. Accuweather is one of the most popular applications in this regard, being able to see the current status and the forecast for the next few hours and days from the sofa.
Further Reading:
How to delete apps on a Samsung Smart TV
How to buy a cheap 4K Smart TV
How do i delete apps on LG TV?
Disney Plus on Smart TV, all models
My Samsung TV screen dims and lights up by itself | How to solve?