Xiaomi has just decided to change the name with which the line of products designed for homes. It will no longer be Mijia, but Smart Life. A change that will not have repercussions on the type of products, but which anticipates a continuous international commitment.
Mijia is one of the luckiest sections of Xiaomi, thanks above all to the numerous products perfect for the so-called smart home. For some time now, these products have not only been reserved for the Chinese market, but also for the European one. Perhaps for this reason, the brand has decided to change its name to Smart Life. A change that promises an increasingly international future: "Mijia" can be translated as "Xiaomi Smart Home". The logo, at least for the moment, it will not present any changes.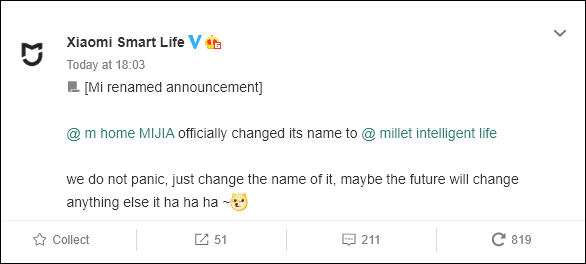 Over the past few years, they have been numerous devices launched with this brand, as you can see by going to one of the Mi Stores. Some products also available in I'm:
The portable printer;
The security camera;
The compact projector;
The portable flashlight;
The bedside lamp;
The vacuum cleaner;
Screwdriver with 24 pieces;
Electric screwdriver.
In short, it is clear that Xiaomi has devised a real one ecosystem which continues to conquer the homes of more and more users.
The Mijia compact projector is available for purchase on Amazon.