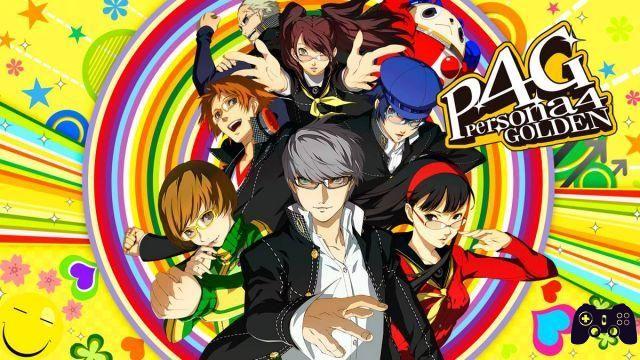 One of the main features of the new Persona series titles are the so-called Social Link, i.e. relationships with various characters within the game to which different tarot cards are associated.
Spending time with them will rank the associated Social Link, allowing us to obtain various bonuses useful for gameplay
In this guide we will explain how to easily advance the Social Link of the arcane Empress, associated with Margaret.
Personal profile
Margaret is Igor's new assistant in Velvet Room in 4 person and its Golden version. It is a mature-looking woman who will have the task, similar to that of her sister Elizabeth, to record the Personae that we will evoke in the Velvet Room in a Compendium.
We can use the Compendium person to recall all the Personae we created by paying an adequate number of yen. His Social Link will be linked to this, represented by the arcane Empress.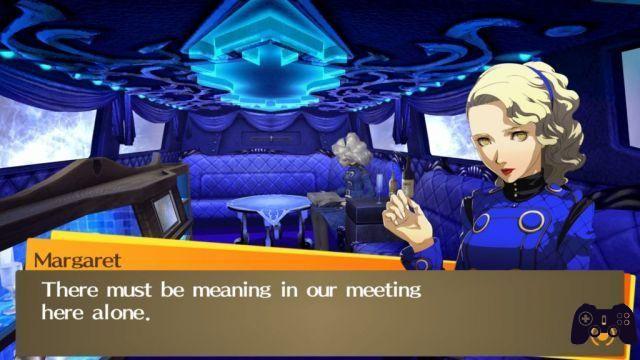 At a certain point of our adventure, in fact, the woman will realize that her destiny is also linked to that of the protagonist, and will therefore ask you for some favori.
His is one of the Social Links that require more reasoning: Margaret's requests will in fact be specific Personae that will have to have specific skills, obtained through merger.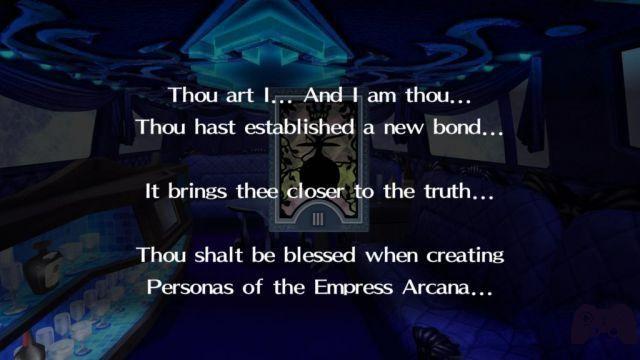 This is quite a daunting task, and you will need a very good knowledge of mergers to get what you need. But I am here to help you in this hard task.
Availability and location on the game map
Margaret will always be available inside the Velvet Room, and her Social Link will not it will take time inside the game.
Also, this Social Link will not interfere with anyone else, not even Adachi's (which requires no other Social Links to be started in order to view it at night).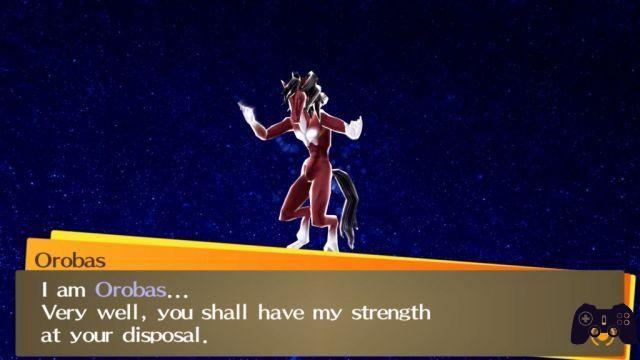 This Social Link will automatically start from May 19 if you have Knowledge at level 3. They enter the Velvet Room, the Social Link will be created, and you can continue it from there.
However, it is important to note that it takes a very high level to complete it, as mergers have some level requests to be performed.
All necessary mergers and combinations
To help you with Margaret's requests, here is a list of the combinations and results you need to rank up in this Social Link.
We also have one complete guide to Persona 4 Golden, if you are interested in other game guides that could help you in your game.
If you would like even more details to help you in these mergers, the Persona 4 Golden Fusion Calculator tool has been made available on github, which is convenient and useful to use.
After completing this Social Link you will receive the item Spiral Brooch, which will allow you to merge the Isis person.
Fellow Athletes (Strength)

Yumi / Ayane (Sun)

Adachi (Jester)

Dojima (Hierophant)

Nanako (Justice)

Ai (Moon)

Eri (Temperance)

Sayoko (Devil)

Hisano (Death)

Fox (Hermit)

Igor (Judgment)

Marie (Aeon)

Margaret (Empress)

Naoki (Hanged Man)

Shu (Tower)