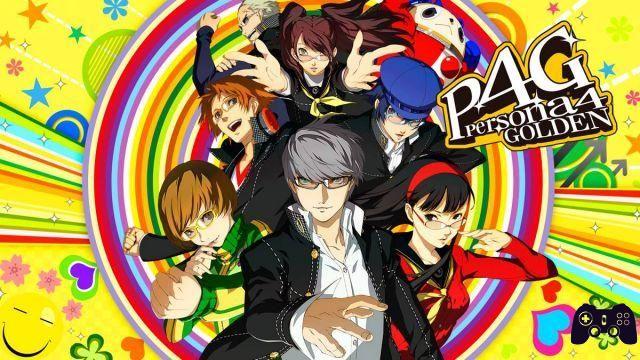 One of the main features of the new Persona series titles are the so-called Social Link, i.e. relationships with various characters within the game to which different tarot cards are associated.
Spending time with them will rank the associated Social Link, allowing us to obtain various bonuses useful for gameplay
In this guide we will explain how to easily advance the Social Link of the arcane Death, associated with Hisano Kuroda.
Personal profile
Hisano is an elderly woman who the protagonist will meet taking the job of Hospital Janitor, that is, a hospital cleaner. Here she will see her twice, until she has to leave the hospital, where there is nothing left to her.
The main theme of his Social Link is precisely, as remembered by his arcane, that of death, that is Death. As soon as the protagonist talks to the woman, she will reveal to him that her husband is dead, which is still struggling to accept the departure.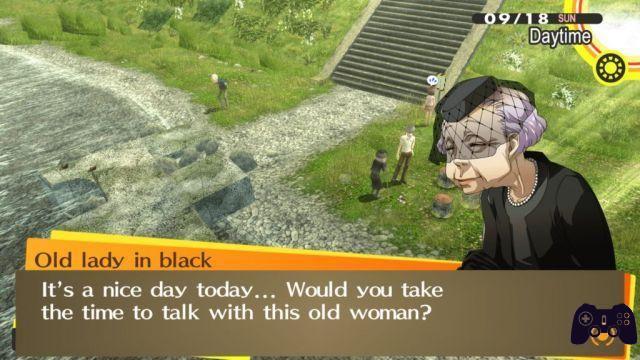 In fact, one of the first questions he will ask is "Do I look like Death to you?"- this refers to its appearance. She always wears black clothes, with a veil covering her face, in typical funeral attire.
She has a very difficult relationship with her husband, which has led her to ask many questions about death, and the effects it brings, thoughts that she will reveal slowly during the Social Link. also to the protagonist.
Availability and location on the game map
You can find Hisano during all your vacation days in the Riverbank of the Samegawa Flood Plain after unlocking his Social Link.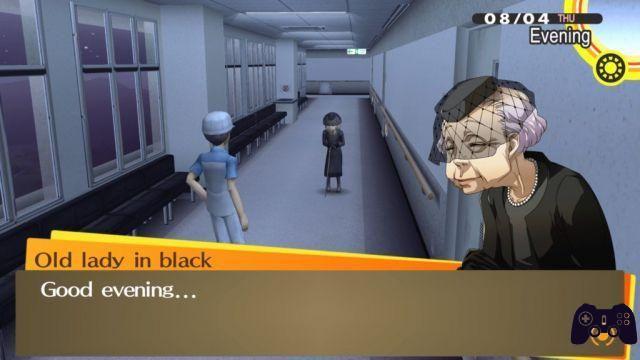 To do this, you'll need to get to the Rank 4 with Sayoko's Social Link (Devil): during an event you will see the old woman coming out of the hospital, who will invite you to talk to her when she is not at work - that is, in fact, in the holidays.
Answers to questions
Remember to always equip one Person of Arcanum Death to earn more points during your interactions with Hisano (the table below will take this into account when specifying the points earned).
We also have one complete guide to the game which could help you in your Persona 4 Golden games, if you need help with other aspects of the game or with other Social Links.
I also specify that you will need to talk to Daidara about the weapon shop to advance to Rank 7 of this Social Link (- he will give you the item "Husband's Letter", Which you will have to give to Hisano).
Once this Social Link is completed you will receive the item Old Fountain Pen which allows you to create the Mahakala person.
Fellow Athletes (Strength)

Yumi / Ayane (Sun)

Adachi (Jester)

Dojima (Hierophant)

Nanako (Justice)

Ai (Moon)

Eri (Temperance)

Sayoko (Devil)

Hisano (Death)

Fox (Hermit)

Igor (Judgment)

Marie (Aeon)

Margaret (Empress)

Naoki (Hanged Man)

Shu (Tower)