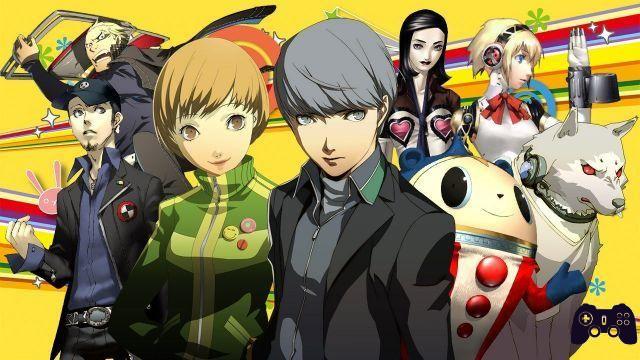 One of the main features of the new Persona series titles are the so-called Social Link, i.e. relationships with various characters within the game to which different tarot cards are associated.
Spending time with them will rank the associated Social Link, allowing us to obtain various bonuses useful for gameplay
In this guide we will explain how to easily advance the Social Link of the arcane Sun, associated with the two cultural, theater and music clubs, and their respective members Yumi Ozawa e Ayane Matsunaga.
Personal profile
These two girls are members of the two cultural clubs present in Yasogami High School: the theater club (Drama Club) and the music club (Music Club).
The decision you make will be final, and the other choice will no longer be available until New Game +. Also, depending on your choice, Yumi or Ayane will become the official representative of the Arcana Sun.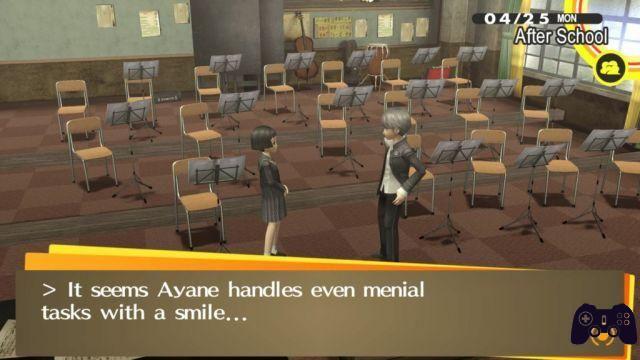 Ayane is a shy girl from the small school band, and play the trombone. She will be the first in the club to meet the protagonist, and thanks to his help they will become friends and improve the condition of the club.
Yumi it is instead one devoted member of the drama club, who will slowly reveal her feelings to the protagonist and what ties her to this club.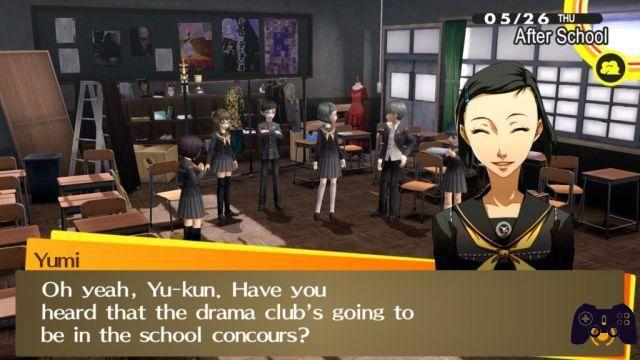 Both girls, similarly dressed and close enough in appearance too (short black hair and gray eyes, school uniform with long skirt), will also be possible romance for the protagonist.
Availability and location on the game map
During the week you can find Yumi or Ayane on the second floor of the main school building, and by talking to her you will attend the club.
Alternatively, they will be found at the close-up of the Practice Building o inside the respective classrooms. During the weeked or public holidays they will be found in the northern part of the Shopping District.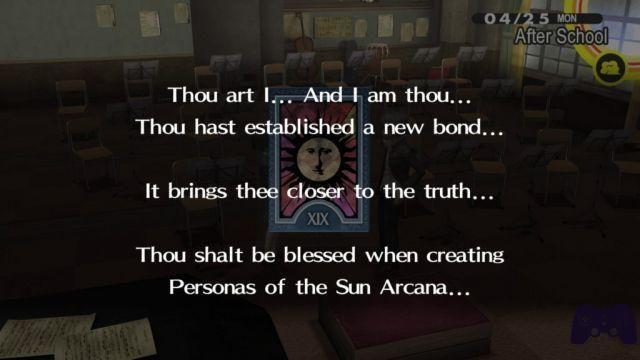 This Social Link will start on 25 April, during which you can decide whether to enter the music club or the theater club (music / drama club).
By attending the various lessons you will increase the ranks of the Social Link.
In particular, as it is one of the few Social Links that you can frequent during rainy days, it's a great idea to continue it in these cases.
Answers to questions
Remember to always equip one Person of the Arcanum Sun to earn more points during interactions with Yumi or Ayane (the table below will take this into account when specifying the points obtained).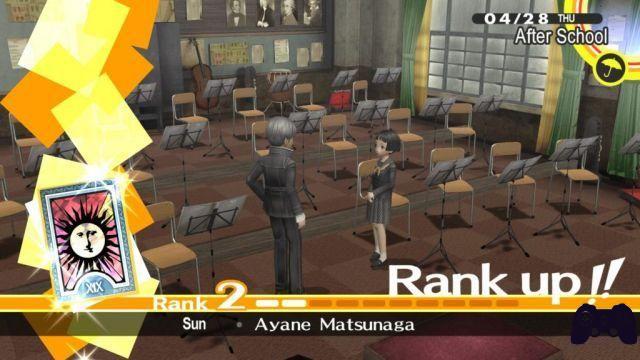 We advise you to look at ours complete guide to Persona 4 Golden to all our guides and other useful information as you play the title.
Here are the answers for the theater club:
Here is instead for that of music:
Fellow Athletes (Strength)

Yumi / Ayane (Sun)

Adachi (Jester)

Dojima (Hierophant)

Nanako (Justice)

Ai (Moon)

Eri (Temperance)

Sayoko (Devil)

Hisano (Death)

Fox (Hermit)

Igor (Judgment)

Marie (Aeon)

Margaret (Empress)

Naoki (Hanged Man)

Shu (Tower)