Let's find out how to "shop" from the Turkish server in Metin2, to get more dragon coins by spending the same amount
Metin2 has become a video game where "shopping" (buying different types of items with the in-game currency) is increasingly common for empower your characters and have an easier life. Just think of the double experience and the greater possibility of dropping items, fundamental options at any level or self-hunting, a useful option for players who have little time to devote to Metin2. Of course we can't forget add bonuses and spin bonuses necessary to make your character's equipment up to par in any situation.
But how can you buy in-game currency (dragon coins) for real money while saving in Metin2? Buying from a server with a favorable exchange rate, obviously!
Metin2: come "shoppare" dal server turco
Below are the steps to follow for "Shoppare" dal server turco in Metin2.
Preliminary step: disconnect the PG for which you need to make the purchase. At least 30 minutes before the operation, for added safety.
Step 1: after 30 minutes, connect to a VPN.
Step 2: find an elite server in the top category anonymity level with low response time, maximum 80 ms.
Step 3: in the network settings of your PC, click on the proxy section. A screen will appear where you need to activate it.
Step 4: once the proxy connection is activated, you can enter the IP address e the door of the elite server previously selected on the gatherproxy site.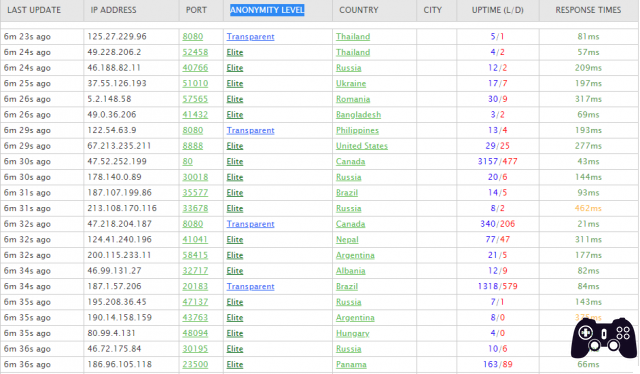 Gatherproxy website interface
At this point your IP address will be connected to a Turkish server and you will soon be able to start "shopping" as a resident of Turkey.
Going to the Metin2 website, in fact, you will be automatically redirected to the Turkish Metin2 server. Now you just have to go to the item shop to "shop" as you always did from your original server.
You will notice that the currency will no longer be the Euro but the Turkish Lira, with an exchange rate of about 1 to 7. Considering that with 100 Euros from the Spanish Metin2 you get about 2500 dragon coins, following this guide with about 80 Euros (which will be about 560 Lira) on the Turkish server you get about 6000 coins of the dragon.
The last 3 steps to perform are:
Step 5: deactivate the proxy connection from the network settings, by doing so you will no longer be connected as a resident of Turkish soil.
Step 6: for greater security, log in to the account where you performed these operations at least 30 minutes after the proxy connection was deactivated.
Step 7: obviously if you want to shoot from the Turkish Metin2 server a second time, remember to start again from step 1!
Metin2: is "shopping" from the Turkish server legal?
No, "Shopping" from the Turkish Metin2 server is not legal, the risk involved is the ban on the game account. Despite this, many players shopp dragon coins in this way, you just have to be very careful when exchanging IP address.
This is a guide for informational purposes only. Neither the author of this guide nor Holygamerz.com assume any kind of responsibility for the use of the information in this article.