Forzieri Luce di Luna is the key Christmas event of Metin2. In this guide we will see which are the best PCs and places to face him
Christmas on Metin2 it has already arrived for a few days and, like every year, it has brought many events to entertain all users. In this guide we will talk in particular about the event of Moonlight Chests.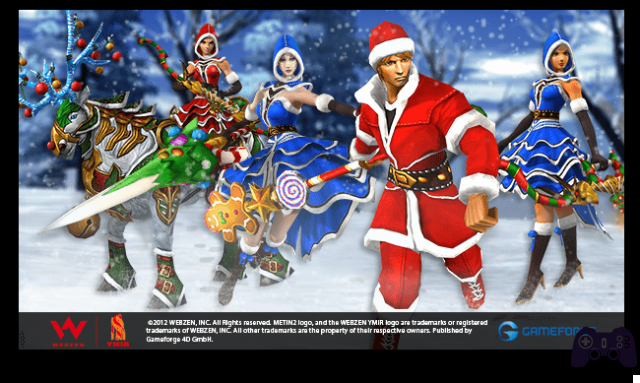 Metin2: Moonlight Forzieri event
The Moonlight Chests event is one of the most popular events for Metin2 users, as this event is the only way to have Dragon's Blessing, Blessing of Life, Critical Fight and Piercing Fight in good quantities. Essential tools for users who bring brawl and wars to the fore in game. The Dragon Papyri are also a good reason to nerd in this event.
Also this year there are two dates in which it will be possible to drop the Luce di Luna Chests from the mobs, Wednesday 26 December from 20:00 to 23:59 e Tuesday 1 January from 14:00 to 18:00. In doing so, the Game Forge has secured a high number of users online on the server even in these particular days.
Let's talk about the drop of the Moonlight Chests, here's what you can get:
• Piercing Fight (x5) • Critical Fight (x5) • Dragon's Blessing (x5) • Life's Blessing (x5) • Zen Bean • Chunjo Tongues • Jinno Tongues • Shinsoo Tongues • Refugee's Cloak • Dragon Papyrus • Consecrated Papyrus • Tongues Ring (1h) • Blessed Sphere • Lucy's Ring • Magical Copper Ore • Wise Emperor Glove • Dragon Medal • Yang • Exp.
Metin2: Moonlight Forzieri event, best PCs and best locations
Each year, the questions about this event are the same: what is the best level to take on the Forzieri Luce di Luna event? Which map is best for dropping more Moonlight Chests? Let us try to definitively clarify the questions just mentioned.
Surely the best characters to face any PVM (player versus mob) event are the White Surah and Corporal / Mental Warrior.
Below we see what are the best maps to face this event.
Covo 3: it is undoubtedly the best map to drop lots of Moonlight Chests. Attention: to be able to familiarize yourself in the following map we recommend using a character with a level between 54 and 61. To have a high number of drops, it is necessary to be able to dismantle in the rooms of Lair 3; consequently you need the character's skills in G / P, a final exp equipment (Block, high HP, high Defense) and Ruby and Opaque Jade as alchemy.
Difficult Monkeys: it is an excellent alternative to Covo 3 if you do not have a character with a level of around 45/55 who cannot handle the challenge in Covo 3. In this map the drop is not as high as in the previous one but it is still good, moreover it is a map where mobs are aggressive so there is no need to use Cloaks of Courage.
Frogs of the Hwang Temple: here the drop begins to drop compared to the first two maps, but it is still convenient. The recommended level is always 54/61, Cloaks of Courage required.
Red Forest: in this map the adequate level of the characters is from 70 to 80, it is a great map for dropping the Moonlight Chests.
Catacombs: for level 75 characters it is an alternative to the Red Wood but the drop is reduced.
Falesia of Gautama: if you do not have a dropper, for characters between levels 80 and 94 it is certainly the best map to drop the Moonlight Chests.
Undergrowth: for characters with level over 95 it is certainly the best place, an ideal compromise to expare, break metin and drop Chests Light of the Moon.