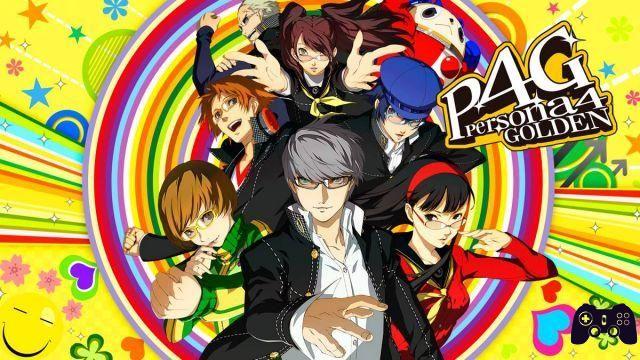 One of the main features of the new Persona series titles are the so-called Social Link, i.e. relationships with various characters within the game to which different tarot cards are associated.
Spending time with them will rank the associated Social Link, allowing us to obtain various bonuses useful for gameplay
In this guide we will explain how to easily advance the Social Link of the arcane Moon, associated with Ai Ebihara.
Personal profile
Ai is a rather haughty girl who is best known for her coldness towards her companions and her wealth.
He holds a sort of role of "spoiled princess", And it is on one of the occasions in which he shows his character that he meets the protagonist Yu. You will learn about it by continuing on Social Link of the Fellow Atheletes.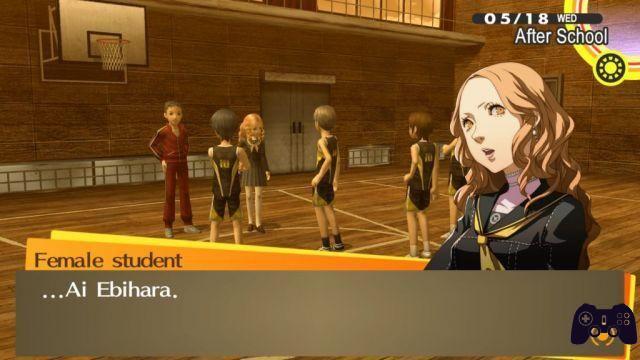 During one of the events, it will in fact become the manager of the club you have chosen, football or basketball, and you can talk to this girl ever since.
It looks pretty normal, with eyes and long blond hair and a pink chocker and school uniform. However, she rarely attends classes, other than those necessary in order not to be expelled.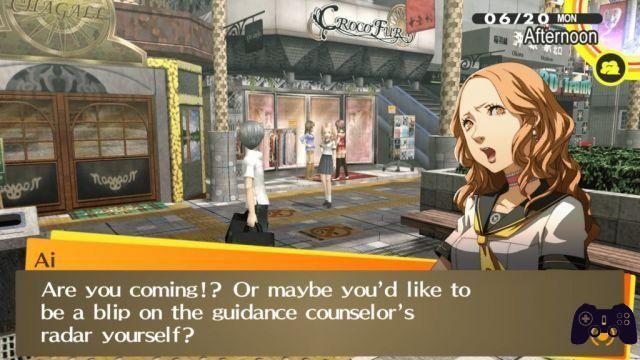 For this reason, she will become the manager of the sports club: this gives her benefits for her academic achievement. However, it is only in name; in fact will continue to skip lessons together with the protagonist.
Availability and location on the game map
To start the Ai Social Link, you must have reached the Rank 4 in the Social Link Strenght: Ai will also show up during their event, and from then on you can talk to her on the first floor of the school building.
To start his Social Link, you will need to have Courage at level 3, and speaking to her, she will tell you that she will call you to skip a lesson.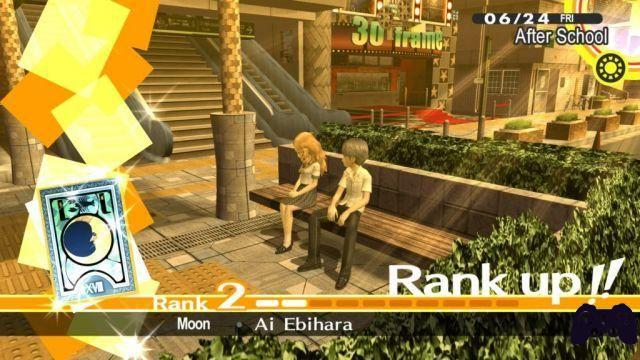 This it will happen randomly during a normal school day, but this won't take up the time you can spend with other Social Links over the course of the pomeriggio.
After forming the Social Link, you can meet her at first floor of the school building, in front of the shoe lockers.
By talking to her, you will continue the Social Link. But be careful not to talk to her on Sunday, because the Social Link will go in reverse.
Answers to questions
This Social Link is one of the most dangerous to deal with during the game, especially in blind runs: wrong choices can reverse or reverse completely destroy the Social Link with Ai.
Il reverse is what happens when you ruin a relationship in the Persona series, but it has been significantly reduced in Persona 4 compared to its predecessor.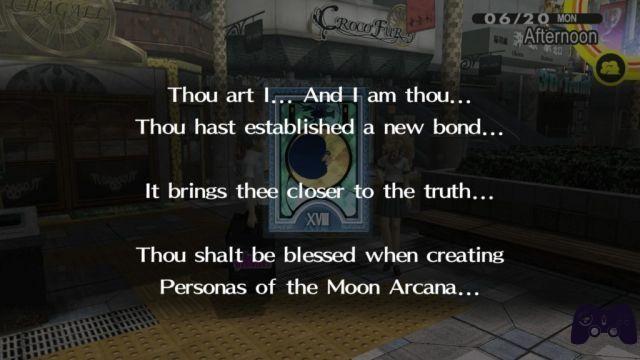 The rank of the Social Link will drop by one, and you will need to apologize to the person in question to repair the relationship. Here it is though all the right choices to be taken in order not to end up in that situation!
For other advice on Persona 4 Golden, I also refer you to our complete guide to the game, which also contains all the guides we have written so far.
Remember to always equip one Person of the Arcanum Moon to earn more points during interactions with Ai (the table below will take this into account when specifying the points obtained).
After completing this Social Link, you will get the item Compact, which will allow you to merge the Sandalphon person.
Fellow Athletes (Strength)

Yumi / Ayane (Sun)

Adachi (Jester)

Dojima (Hierophant)

Nanako (Justice)

Ai (Moon)

Eri (Temperance)

Sayoko (Devil)

Hisano (Death)

Fox (Hermit)

Igor (Judgment)

Marie (Aeon)

Margaret (Empress)

Naoki (Hanged Man)

Shu (Tower)
Frequently asked questions and answers
The protagonist can start Ai's social link after achieving rank four of the Mysteries of the Force social link (either Kou Ichijo or Daisuke Nagase).
The protagonist must also activate a flag by talking to Ai after school.
She can be located throughout the day on the second floor of Yasogami High School.
She requires level three Courage (Brave).

How to increase your Social Links.
The main thing you should do to increase your Social Links is to hang out with the partner you have chosen.
Each character will have their own schedules and times when they are free, so you will probably level up multiple Social Links at the same time.

To meet Ai, you will need to advance in another social link: the social link Strength (Fellow Athletes).
Advance to rank four and you will meet Ai as a part of the process.
After meeting Ai, she will appear in the 1F school and ask you to skip class with her.

It is possible, but it is not recommended for a first game.
The schedule is not as tight as in Persona three, but you still have to be very careful.
Enjoy the game at your own pace.
Then you can focus on achieving each and every social link in a second game.

Compilation of frequently asked questions that our users have sent us and that our experts have answered.