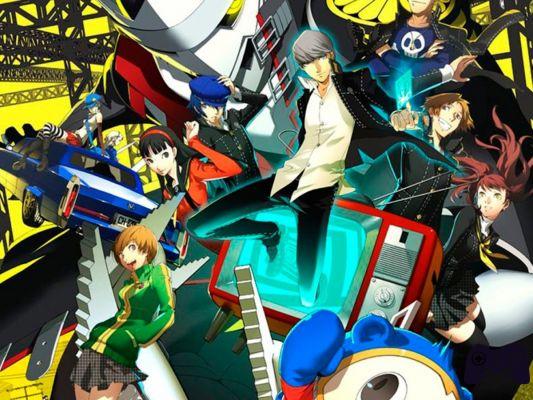 One of the main features of the new Persona series titles are the so-called Social Link, i.e. relationships with various characters within the game to which different tarot cards are associated.
Spending time with them will rank the associated Social Link, allowing us to obtain various bonuses useful for gameplay
In this guide we will explain how to easily advance the Social Link of the arcane Tower, associated with Shu Nakajima.
Personal profile
Shu Nakajima he is a young boy who is still in middle school, covering the stereotype of the character who is very good at school and with the typical "nerd" aspect (plaid shirt, thick eyeglasses and very thin body).
The protagonist of Persona 4 will meet Shu after agreeing to give him repetitions to help him with the study, and it is thanks to this work that his Social Link will begin.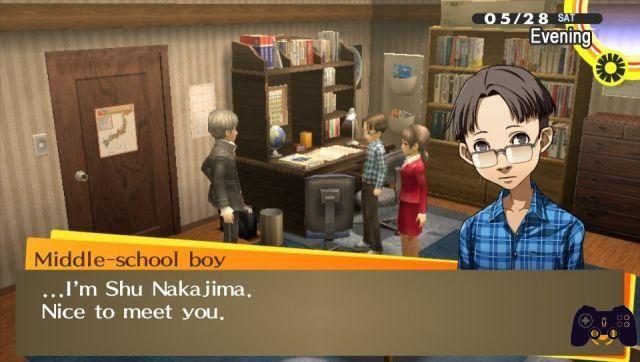 During the story he will have to face several fears that will constantly grip him, first of all the fear of disappointing the mother in case he fails to be the top of the class, going through various traumatic moments such as bullying suffered by a new classmate and the constant recurrence of certain terrible nightmares at night.
It will be up to the protagonist to cheer him up after all these events, allowing him to understand that the votes are not the only thing that can earn him the approval of his mother.
Availability and location on the game map
You will find it throughout the week in the bus stop south of the Shopping District.
You can start this Social Link starting May 25 by applying for a job as a tutor (you must have the Social Skill Understanding a LV 5).
Answers to questions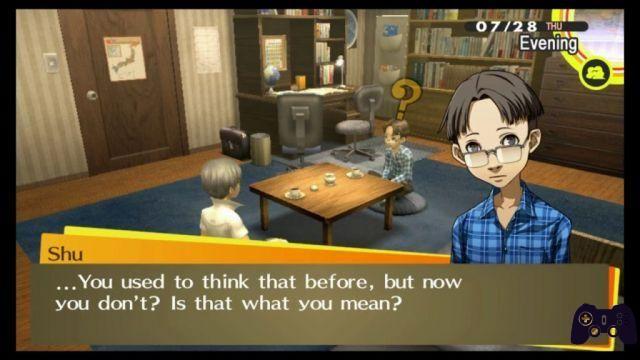 Remember to always equip one Person of the Arcanum Tower to earn more points during interactions with Shu (the table below will take this into account when specifying the points obtained).
Also being necessary at times the Social Skill Diligence, we recommend bringing it to level 5 before the second rank.
Maximizing his Social Link will allow you to get the Test Results item, allowing you to unlock the fusion of the Most Powerful Person of the Arcane Tower, Shiva.
If you want more information on how to get platinum, on the endings, on the optional bosses and on many other mechanics of the game, I refer you directly to our Complete guide on Persona 4 Golden.
Fellow Athletes (Strength)

Yumi / Ayane (Sun)

Adachi (Jester)

Dojima (Hierophant)

Nanako (Justice)

Ai (Moon)

Eri (Temperance)

Sayoko (Devil)

Hisano (Death)

Fox (Hermit)

Igor (Judgment)

Marie (Aeon)

Margaret (Empress)

Naoki (Hanged Man)

Shu (Tower)