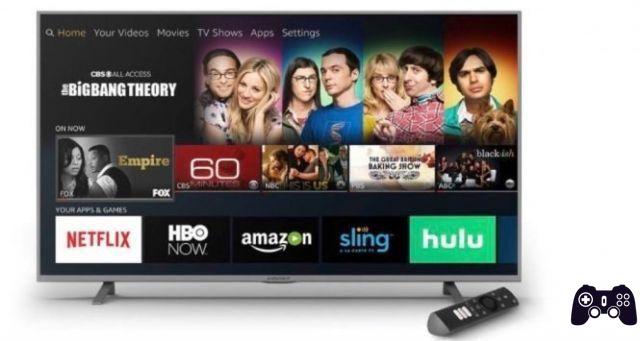 Find out if this Amazon Smart TV is suitable for you. A Fire Edition TV is a Smart TV that combines the functionality of an Amazon Fire TV stick or box with traditional TV functions. Amazon itself doesn't make the TVs, but it does license Fire TV software to select TV manufacturers.
There is no need to connect a Fire TV stick or other streaming device to a Fire Edition TV as these functions are programmed into the TV.
Between Chromecast and Fire TV Stick, which one to buy?
Chi produce TV Fire Edition
TV brands that produce Fire Edition TVs include:
Insignia (Best Buy house brand)
Toshiba for the United States / Canada
JVC e Grundig specifically for the European market
Element ha produced a line of Fire Edition TVs but has since switched to Roku. You can find some of the new or on-offer Fire Edition TV models.
Almost all Fire Edition TVs are LED / LCD TVs (Grundig includes an OLED Fire Edition TV in its range). The screen sizes range from 24 to 65 inches. Depending on the make / model, one set can support a screen resolution of 720p, 1080p or 4K. Some 4K Fire Edition TVs are compatible with one or more HDR formats.
What does an Amazon Fire Edition TV do?
Similar to other Smart TVs and Fire TV devices, Amazon Fire Edition sets offer access to streaming services such as Amazon Prime Video and Amazon Music, as well as Netflix, Vudu, Amazon, Hulu, YouTube, Pandora, and many more. Services and apps can be accessed via categories within an app store.
With a Fire Edition TV, you have the option to choose the Full or Basic experience.
Full experience:
Access to all streaming services, apps and Alexa skills.
Voice control and Alexa search (Alexa is enabled automatically)
An Amazon account is required.
Basic experience:
There is no need to register the TV to your Amazon account.
Access only six streaming apps: Netflix, HBO, Playstation Vue, Sling TV, Hulu, and Amazon Prime Video (Amazon account required).
No Alexa voice control.
No access to the Fire Edition TV App Store or Alexa Skills.
What can you connect to an Amazon Fire Edition TV
In addition to streaming services and other apps, you can connect external devices to access more content.
The location of the connection may vary depending on the brand and model of the TV.
Wi-Fi ed Ethernet: All Fire Edition TVs provide Wi-Fi and Ethernet for connecting to a home network and the Internet.
HDMI: HDMI inputs are included for connecting DVD / Blu-ray / Ultra HD Blu-ray players, cable / satellite boxes, game consoles. HDMI-ARC and HDMI-CEC support are also provided.
HDMI-ARC makes it easy to connect your TV with many home theater receivers and some sound bars.
HDMI-CEC offers limited control of connected devices such as Blu-ray / Ultra HD Blu-ray and cable / satellite box using the Fire Edition TV remote.
Composite video: Composite video / analog audio connections are included, allowing you to connect older devices, such as VCRs or DVD players that do not have HDMI outputs. However, Fire Edition TVs do not include component video inputs.
RF input: A cable connection is provided for receiving over-the-air TV broadcasts. Connect an antenna and scan for available channels in your area.
USB: Fire Edition TVs provide a USB input that can be used in two ways:
Play compatible photo and video files from a USB flash drive or digital camera.
Using a USB flash drive to pause live TV for 2 to 60 minutes.
Speakers and audio: Fire Edition TVs have built-in speakers, which can be enhanced with further audio processing. For better sound quality, connect it to a soundbar or to an audio system using the HDM-ARC, optical digital or analog audio outputs, if available.
The analog audio output doubles as a wired headphone connection.
How to control a Fire Edition TV
Fire Edition TVs provide control and management of both streaming and traditional TV functions such as input and channel selection, picture and audio settings.
Image settings can be applied to each input separately.
A Fire Edition TV can be controlled via touch or the Alexa voice assistant using the remote, the Fire TV mobile app, or other Amazon Echo devices (using Alexa).
You can use Alexa to change channels, access and launch most apps, switch input sources, and access the TV settings menu.
Since Alexa is built into a Fire Edition TV, you can use your voice to control other Alexa-enabled devices, such as lights, smart speakers, etc… using Alexa's skills. However, the TV must be turned on for Voice Control to work for this purpose.
You can also use the Fire Edition TV's Alexa feature to get information, like weather, news, and more, just like you can with an Amazon Echo device.
Fire Edition TV e Fire TV Recast
If you pair a Fire Edition TV with a Fire TV Recast, you can use the TV to access and control the record and playback functions of the DVR. After setting up Fire TV Recast in the Alexa app, a DVR icon will be placed in the Fire Edition TV menu bar at the top of the screen.
Is it worth buying a Fire Edition TV?
Combining the functionality of a Fire TV stick with a TV in one unit gives you a smart TV alternative that is very practical.
Setting up a Fire Edition TV is similar to other Fire TV devices, with additional configuration options for accessing over-the-air TV channels, connecting external devices, and picture and sound.
If you're a cable cutter who has an Amazon Prime account, use other Alexa-based devices, and are looking for a smart TV that can complement what you already own, a Fire Edition TV would be the best for you.
Further Reading:
How to Watch Discovery Plus on Fire TV: Download and Casting Methods Explained!
How to use Alexa to control Amazon Fire TV
How to update Amazon Fire Stick to the latest software
How to update your Amazon Firestick
What is an Android TV Box?