The latest horror title developed by Tango Gameworks and supervised by master Shinji Mikami, Ghostwire tokyo, is enjoying some success in the media, thanks to a familiar structure, but at the same time full of news and a rather fresh gameplay. Many players will find themselves pushed to discover all the mysteries behind the particular story of the title, which manages to give strong emotions, even behind this "haunted" version of Tokyo. But Ghostwire Tokyo is not only a beautiful adventure, it also hides many secrets, missions and trophies to collect in order to reach the coveted platinum trophy. In this guide we will discover the location of all of them the statutes of Jizo scattered around the Ghostwire Tokyo map.
ATTENTION: despite these are simple locations, we remind you that the guide to the Torii portals of Ghostwire Tokyo may reserve some spoilers on the game.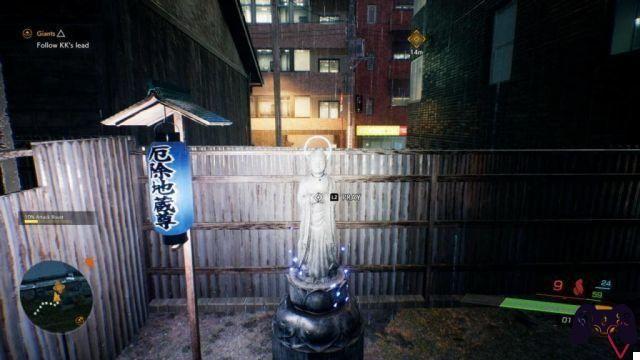 Guide to all Jizo statues at Ghostwire Tokyo
For those who haven't met even one yet, we specify that the Jizo statues are available within Ghostwire Tokyo, in three different colors: green, blue and red. Each statue will allow you to unlock upgrades, respectively to the color: Wind, Acqua and obviously Fire. The map is large enough to turn and inside you will have to find well 52 statues di Jizo. To facilitate the conspicuous collection, we advise you to plumb the places of worship, especially near the portals (don't miss our guide on Torii Portals), frequently using the ghostly vision by pressing square.
Santuario Hatsuike – 1 statue
Namihara Shrine – 2 statues
Santuario in Kirigaoka – 2 statues
Santuario di Chishima – 3 statues
Santuario Shiratsuki – 2 statues
Torii Gate on the roof of the Momokane building - 1 statue
Tatsui Shrine - 2 statues
Kappagaike Torii Gate - 1 statue
Santuario di Onten – 4 statues
Mikubo Shrine – 2 statues
Sakano Shrine - 2 statues
Santuario Shimokusa – 1 statua
Kamio Shrine - 3 statues
Akitsu Shrine - 3 statues
Kuo Shrine - 2 statues
Santuario di Shiroyama – 2 statues
Santuario Yashin – 2 statues
Namita shrine - 3 statues
Utagawa Commercial District Torii Gate - 4 statues
Santuario Yamaki – 1 statue
Hitani Shrine – 2 statues
Toyoi Shrine - 1 statue
Matsumi Shrine - 2 statues
Santuario Morite – 1 Statue
Akisawa shrine - 2 statues
Torii Gate on Saihama Building Roof - 1 statue
That's all for this guide, if you haven't done it yet, we advise you to read our in-depth review of Ghostwire Tokyo by clicking on the following link, and if you are interested in staying informed on all the news about it - and not only - we refer you to the dedicated game page.