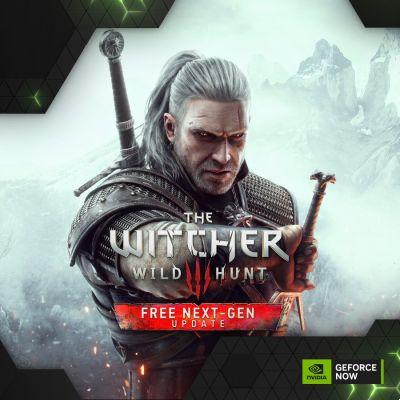 If you are curious to try The Witcher 3: Wild Hunt in next gen sauce but you don't have a console like PS5, Xbox Series S|X or a PC up to the requirements required to take advantage of all the features introduced by CD Projekt RED such as ray tracing, then perhaps NVIDIA has the solution that suits you. As announced by the GPU manufacturer, in fact, the re-edition of the game (which debuted yesterday and of which you can read our review by simply visiting this address) has been included in GeForce Now.
It's not really a real novelty. In fact, just last week NVIDIA had announced the arrival of this special version on GeForce NOW. Today, with the usual weekly update, we had the confirmation. This is a pleasant novelty, which will allow all subscribers to test the innovations introduced by CD Projekt RED for this new edition of The Witcher 3.
In addition to the CD Projekt RED game, GeForce NOW this month can also count on another recently released game: let's talk about Marvel's Midnight Suns, which made its debut in recent weeks, enjoying great success from the public and critics. Let's find out the new games in the catalog immediately below:
Master of Magic (nuova release su Steam)
Roller Champions (new release on Steam)
Wavetale (new release on Steam)
Cosmoteer: Sartship Architect & Commander (Steam)
Floodland (Steam)
The Witcher 3: Wild Hunt (nuova release)
Marvel's Midnight Suns (Epic Games Store)
Triss the season! ✨
The gift that keeps on giving, #TheWitcher3NextGen is now streaming on GFN.
Enjoy the hunt in the cloud. ️ pic.twitter.com/wP7WXMuIJ8
— ️ NVIDIA GeForce NOW (@NVIDIAGFN) December 14, 2022
The GeForce NOW catalog continues to grow week by week. To find out all the information about the NVIDIA service, we invite you to visit this address. Keep following Game Division for all the news and upcoming announcements from the world of video games.
Video reviews, previews and specials are also waiting for you on our YouTube channel.