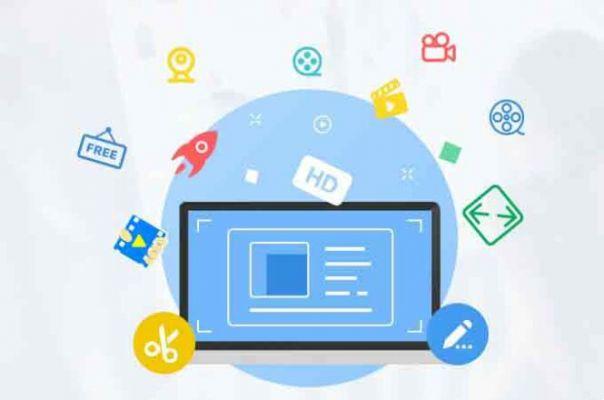 Video converters are absolutely essential tools for anyone and allow us to convert videos to different formats like MP4, AVI, MOV, MKV, among other formats.
In this article you will find a very comprehensive list of free video converters for Windows 10 and Mac but you will also find the best online video converters that you can use from any internet connected device.
What is MP4 video?
The video format in MP4 is well known and one of the most compatible formats with mobile devices such as smartphones or ipads. MP4 uses a compression algorithm that encodes audio data video, optimizing its quality for archiving, encoding and distribution in networks.
At first it had some compatibility issues with some video and audio players, but over time all players have accepted this new video format as a standard.
What is the best video format?
With the AVI format you get high quality but too heavy videos, so its use for the Internet is not recommended. There are several compression codecs for REVIEWS, but DivX and XviD offer the best quality-compression ratio. MP4 format can have very good quality but file weight will always be higher than AVI format with DivX codec.
The 5 best online video converters
To start the article we will see the list of the best online video to mp4 converters that you can use for free and without installing anything on your computer.
1. Convert video to MP4
This video to MP4 converter allows you to convert files to MP4 format easily. Upload your video file or point a video link to convert your online video to MPEG4.
This online video converter is optimized for high quality and free. Convert from more than 50 source formats, such as: MPEG-2 to MP4, MKV to MP4, AVI to MP4, MOV to MP4, 3GP to MP4, FLV to MP4 and many more.
2. onlinevideoconverter.com
Convert your favorite YouTube videos to various formats including MP4 format. Features:
High-speed conversions.
Wide range of supported online video portals.
Registration is not required.
Unlimited free downloads and conversions.
You don't need to install any software.
3. Apowersoft Free Online Video Converter
Apowersoft Free Online Video Converter is a great application available for Windows and Mac OS. This free online video converter makes the best video conversion as it can convert videos to any kind of video or audio format with amazing speed.
4. Video Grabber
This is one of the best tools to convert video online. It is free, easy to use and with a simple and friendly user interface. Complete the conversion in three quick steps. It is compatible with different audio and video formats and allows you to choose your audio and video preferences. It has a version to install on Windows and Mac.
5. Clip Converter - YouTube to MP4 and MP3 converter
Clip Converter is a free online video converter that allows you to use almost any audio or video web address in the most common formats. This free and fast converter allows you to watch your favorite YouTube videos on your mobile phone, PC, TV or almost any other device.
5 free video converters for Windows
1. UniConverter
UniConverter is one of the best video converter programs. It is paid but has a free version so you can try out all of its features. Convert videos to 1000 formats and without quality loss.
It allows you to download, edit, compress, record and transfer videos in a really simple way. Convert video to MP4, AVI, MKV, WMV, MPEG-2, DIVX, MOV, Xvid, Facebook Video, MP3, etc.
2.- Winx Video Converter
WinX Video Converter is a video converter that allows you to convert your videos with high quality using a free video converter which facilitates the process of converting AVI, MPEG, MP4, WMV, MOV and FLV videos on Windows 10/8/7 / XP .
Winx Video Converter is available in 5 languages; Spanish, Spanish, English, German, Chinese and Japanese. It has an option to edit videos with which you can cut and merge videos, add subtitles to the video and other parameters to enhance your videos. Fully compatible with mobile devices such as iPhone, iPad and Android.
3.Any Video Converter Free
Any Video Converter Free is one of the best programs to convert videos for free and in a very simple way, thanks to a very easy to use interface. It allows you to edit and convert videos in high definition and up to 4K quality, and all without loss of quality.
4.- Free Studio
Free Studio is undoubtedly the simplest solution to use to convert video files for free on Windows 10. You can use a large number of free tools with which you can, in addition to converting videos, edit videos in Windows 10. Another aspect that I like is that it is a pretty fast video to MP4 converter.
5.- Freemake Video Converter
Freemake video converter allows you to easily convert your videos even by importing videos from YouTube channel. The only downside I see is that it doesn't have a wide variety of video conversion formats.
6. HD Video Converter Factory
This video file converter supports a large number of video formats including 4K and is very easy to use to change video formats. It also has a number of tools for editing and downloading YouTube videos.
5 free video converters for Mac
We continue the list with the best free video converters for Mac where I will especially highlight the first one that already arrives by default in the system of any Mac computer.
1 iMovie
iMovie is not only a video converter but also a great program for converting professional videos on the Mac. It works with numerous formats and resolutions, including 4K. Also, you can start editing video on iPhone or iPad and finish on Mac, making it fully compatible with mobile devices like iPhone and iPad.
2. Total Video Converter Lite
It is a well-known video converter with extensive experience in the video conversion industry. Total Video Converter Free is a totally free audio and video converter. It is capable of converting media files to Apple TV, iPad, iPhone, iPod, DVD format and that of most consoles and mobile phones. For example, I have used this tool a lot as a video to MP4 converter.
3. Free MP4 Converter
Free MP4 Converter is an amazing video to MP4 converter program, it is simple to use and very easy to perform video conversions. It makes it easy to convert 4K / HD videos and common videos like MKV, FLV, AVI, WMV, F4V, WebM, WTV and others to MP4 formats in batch.
4. How to convert a video with HandBrake
HandBrake is a free video converter for Mac that is fast to convert and features a bitrate calculator that alters the video quality to adjust the video size as desired.
It is a video converter that has many options that will allow you to convert numerous files of various sizes without compromising on quality. It can only convert MP4 and MKV formats to macOS Sierra and transcodes the videos for playback on devices such as iPhone, iPod and iPad.
5. Leawo Video Converter Lite
Leawo Video Converter Lite, allows different conversion modes and formats and accepts a large number of video formats. The only downside is its slow video conversion speed and video quality loss.
Also Read: How to Recover Deleted Videos from PC and Phone
Further Reading:
How to convert PDF to PowerPoint
How to download music from YouTube
How to record audio on PC, MAC, Android and iPhone
How to change video speed online
How to convert MP4 to MP3 using VLC, Windows Media Player, iTunes