All the senses help in videogame immersion: for this very reason, the audio sector should not be underestimated. An audio quality above the simple TV speakers (or worse still, those integrated in mid-range monitors), in fact, helps to immerse yourself in what is displayed on the screen. It is undeniable that there are several games that can benefit from a better audio performance, starting from multiplayer, where better understanding what is happening even in terms of sound is a must to hope to emerge as winners, up to solo adventures, where the sound design is often a predominant component of the whole experience. But not everyone loves to use headphones, however comfortable they may be, or have the space necessary to install a home theater system. In this case, there are products capable of taking up little space, but offering decidedly excellent audio quality: we are talking about soundbars. So here are what they are best soundbars for gaming around the web, and also how to choose the one that best suits your needs!
Before going down the list of the best soundbars for gaming, have you already taken a look at what are the best gaming TVs and the best gaming chairs on the market?
Soundbars for gaming, the best
Trust Gaming GXT 618 Asto
Samsung HW-B550/ZF
Sony HT-G700
LG UltraGear GP9
Razer Leviathan V X
Creative stage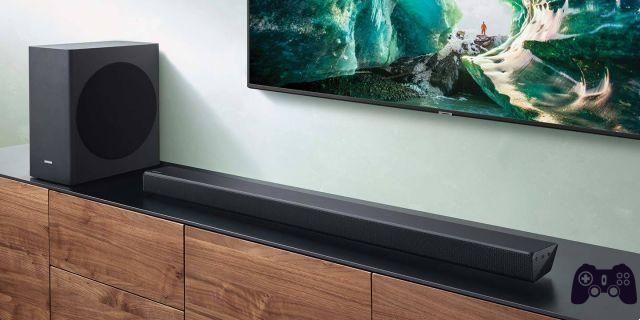 Trust Gaming GXT 618 Asto

Excellent for those who want to spend very little and save space in their workstation.
Trust Gaming GXT 618 Asto
, is a very small soundbar in size, equal to 7.5 x 47 x 7.5 cm. Thanks to its USB power supply, you won't need to plug it into an electrical outlet. In addition, it has two 3.5 jack inputs for headphones and a microphone. From an audio point of view, however, it delivers a power equal to 12W: we therefore recommend it to those who mainly want to make up for the lack of speakers on their gaming monitor (not recommended for those who expect full-bodied audio). Impossible not to include it among the best soundbars to play, thanks to its characteristics.
See on Amazon
See on eBay
Samsung HW-B550/ZF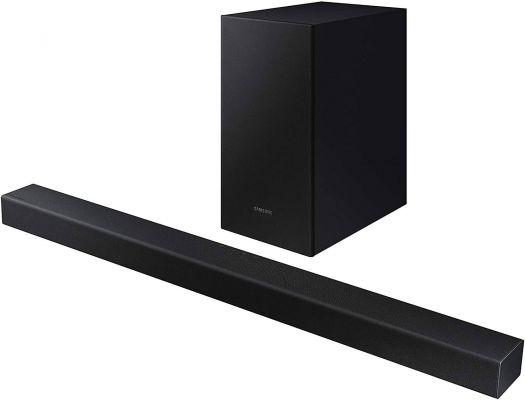 In the mid-price range of the best soundbars for gaming, we find
Samsung HW-B550/ZF
, a soundbar with more than excellent features considering the market price. In fact, the soundbar is accompanied by an additional wireless subwoofer which creates, together with the speakers of the bar, a 2.1 configuration. The power supplied is also excellent, which can reach up to 410W RMS. In addition, it has a 'Game Mode' which will allow you to get even more fidelity when you start your games. Further gem? Samsung's proprietary remote control inside the package, with which you can control your devices. There are two inputs: optical and HDMI, but you can connect the soundbar and subwoofer to your devices via Bluetooth.
See on Amazon
See on eBay
Sony HT-G700

At the high end of soundbars for gaming, we find
Sony HT-G700
. The Japanese company's proposal is suitable for those who want the most from game audio, with a peak power of 400W! Thanks to Sony's Vertical Surround Engine surround technology, you can enjoy Dolby Atmos and DTS:X via the soundbar and included subwoofer. The three front speakers reproduce 'vertical' sound, creating virtual 7.1.2-channel surround sound. Digital Signal Processing will also upscale the sound to 7.1.2 surround sound. The soundbar, which measures 1m x 6,5cm x 10cm, can be connected to your devices via Bluetooth, optical input and HDMI. A truly complete model loved by its owners, which by virtue of its excellent quality/price ratio is often sold out. We therefore advise you to keep an eye on the Amazon product page frequently if you are interested in purchasing.
See on Amazon
See on eBay

LG UltraGear GP9

Are you looking for a soundbar for gaming and only want the best for that purpose? Then there is the right one for you
LG UltraGear GP9,
soundbar as valid in terms of quality as it is captivating in terms of design. Virtual 3-channel 7.1D Gaming Surround sound, the possibility of using voice chat without headphones thanks to an echo cancellation system and a technology to transform any type of headphones, including earphones, into a 7.1 system: the LG UltraGear GP9 is in short
a very good soundbar to say the least.
The inevitable RGB lighting in 16.7 million colors and the possibility of using the product as a portable speaker thanks to the integrated battery complete the whole: what more could you want?
See on Amazon
See on eBay

Razer Leviathan V2 X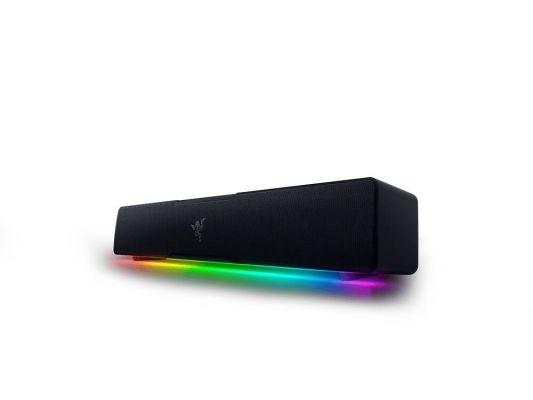 Compactness and performance are the watchwords of Razer's latest creation. This proposal is for those who don't want to invade their space too much, but without sacrificing performance. With a length of only 40cm, the
Razer Leviathan V2 X
it is slim for any location, but offers top-of-the-range performance thanks to the two full-range drivers, and the two passive radiators, which guarantee a defined and deep sound. The Razer Leviathan V2 X delivers an immersive audio experience for any form of entertainment with high-fidelity dynamic THX audio. You can connect the Razer soundbar to your devices via a simple USB.C cable or via a Bluetooth 5.0 connection.
See on Amazon
Creative stage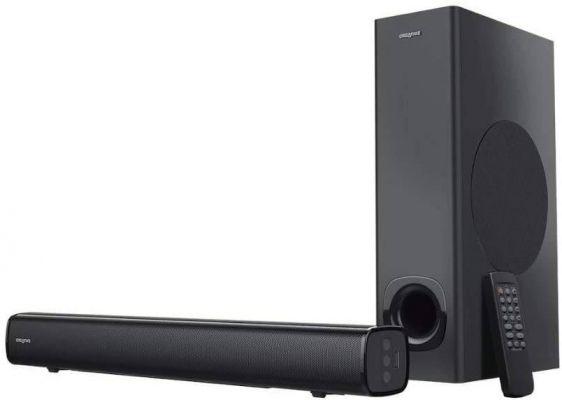 Do you want to spend little, but at the same time want full-bodied audio? Among the best soundbars for gaming,
Creative stage
is the one for you! The bar is equipped with 2.1-channel speakers, with a peak power of 160W and, last but not least, integrates two mid-range drivers that are excellent for dialogue and for more realistic sounds. Paired with the dedicated (included) long distance subwoofer, Creative Stage
offers perfect bass for gaming or watching movies and TV series, but a little too intrusive for listening to music
. The plan of connections to your devices is: optical input, HDMI(ARC) and Bluetooth.
See on Amazon
See on eBay
How to choose the best Soundbar for gaming
Choosing the soundbar to play that best suits your needs is certainly not a simple undertaking and there are several aspects to take into great consideration. Audio quality, size, power, size and much more: these are the aspects to choose your perfect gaming soundbar.
Connections
With regard to connessioni, you will first need to make sure that the soundbar is supported by your device. That is, from the manufacturer's site, make sure that perhaps a bar with a Bluetooth connection is supported by your console or screen. On the other hand, check if your devices are equipped with an optical input, or multiple HDMI outputs, so that you can connect the bar correctly.
As for the specific case of soundbars for playing bluetooth, always keep in mind that even if they are very short distances, the signal could undergo micro-disconnections, leaving you without audio for a few tenths of a second. These are common and uncontrollable cases, which can often happen if there are other devices that generate interference. Nothing serious but we are sure that for someone it represents an important detail to keep in mind.
Output power and volume
With regard to the power, on the other hand, is something extremely personal: do you want full-bodied audio, or do you need a device to compensate for the lack of speakers on your monitor? For the former, cWe recommend the purchase of sound bars above 150W (even by a lot if you have a workstation in the living room), while for the latter a soundbar under 20W is also fine, which can be easily purchased for under €50. In short, a lot depends on the room where you will place the soundbar and what you are trying to achieve in terms of sound.
However, we must always take this advice as such... simple advice. If the distance that separates you from the screen is particularly small, a lower wattage soundbar could prove to be the best solution as you can turn up the volume more, allowing the speakers to cover all frequencies correctly and offer you a full-bodied experience in terms of sound spectrum.
Conversely, if you have a generously sized room, or simply if you like to reproduce sounds at a sustained level because you don't have to worry about the neighbours, a higher wattage will allow you to turn up the volume more to obtain the same result described above, at the interior of a room of more generous dimensions.
If, on the other hand, you are looking for an experience capable of faithfully reproducing Dolby sound, we advise you not to rely on soundbars to play that offer virtual Dolby and to arm yourself with patience, and a larger budget, and move towards a 5 or 7 channel speaker system that can guarantee you the experience you are looking for.
Dimensions and materials
It will seem trivial, but it is right to remember that one of the main aspects to take into consideration when you find yourself having to choose a gaming soundbar is that relating to size. These products are in fact often and willingly characterized by overall generous dimensions and therefore it is mandatory to take proper measures before jumping into a purchase. If the space at your disposal is particularly limited, for example, the Razer Leviathan V2 X could be the best choice for your needs.
Different speech, however, as regards the materials. A good soundbar for playing doesn't need coverings made with precious materials, which is why if you are not looking for a piece of furniture that goes well with your furniture, you don't have to worry about spending exobitants for soundbars covered in wood or made with precious materials. It will be more than enough to look for a product characterized by a color that blends well in your gaming room.
Better brands
Is there the best Soundbar brand for gaming? The answer is no. There are brands that excel in a certain type of sound performance or for specific functions. Razer, for example, is an excellent brand for PC Gaming peripherals and the Leviathan V2 X is a clear example of this with its minimal number of connections and oriented towards that specific sector. Sony, on the other hand, produces peripherals oriented more towards the Home Theater sector and, in certain specific cases, with an optimized audio balance for the consoles of the PlayStation range.
These are just a few examples and, as you may have noticed, we have not specifically talked about the audio quality as each manufacturer of Soundbars for playing offers unique characteristics, or rather, characteristic "sound timbres", which is why it is always advisable to read up on the sound timbre of a soundbar to understand if it can be in line with one's tastes, rather than with one's needs. Some users may be interested in a richer bass sound, others a more neutral timbre that can be mixed according to the listening situation, still others a more middling sound, which emphasizes sound effects and speech.
Price
As with any other type of hi-tech accessory, the right soundbar for playing doesn't necessarily have to be the most expensive, but it is always correct to know what each individual price range has to offer, in order to find the best solution for your needs.
Remaining in a rather low price range, therefore trying to spend even less than €100, you can still buy a soundbar for gaming that is able to offer that slight increase in volume sufficient to satisfy the needs of many gamers. If you decide to focus on this specific price range, we advise you not to look for soundbars that offer accessory functions such as virtual surround but to limit yourself to a soundbar that guarantees you good stereo performance and at least two different types of connections (3.5 jack and bluettoth).
An intermediate price range, which fluctuates between €100 and €300, can offer you much more choice: connection via optical cable, wireless or specific for a specific platform (such as the Razer Leviathan V2 X which connects via USB-C); small woofer for better bass reproduction; more performing drivers able to guarantee a better sound performance; more accessories and so on. Undoubtedly this is the best price range to look for a product that meets your needs but always keep in mind that when a gaming soundbar starts to offer too many features, at a relatively low price, it may not perform any task at its best. This is why we always advise you to focus on one, maximum two, essential features for you (such as the available connections and the type of audio driver).
As for the price range, which starts at €300 and rises steeply, it is indicated for that range of users looking for a substantial range of functions or a particularly accurate sound rendering or a sustained output volume capable of covering a very large area. For most users, buying a soundbar to play with such a high list price turns out to be a choice dictated by specific needs or by the desire to buy a high-end product.