The first information about Samsung Galaxy Tab S6 5G, the first tablet compatible with the fifth generation standard. After Samsung's success with 5G-compatible devices, it is understandable that the company wants to focus heavily on this technology.
Recognizable by the code SM-T66N, the device was announced at the beginning of October in the Bluetooth SIG database. The last weeks of 2019 have been hit by numerous rumors dedicated to this product. Today, the technical specifications of Samsung Galaxy Tab S6 5G would have been anticipated by a mysterious image.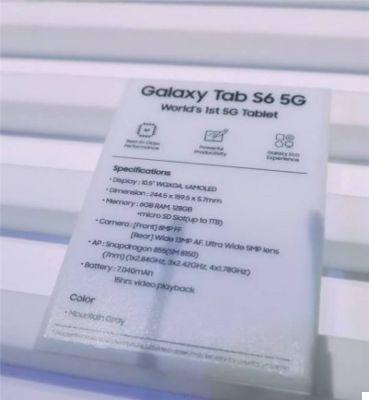 What emerges is that there would be no update compared to the 4G variant, if it were not for the addition of the Snapdragon X50 modem. Two 13MP and 5MP (ultra-wide) photo sensors should be placed in the back. Under the hood we could find the Snapdragon 855 processor and two different memory cuts:
6 / 128 GB;
8/256 GB (available in some states only).
Most likely, the device will arrive, at least initially, in South Korea, and then reach other markets as well. It is not to be excluded, although it is unlikely, that Samsung intends to subsequently modify the technical data sheet, so as to offer a more significant update.
Samsung Galaxy Tab S6, with 6 GB of RAM and 128 GB of internal memory, is available for purchase on Amazon.