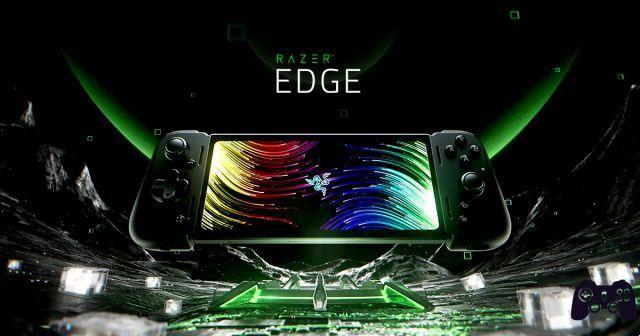 Announced in September 2022, now here we are: in the course of the last few hours, in fact, Razer has unveiled and unveiled Razer Edge, its Android-based gaming handle. Lots of news revealed by the giant that is dedicated to the construction of PC peripherals, including the three models that will be available over the next few months.
Let's start from the form factor: Razer Edge is nothing more than a sort of portable console, but without the controller. The hardware is however compatible with the Razer Kishi V2 Pro, one of the best controllers for mobile gaming, complete with HyperSense Haptics. The console allows you to play both by installing games and using Xbox Cloud Gaming, offering total integration with Xbox Game Pass.
As far as the technical specifications are concerned, at the moment Razer plans to launch three different models of its console: the first, in Wi-Fi, will cost $399,99, while the Founders Edition will settle on a price of $499,99. For the Edge 5G, however, the price is not there yet, but the differences are decidedly minimal. Battery life, processor, internal memory and camera are identical. The difference is obviously on the connection protocols, with the Edge version which will support 5G eSIMs.
Razer's handle is powered by a Qualcomm Snapdragon G3x Gen 1 chipset and can count on 128GB of internal memory, expandable up to 2TB thanks to MicroSD support. Support for THX Spatial Audio is available in the Wi-Fi and Founders Edition model, while Boomcloud5 support is available for the Edge 360G version. The RAM stands at 8GB DDR5 while the screen has a resolution of 2400×1080 and the battery is 5.000mAh. Weight is approximately 264 grams without controller and 401 grams with controller attached.
The launch of Razer Edge is currently only scheduled in the United States of America, but the release date is still missing. The availability of the console in Europe has not yet been announced. We will update you as soon as there are more details on this.