Quibi officially made its debut. It is a new video streaming platform specifically designed to work on smartphones. For this reason, it offers videos of duration not exceeding 10 minutes with an interface that adapts to that of our devices. The service was launched by Jeffrey Katzemberg (formerly of Dreamworks) and Meg Whitman (formerly of Hewlett-Parkard) at a probably unfortunate moment.
Yes, because Quibi has been designed to occupy the free time of users on the commute from home to work, in the coffee break or in moments of waiting. Instead, the COVID-19 emergency has closed us all at home, always leaving us TVs, tablets and PCs. In this context, competition from the big names in the sector (from Netflix to Prime Video passing through Disney+) becomes more pressing than ever. The new streaming service, however, has a different objective: to entertain the user for a very short period of time and the breaks are made even if you work in smart working mode.
Phone, meet #Quibi. Go download the app now: https://t.co/obf7POIKya pic.twitter.com/tmDC5AlHwk
- quibi (@Quibi) April 6, 2020
The platform offers Quick Bites, that is entertainment and news productions easily accessible from a smartphone and on the move. We installed the application - available for both Android and iOS - and we found it extremely easy to operate. The service is currently only available in English (there is the possibility to activate the subtitles always in English). Quibi is paid but offers a trial period of 3 months, at the end of which the subscription will cost € 8,99 per month.
Once the account has been created, you will find yourself in the main screen from which you can browse - with a vertical scroll - the contents. There are shorts with well-known characters such as Jennifer Lopez o Sophie Turner (Sansa Stark in Game of Thrones) and news reports provided by the BBC, NBC and others. In short, quality content.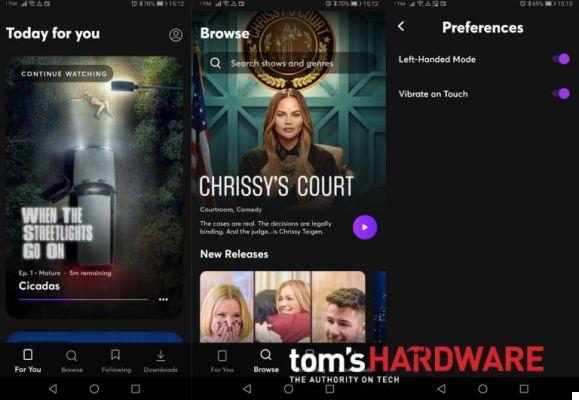 We then find four sections: For You (suggestions based on previous searches and views); Browse (search bar to search for new content); Following (where we will save the contents that interest us) and finally Download which collects the contents we have downloaded to be viewed offline.
Videos can be watched both horizontally and vertically. In the latter case, the progress bar will be visible along the right edge. In addition, among the settings, you can select the left-handed mode. If checked, the bar will move to the left side. Finally, you can also choose to lower the video quality to reduce data consumption.
"It will be a huge hit or a total flop," Michael Goodman, media expert at Strategy Analitycs, told the New York Times. Who knows. Only time will give us an answer.
Mi 9T is one of the best mid-range smartphones on the market. You can buy it on Amazon for less than 300 euros through.