We go back to talking about Oneplus z: the smartphone of middle band it may have appeared in a survey addressed to some Indian consumers. The hypothetical technical specifications hypothesized only a few days ago have been confirmed, at least in part. The company would therefore seem to be ready to land again in the mid-range, after having enriched the high-end with OnePlus 8 (available on Amazon) e 8 Pro (available online).
The aforementioned survey was organized by PayBack, a company that also offers a rewards program. Consumers were faced with a questionnaire asking them if they would be interested in buying a OnePlus mid-range device with a extensive technical data sheet. Here is the information that emerged: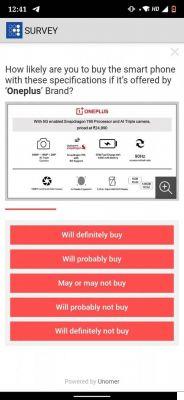 SoC Qualcomm Snapdragon 765, compatible with the 5G;
6 GB of RAM;
128 GB internal memory;
Battery from 4.300 mAh, compatible with 30W fast charging;
Display 6,55-inch AMOLED and 90 Hz refresh rate;
64MP, 16MP and 2MP rear camera;
16MP front camera.
Recall that it is a mid-range device. OnePlus could therefore be ready to compete with brands such as Xiaomi, Realme and Oppo. The price of OnePlus Z, according to what was reported in the survey, should coincide with approximately 300 €. The official launch is expected to take place at July, perhaps already during the first days of the month.
OnePlus 8, one of the most anticipated mid-range smartphones, is available for purchase on Amazon.