OnePlus 9 and 9 Pro will arrive, of course! The company is torn about when to present them but the most rumored line is to follow Samsung, thus launching its smartphones about a month later but in advance of a month compared to the usual April window.
Today new information is emerging online on the standard model which, of course, will have the new and very powerful one available Snapdragon 888 (also known as Snapdragon 875).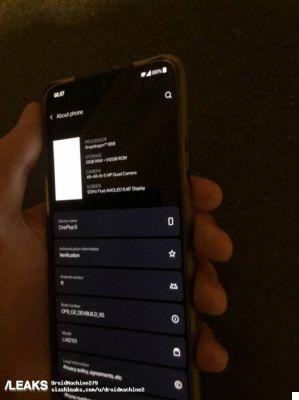 What you see in the dark photo is the new OnePlus 9 with a cover that hugs it to mask its design. Analyzing the display we notice a hole for the front camera that will be placed in the upper part of the Fluid Amoled from 6,48 inches with a refresh rate of 120 Hz.
The lines of the spoiler version are of the OnePlus 9 with 512 GB of internal memory with 12 GB of RAM and has - but this all - a quad camera with two sensors from 48 MP, one 8 MP and the remaining 2 MP.
The back in the leaks is not present but we already have spoken how it could be. As for the operating system, Android 11 will be present with the customization of the OxygenOS 11.
What happened to the third smartphone, the one we have baptized OnePlus 9 Pro Plus? We have not received any more information about it but it is possible that he will be there next year and he will be the most Premium model of the whole trio.
The new top of the OnePlus range will certainly be among the most interesting devices of 2021. Waiting for more information, here is everything we know about OnePlus 9 and OnePlus 9 Pro.
The all-new Galaxy S20 FE is available for purchase here at the best price. With Top features and an updated design it is the definitive Galaxy S20.