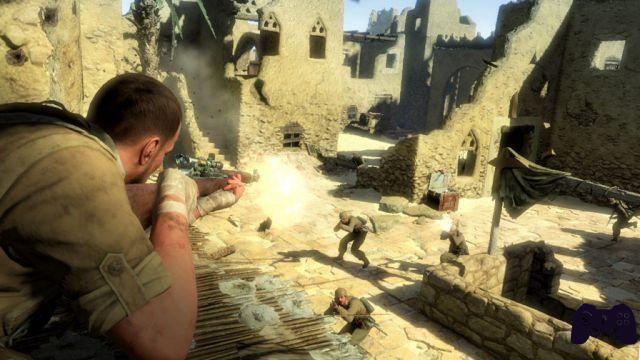 TAKE A GOOD BREATH - SNIPER ELITE 3 ULTIMATE EDITIONIT'S AVAILABLE ON NINTENDO SWITCH!


Milan, October 1 2019 - Sniper Elite 3 Ultimate Edition arrives on Nintendo Switch! Fans can now purchase Rebellion's award-winning tactical shooter on Nintendo eShop or physical edition from select retailers.

To celebrate the launch, Rebellion has released a brand new trailer showing the fast-paced gameplay on Nintendo Switch!


THE COMPLETE COLLECTION
Sniper Elite 3 Ultimate Edition is the complete collection of assignments from Agent Karl Fairburne in North Africa, in 1942. In addition to the intense story campaign, Sniper Elite 3: Ultimate Edition offers all the additional content not yet released for the game! Four extra campaign levels are included where you will have to prevent Churchill's murder on your own and secretly assassinate the Führer in a breathtaking mission that can be completed in multiple ways!

In addition to the base game, Sniper Elite 3 Ultimate Edition on Nintendo Switch includes:

· Additional mini campaign SAVE CHURCHILL
· The additional mission TARGET HITLER: HUNT THE GRAY WOLF
8 additional weapon packs featuring 24 extra weapons
6 additional competitive multiplayer maps
· The TWILIGHT STRIKE co-op mission
· Shooting Range challenges with specific weapons to use

FEATURES OF THE SWITCH VERSION

· MULTIPLAYER AND LOCAL CO-OP - In addition to online mode, Sniper Elite 3 Ultimate Edition supports local wireless multiplayer for the first time! Enjoy the entire campaign in local two-player co-op, Overwatch and Survival. Or take on your friends in local competitive multiplayer for up to 4 players!

· MOTION CONTROL - Optimize your aim with gyro controls and feel the impact of HD rumble bullets.

· SUPPORT PRO CONTROLLER

Sniper Elite 3 takes you to the heart of World War II and the stunning setting of North Africa in 1942. Pursue the infamous Afrika Korps through oases, canyons and sand-submerged cities in a deadly race to sabotage a Nazi super weapon. Use devastating traps and hand-to-hand combat to stealthily take out your targets. Hone your target practice by mastering gravity, wind and even heart rate. Watch your bullets rip through organs, bones and even vehicles with the X-Ray Kill Cam.