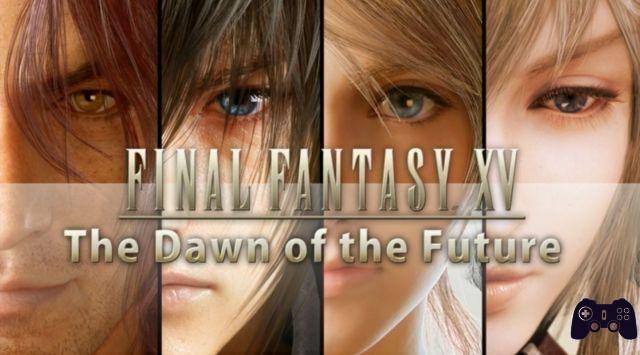 Lo Special Program di Final Fantasy XV he revealed that Episode Noctis, Lunafreya and Aranea DLCs have been canceled, And that Hajime Tabata leaves Square Enix.
Tonight, Square Enix held a special livestream featuring Final Fantasy XV. Fans were thrilled to think of what might be announced, but the broadcast, held by Final Fantasy XV Global Brand Director Akio Ofuji, began with a slightly gloomy atmosphere, due to the announcement of news regarding the status of the DLC and by renowned developer Hajime Tabata.
As previously reported, Square Enix originally planned to release four new episodic DLCs during Spring 2019 focusing on Noctis, Aranea, Lunafreya, and Ardyn. However, this is no longer the case: Episode Noctis, Lunafreya and Aranea have been canceled.
Mr. Ofuji claims that after a "change of direction" at Square Enix the plans for Final Fantasy XV have been reviewed and that it has been decided that the production of the three aforementioned DLCs should be canceled. The development team is "sorry" that they are unable to bring the episodes they have been waiting patiently for to fans, and hopes that fans will understand and play Episode Ardyn, which is still in development and will be released next March.
Regarding the "change of direction", it was announced that Hajime Tabata has left Square Enix - a substantial change, as he was Director of Final Fantasy XV and was in charge of the development of the DLC. Together with Square Enix Tabata also leaves Luminous Productions to found his own company. Below is the letter in which Tabata motivates her decision:
To all viewers of the program: Hello. Tabata speaks to you.
It's been almost two years since FFXV was released. I sincerely believe that if we have come this far it's only thanks to you loyal fans of the game. I thank you with all my heart.
Today I have a personal announcement for all of you. The undersigned, Hajime Tabata, resigns from Luminous Productions and Square Enix with effect from 31 October 2018.
I have been able to accumulate so much experience working with Square Enix. Every single game that I have been involved in is very important to me. FFXV, in particular, stands out from all the others, as it is a special project for which I have given my all. Which is why, I decided to take this opportunity to announce my departure from FFXV to you fans around the world who have supported the project.
As for my near future endeavors, I have a project in mind that I am eager to complete as a personal challenge after FFXV. This is why I decided to leave my current position and start my own company to complete the project.
As the development of Episode Ardyn continues and Luminous Productions works on the new titles, I have decided that it is time to pass the baton to a new generation of talented and trustworthy colleagues, and I am convinced that they will create breathtaking titles.
From today on, I will join you fans in supporting and cheering on Square Enix and Luminous Productions. I want to thank everyone who supported FFXV and supported me personally.
Hajime Tabata
Final Fantasy XV is available on PS4, PC and Xbox One. Episode Ardyn, the latest DLC, will be released in March 2019.
Source