Some XDA developers have announced that they have investigated the source code of some pages of the Xiaomi site, finding very interesting information inside. The code has revealed some models of the Chinese company that will have already pre-installed the new one at launch MIUI 13.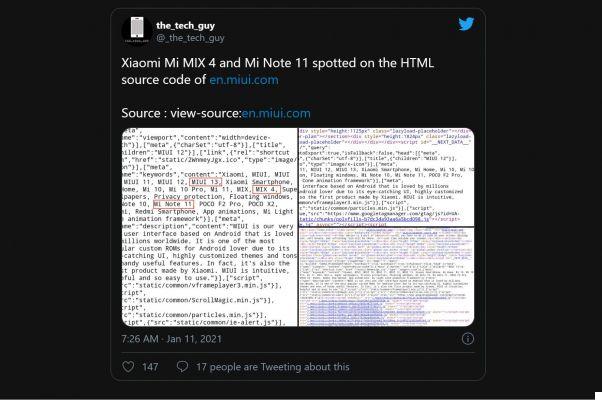 Currently, in fact, the Chinese company has chosen to release an intermediate update - the MIUI 12.5 - which has arrived with some minor incremental additions to support the software of the smartphone family. My 11.
Clearly the major update with a whole series of graphics and interface-related innovations will arrive with MIUI 13 and, again from the information that emerged, this will arrive at the same time as the launch of My Notes 11 e Mi Mix 4. The latter will return after a break and after the company has decided that Mi Mix Alpha you do not have to do.
Small parenthesis on Mi Mix 4. The rumors are tough on the fact that the device will bring special features with it. In fact, the new smartphone could pave the way for the use of the camera under the display which then, of course, will gradually also arrive on the other devices of the company. This news is strengthened following the one that the Xiaomi display supplier (BOE) has already started the production of Oled displays made on purpose to integrate the operation of a camera under the display. Volume production will be ready for the second half of the year, a potential period in which Mi Mix 4 will also be launched.
La MIUI 13 therefore it should be announced around April, with a beta testing program ending towards the end of the year.
Redmi Note 9 in the 128 GB version is an excellent smartphone, it costs just over 150 euros and has a huge battery of over 5000 mAh. you find it here .