Lenovo Yoga 5G is the world's first notebook capable of connecting to the new networking standard. Presented at CES 2020 in Las Vegas, it is ready to reach the markets starting from the United States where the brand has entered into a strategic collaboration with the main 5G service providers. After the American market, it will be up to China and some selected markets in Europe. 5G Yoga will also debut in , given the presence on the online store where we find the usual wording "available soon".
Let's take care of the technical characteristics. The notebook is able to connect to 5G networks thanks to the presence of the processor Qualcomm Snapdragon 8cx (Kyro 495 CPU) with integrated X55 modem and 8 GB of RAM (LPDDR4X). Yoga 5G is expected to deliver download speeds of up to 4 gigabits per second. To ensure 5G support in a slim 2-in-1 device, engineers had to shrink the 5G antennas to fit into a slim chassis to allow network coverage to be maintained regardless of how the user is using it. To do this, a new 5G antenna system was used, considered the smallest 5G module in the industry, which supports both mmWave and sub-6 Ghz.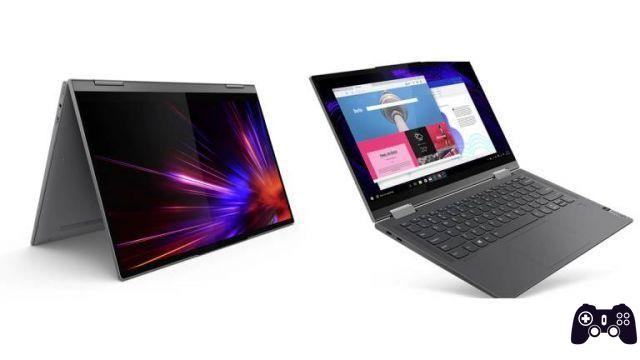 Yoga 5G dildo di un 14 LCD display with a Full-HD resolution. The graphics part is entrusted to the Adreno 680 GPU. The audio part sees the presence of two speakers with Dolby Atmos support. The device is made of aluminum and magnesium and weighs only 1,3 kg. As for connectivity, we find 2 USB-C (PD, DP, USB 3.1), the SIM card slot and the 3,5 mm audio jack. Finally, Lenovo declares an autonomy of up to 24 hours. The software is Windows 10.
As said at the beginning, Lenovo Yoga 5G is available today in the US for $ 1.399,99. There is no price information for the market. In any case, after the smartphone market, the 5G revolution has also officially started in the world of laptops.