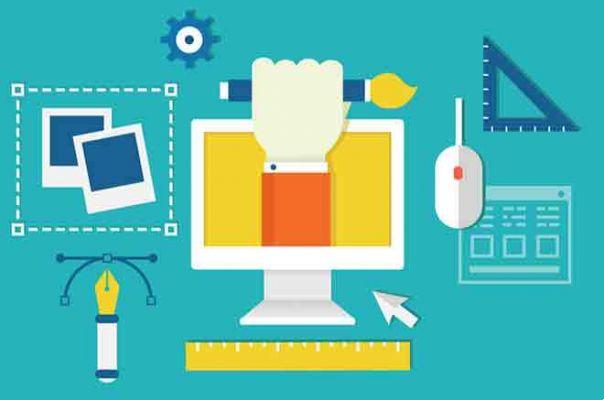 If you want to create a company logo as well as a personal one and you have no design knowledge, I have good news for you as there are a large number of online tools with which you can create logos online for free.
The vast majority of these tools will ask you to register to download the free logo you designed for your company, but you can do it for free. And if you know of any other online logo maker app that I haven't included in the list and you think it should be there, don't hesitate to leave me a comment.
What is a logo and what is it for?
Before telling you which are the best programs to create logos online for free, I would like to make you understand a little better the concept of logo and which ones elements you need to take into account when designing a company or personal logo, free or for a fee.
A logo is the graphic representation (formed by images or letters) which is used to identify companies, brands, products, institutions, etc. Therefore, it serves to associate a certain activity with our brand, company or organization. First of all, you need to be clear that your logo must be:
Readable.
Forever
Unique
Reactive
Why am I telling you this? Think that a logo will convey your personal image or as a company, so it will have to reflect yours culture and values ​​of a company.
It should also be targeting your target audience in so that they are able to identify with it. Furthermore, it must have a unique character that allows us to differentiate ourselves from the competition.
After this brief introduction (we could think a lot more about what a logo should look like and what elements need to be taken into account) we will see several pages to create a logo for free.
How to make a logo, the best sites and programs
Of course, first of all I would like to point out one thing for you. Self do you really want to make a professional logo, I highly recommend you to hire a graphic designer. However, I am aware that when we start a new project, our resources are limited and we try to keep costs as low as possible. And a good alternative to achieve this is to create free logos online.
1. Logaster
With this online tool you can create a logo online for free and download it in low resolution. If you want to download the logo in high resolution you will have to pay. It is a well-known and widely used application to create free online logos, just take a look at the more than 8.447.000 logos created with this platform.
How will I create a free logo with Logaster?
We give the name of our company or brand and select the category that best suits our theme from the list.
We select the design we like best.
We have the possibility to modify the chosen design.
Download the logo you created. You will need to create a mandatory account.
The design you can download for free will contain a page watermark. An interesting aspect of the tool is that in addition to creating your logo, you can also create your own business or business card, as well as design your entire corporate identity on paper. What are you waiting for to try it?
2. Can go
Another free online Spanish logo site you can use is Canva. You may already know it, because it is also a free photo editing program among many other functions.
How to make a logo with Canva:
The first thing you should do is register if you haven't used Canva yet, if you have already used it you just need to log in. Then you will see how different alternatives look to create a design, the option you will need to select is "Other".
Then you need to scroll down to where the "Marketing Material" option appears. Here you have to click on «logos». Canva gives you thousands of mockup examples that you can use as inspiration or as a foundation for designing your logo. Take your time and select the shape that best suits your brand and / or your style.
Once you've selected your mockup, you can customize it to fit your style even more. For this, if you look at it, on the left side of the tool you have three customization options:
Elements: You can add arrows, icons, illustrations, etc.
Text: where we can customize the typography.
Background: you can change the color or choose a custom background.
Take your time and choose the option that's right for you.
3. LogoGenie
Un program to create logos for free which I really liked when I tried it to see how it worked is Logo Genie.
How to create free logos with LogoGenie:
We choose the category that is closest to our business.
Let's add our company name.
We choose the design we like best.
We customize our logo.
Let's download our new logo.
Also, when we select the option we like best among all the alternatives, it allows us to personalize even more the logo. We can select:
The font, size and color.
Change the logo icon.
Add more elements like shapes, lines etc.
Add a background.
You will get all of this in less than a minute. So, if you were thinking about how to create free online logos for your business, it is definitely a good alternative.
4. FreeLogoServices
One free company logo maker you can use is Free Logo Services.
How to create a free logo online with FreeLogoServices:
Enter the name of your brand or company to create the logo and the category it belongs to.
Choose the design from thousands of options you will find.
Customize your logo.
Download your new logo for free.
In the last step, you will be given the option to design your business card with the logo you created, or to use it to print it on t-shirts or other items. You will also need to register if you want to be able to download your new logo, but in a few minutes you can create a custom logo for free.
5. LogoMaker
The figures of this free online logo maker speak for themselves, as more than 20 million logos have been created using this free logo maker.
How to make a custom logo for free with Logo Maker:
We choose the category to which our company belongs.
We write our brand name and it is a slogan (the latter is optional)
We choose up to 3 logo style options.
We choose up to 3 types of sources.
We select the design we like best and customize it.
Of course, if you want to download your logo for free, you will need to register for an account.
6. Logo Maker online
Create logos online for free easily and simply with this tool. You can use the online application without having to register and save all the logos you create in png format, but if you register you can save your projects and you can edit them in the future.
How will I create a logo online for free with LogoMakeronline?
With just one click we access the online tool.
Change the text and enter your company name.
Change the vector image and customize the colors and fonts to your style.
Save the result on your computer.
7. Logo Factory
Another online platform for creating free online logos is LogoFactor. While it doesn't have as many customization options as other tools, if you don't like having to leave your details it's an option to consider because it allows you to create a logo and download it for free without having to register. Create your logo online, what are you waiting for to try it?
8. Logotype Maker
Another free online logo maker you can use is Logotype Maker. You have free options and other payment options, and its operation is quite intuitive. First write down your brand name and the category that is related to your business.
Then select the model you like best and customize it. Obviously, when you customize it tool, it forces you to register so you can continue with the process, in order to take this into account.
Further Reading:
How to use Microsoft Word Online
How to create logos with Adobe Spark
How to create a logo for your website
5 ways to edit PDF online
How to use Microsoft Office Online