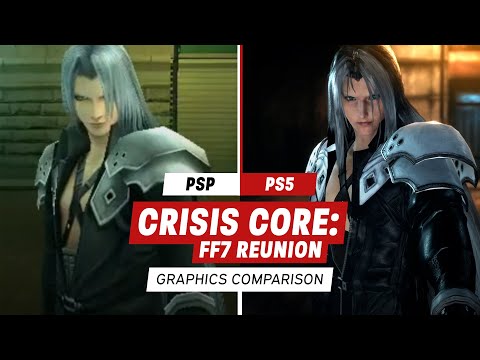 Through a new video published by IGN USA we can compare, in real time, the new graphics of Crisis Core Final Fantasy 7 Reunion with that of Crisis Core Final Fantasy 7 released in 2007. The comparison is disarming, as are the steps forward made by the sector precisely in this sense.
Of course, when such a parallelism is implemented, it is always important to contextualize the source material. The original Crisis Core was released on the PSP, with all the limitations that specific console required at the time. Crisis Core Final Fantasy 7 Reunion therefore sets itself the goal of breaking this kind of limitation re-proposing the title with photo-realistic graphics, and also rejuvenating its structural soul, in a certain sense.
Not a remake at all, so much as one remaster very accurate, at least based on what we have witnessed up to now, reminding you that we have adequately explored this new Square Enix home project in our review.
The choice to restore Crisis Core was not accidental at all. The Japanese developer is well aware of the community's dispassionate love for him. Crisis Core Final Fantasy 7 Reunion will bring back to life one of the most loved chapters of the Final Fantasy series, a spin-off that in a very short time has earned the title of immortal "cult", entering the Olympus of the most appreciated chapters by the community .
All this love is also very noticeable in the care that surrounds the new project, having the opportunity to take a further look at everything with this new comparison video. Will the release of Crisis Core Final Fantasy 7 Reunion in December manage to steal the hearts of fans again, or will it result in yet another experiment driven by a nostalgia out of time?
Before saying goodbye, we advise you to visit our YouTube channel, where you will be able to find complete and detailed videos dedicated to the gaming world at 360 degrees, with lots of curiosities.
https://www.youtube.com/watch?v=D8AnNr0Bt58