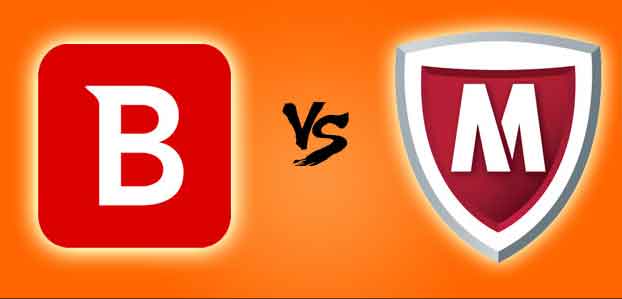 Puzzled which antivirus to choose? Well, if you've already done a Google search for "Best Antivirus Software", then we will surely understand your confused state. A wide range of antivirus software is available online, where Bitdefender and McAfee are very famous players in this segment.
As the activities of cybercriminals are increasing rapidly, installing a secure antivirus suite to safeguard your digital devices becomes a must. Regardless of the device or platform you are using, Windows, macOS, Android, or iOS, using antivirus software can protect your device from any potential threats.
And even if you have to pay a small price to purchase an antivirus software package, it will be one of the best decisions you will ever make to keep your digital data safe.
So confused between Bitdefender VS McAfee? Which Antivirus Software Should You Choose? In this post, you find a detailed insight highlighting all the significant differences, comparing both of these rival antivirus suites on various parameters so that you can make the best decision to protect your devices.
Bitdefender antivirus package
Before starting the comparison, here is a summary overview of all the Bitdefender antivirus products you can choose from.
Bitdefender Antivirus Free: Starting our list with the bare minimum, Bitdefender Antivirus Free gives you a limited set of security features, but yes, compared to other freeware software, it does a fair enough job of protecting your devices. Together with Bitdefender Antivirus Free, you can enjoy free malware protection and security against fraudulent websites.
Bitdefender Antivirus Plus: Bitdefender Antivirus Plus offers you maximum security against viruses and malware. It comes bundled with a wide range of security features, including a password manager, a secure browsing experience for online shopping and secure banking transactions, a file shredding utility, security WiFi network and many others. However, the only problem here is that it is only compatible with the Windows operating system.
Bitdefender Internet Security: regards Bitdenfder Internet Security as an advanced version of the one mentioned above. In addition to offering comprehensive virus and malware protection, it also offers many premium features, including Parental Control, webcam protection, and a 2-way firewall to protect your network.
Bitdefender Total Security: Just as the name suggests, Bitdefender Total Security is a summary of all of the above, with some additional security features. Bitdefender Total Security is a complete package that includes system optimization, disk cleanup, advanced anti-theft module and many other premium features that are worth considering.
McAfee antivirus package
Let's take a closer look at all the McAfee antivirus variants and packages you can choose from.
McAfee Antivirus Plus: McAfee Antivirus Plus is the simplest security package offered by the brand. In addition to offering virus and malware protection, it provides security features such as home network protection, network manager, PC optimization tools, vulnerability scanner, firewall, social media protection and many other advanced features.
McAfee Internet Security- Along with McAfee Internet Security, you'll get all of the above, plus two additional features, namely Parental Control and Spam Protection.
McAfee Total Protection: McAfee Total Protection is one of the best packages you can choose to protect your devices. It comes with a 100% money back guarantee so you have absolutely nothing to worry about. McAfee Total Protection also offers complete web protection. Its unique "Web Advisor" browser extension alerts you immediately whenever you try to visit web pages that are dangerous or contain phishing links.
Compatible platforms: Windows, Mac, iOS and Android.
McAfee Live Safe: McAfee Live Safe is a professional security package that includes premium security tools and utilities. With McAfee Live Safe, you get 1GB of secure cloud storage and everything else mentioned in the McAfee variants listed above.
Compatible platforms: Windows, Mac, iOS and Android.
Bitdefender VS McAfee: A Detailed Comparison
We start and compare both antivirus software based on several factors.
Malware protection
As we spend most of our time on our devices, it becomes critically important to keep malware and malicious threats at bay. So among Bitdefender VS McAfee, which antivirus is better when it comes to malware protection? What do you think?
Therefore, malware can generally be classified into two types, one is known malware and the other is zero-day malware (unknown malware), which turns out to be more dangerous. An antivirus program must be efficiently designed to quickly detect such threats to fight zero-day or unknown malware.
The Bitdefender Antivirus suite offers advanced behavioral detection techniques that can easily identify such risks and the necessary action can be taken immediately to remove such threats from your device.
If we talk about malware protection, then BitDefender is a clear winner in this case as it boasts greater security.
Impact on the system
Installing antivirus software on your device is not enough! You also need to make sure how badly it is affecting the performance of your device. If we are talking specifically about the system impact factor, an antivirus software should not cause harm to the speed and performance of your device. How to improve and speed up your PC?
BitDefender and McAfee, both antivirus software, did a great job when tested for impact on the system. So whether you choose BitDefender or McAfee, you won't be disappointed worrying about the impact this software will have on your device. Both software are lightweight and won't slow down your device, not even a little.
User experience
Whether you are an individual or an organization, you may need to use antivirus software sooner or later. Hence, antivirus software should be designed in a way that is ideal for both beginners and veterans to use. So who has done a great job between Bitdefender VS McAfee when it comes to interface and user experience? Let's find out.
McAfee: McAfee's user interface is quite uncluttered and well designed. On the main screen, you will find all the main options divided into various categories, which include Home, PC Security, Identity, Privacy and Account. The Quick Scan button is positioned right in the center to perform a scan without digging deep into options efficiently.
Bitdefender: Bitdefender antivirus software user interface looks more advanced and clearer than McAfee. The left side panel extensively lists all categories for easy switching between options. By default, you will see the dashboard preview which offers various scanning options to choose from.
Popularity and market presence
McAfee and Bitdefender both have a strong presence in the market and are quite trustworthy among users around the world. So who is more popular when it comes to leading the kingdom?
Speaking specifically of market share, McAfee gains a larger market share than Bitdefender. While both of these brands have a reliable image and an online presence, you can choose either of them without thinking twice.
Prices
Agree or not, but price is considered one of the most important factors when choosing antivirus software. It's not a one-time investment, but it's more like an ongoing cost you pay to protect your devices. You need to choose antivirus software, which is affordable but offers a lot of security features that can make your decisions sound enough.
>>> Kaspersky vs Avast 2021, the definitive comparison <<
The final verdict
So guys, among Bitdefender VS McAfee, our vote goes to the first one, namely Bitdefender, as it offers more security-rich features and toolset at an affordable price. From a user-friendly interface to an advanced toolset for improving security, Bitdefender is the ultimate choice.
In addition to offering 24/24 antivirus protection, Bitdefender also offers utilities such as Password Manager, WiFi Network Protection, File Shredder, Webcam Shield, File Encryption and more, as well as improving the overall performance of your device.
Further Reading:
Christmas sale: get Windows 10 Pro free and McAfee Antivirus and other anti-virus keys half price
How to use Microsoft Defender
How to uninstall Bitdefender from Mac or PC
The best alternatives to Avast Antivirus
Free antivirus for Android, the best of 2020