On yesterday's day, Microsoft held its annual hardware unveiling event where some new products were announced, including the Surface Pro X in its new hardware configuration and Surface Laptop Go. Great absent from the Surface Neo event, which in the meantime has also disappeared from the company's official store.
Microsoft Surface Neo is one of the two dual screen devices presented by the American company last year and expected to arrive on the market by the end of 2020. While Surface Duo has come into the hands of American consumers, there is still no trace of Surface Neo that was supposed to debut with the new Windows 10X operating system on board.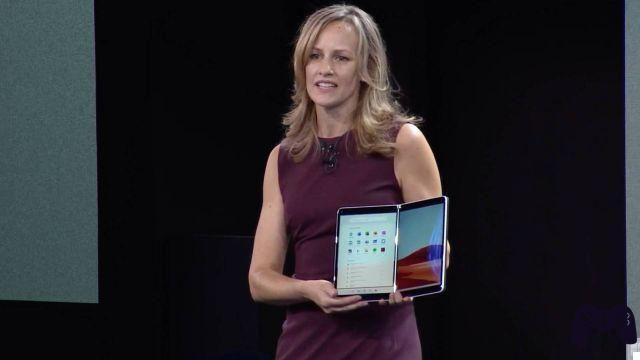 Microsoft had already announced of be late with work on completing Windows 10X for folding devices and those with two screens, an operating system that will arrive on the market earlier for normal laptops waiting for the finishing touches.
Since last year's event, in the Microsoft Store there was a page dedicated to Surface Neo in which the design was shown and in which it was indicated as the approximate period of arrival on the market the end of 2020. The wording regarding the exit period had already been removed when the American company announced that it was late in finishing the product, now the page has been completely hidden. You can still find Surface Neo by searching, however clicking on the result will take you back to the main page of the shop. Should we abandon all hope of having the innovative dual screen device in our hands?
According to what the company said to Neowin colleagues, perhaps yes: "Earlier this year, we announced that we are pausing the development of the Surface Neo. We currently have no updates to share, "Microsoft said.
it would not be the first time that Microsoft sets aside the projects already announced, as happened for the function for Windows called Sets, announced in 2017 and which allowed you to open multiple instances of the same app in different tabs of the same window. The feature has never been officially abandoned by the company with an official communication, however if you are still waiting to see Sets in Windows 10 I might have some bad news for you ...
Microsoft Surface GO 2, 2-in-1 PC with 10.5 "touch display, 8GB of RAM and 128GB SSD, is available for purchase on Amazon at a discounted price.