After months of waiting and anticipation, the dark theme is finally coming to WhatsApp. For the moment, the new mode is only available for users enrolled in the beta program but will soon be released in a stable version for everyone. The novelty was introduced with version number 2.20.13, as reported by the WABetainfo portal.
As we all know, the dark theme involves a change in the screen colors that turn towards darker shades. This entails advantages both in terms of energy efficiency (especially on screens with AMOLED displays) both in terms of eyestrain. In this specific case, on WhatsApp, the typical green of the messaging app becomes darker while the white changes to an intense gray.
How to activate it?
If you are a beta user, just download the latest version 2.20.13 and go to the Chat Settings. Here the new Theme item has been inserted through which it is possible to choose between dark mode, the mode that automatically sets the theme based on that used in general on the system and a third mode that concerns energy saving. In this case, the app will darken if any system-level function is activated to reduce battery consumption. Obviously, at present, the function still needs refinements. So, it is possible that - for example - there are some parts that are not translated or poorly translated.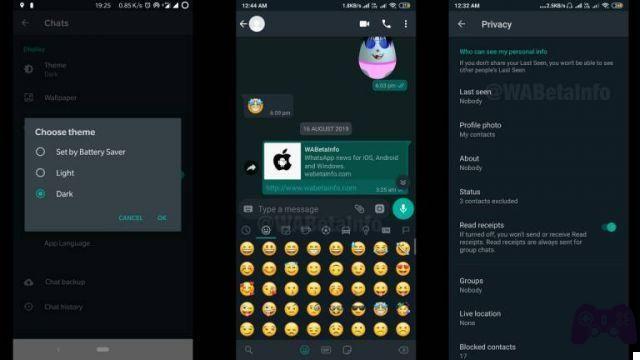 If you are not enrolled in the beta program, you can download the APK available from this address. After giving permission to your system to install applications from sources other than the Play Store, you can proceed with the installation and try the latest WhatsApp beta. Furthermore, it is possible to go to the dedicated page of the Play Store to register as a beta tester () even if - unfortunately - other testers are not accepted at the moment.
the brand new Huawei P30 Lite New Edition, with 6 GB of RAM and 256 GB of internal storage, is available for purchase on Amazon. You can find it at this address.