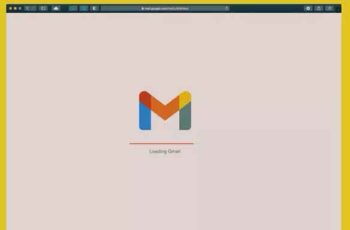 How to set a default email on Gmail? It may not only get quite monotonous, but also tiring at times to type the same type of email over and over again. Copying and pasting is also a time-consuming process. Creating specific templates for specific types of emails can help, that's why in this article we explain how to create an email template in Gmail.
Users can create and save up to 50 templates on Gmail. They can also set up filters that automatically send templates as a reply to the sender. Here is a step by step procedure to create and use an email template in Gmail.
Enable templates in Gmail
By default, Gmail disables the templates feature for users. You have to enable the feature and then it will appear for you.
Visit Gmail on the web.
Click the Settings gear in the upper right corner.
Open View all settings.
Click the Advanced tab from the top tab.
Enable the Templates option.
Scroll down and select Save changes.
You are ready to use a template in Gmail. Let's create one. Shall we?
Create templates in Gmail
Now that you've enabled templates, it's time to create a template in Gmail. Follow the steps below.
From the main Gmail screen, click on the compose menu in the upper left corner.
A similar Gmail compose screen will open below.
Type in your draft or generic response and instead of submitting it, click on the three-dot menu below.
Open the Templates menu.
Select "Save draft as template".
Click "Save as new template" from the following menu.
Give the template a name and hit the Save button at the bottom.
You have successfully saved the template in Gmail. Now it's time to use the app.
Use templates in Gmail
Now that you've created templates in Gmail, it's time to see them in action. You can create as many email templates as you want and use them according to the situation. Here's how you can use templates in Gmail.
Click Compose from the Gmail home page.
It will open the composition menu in Gmail.
Instead of typing messages manually, you can click the three-dot menu and open the templates.
From the Insert Template menu, select a relevant template you want to use with email.
You will see the message saved in the Gmail compose menu.
You can change the time, location and other details. If the email template already has a signature added, you need to remove it to avoid duplication before sending an email.
How to delete a template in Gmail
If you no longer need a Gmail template, you can easily remove it from your Gmail account. Here's how to delete a template in Gmail.
From the Gmail home page, select the compose menu at the top.
Click the three-dot menu and click Templates.
Select a template you want to remove.
You will see the Delete Template option. Use it and you won't see that template from Gmail.
Disable templates in Gmail
Enabling templates won't interrupt your Gmail experience. For some reason, if you don't want to use templates after some time, you can easily disable the option from the Gmail settings menu.
Click the Settings icon from the Gmail home page and open View All Settings.
Go to Advanced Options.
Click Disable from the Advanced menu.
Scroll down to the bottom and hit the Save Changes button.
Go back to the Gmail home page and you will no longer see the templates from the Gmail composition.
Can I use Gmail templates on mobile?
Similar to the Gmail signature, the templates you create on the Gmail web remain in your Gmail account. You won't be able to use the same Gmail templates on mobile apps. You can't even create or manage templates in Gmail from your phone.
How to forward an email on Gmail
Get started with templates in Gmail
Gmail templates are a must for power users. You can create as many templates as you want and start replying to messages in style. Do not overdo it. Otherwise, you will get confused as to which model to use in a specific scenario. How do you plan to use templates in Gmail? Share your thoughts in the comments below.
Further Reading:
How to change your name and email address in Gmail
How to activate Gmail dark theme
How to change your Gmail password
How to create logos with Adobe Spark
How to create folders in Gmail