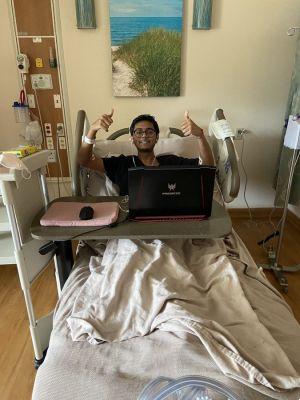 If you really want to get good at a video game, forget about monitors, peripherals and gaming chairs. Buying over 2.000 euros of material will not make you a phenomenon in titles such as Valorant. The living proof? A player who from a hospital bed, where he was hospitalized, managed to demolish an entire opposing team.
The story is almost unbelievable and we try to summarize it. The player in question is the American Nishil Shah. During a match of the Valorant university eSport circuit, Shash was forced to hospitalize with pancreatitis. The opposing team refused to reschedule the match. Shash's team played at this point, but with the player who was in the hospital and more precisely on a bed in his ward. The final result? A landslide victory.
Clearly such news could not go unnoticed, with Riot Games congratulating Shash, calling him a king and inviting him to collect his crown, a very famous internet meme used to express congratulations or console those who are having a bad time. The story of Shash is yet another demonstration of how thousands of euros between PCs, gaming mice and workstations are not really needed, but simply hard training. Training that paid off in the case of the player in question, so much so that he was able to play even without his favorite peripherals and in a decidedly uncomfortable position.
When u got to play ur first cval match from the hospital but we take the W. @ODU_Esports @JakeSucky pic.twitter.com/Hx0i7224oD
— Nishil Shah (@nishil08) October 22, 2022
Shash's team won both matches of Valorant played in the best-of-three format. And after the victory, the reassurances on the professional's state of health obviously arrived: as stated by one of his teammates, Nick is definitely better. Congratulations to Shash and of course his team - hard to repeat such a feat.