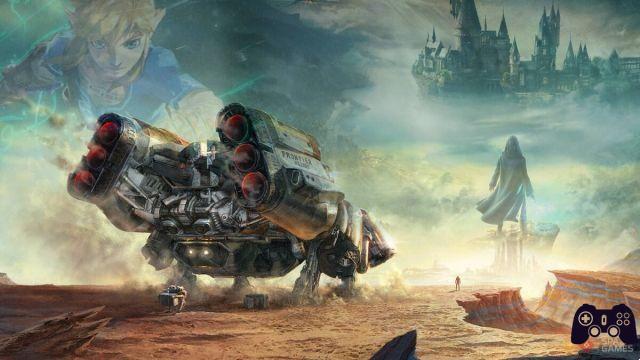 2023 is approaching and promises to be one of the most important and huge videogame years ever, not necessarily thanks to him, but more for a series of titles postponed in previous years that now finally lend themselves to land on the market. It can very well be considered the year zero of the post-emergency Covid era and perhaps the real starting point for a next-gen that has had a bit of a "diesel" start so far.
In this little special we have collected all, absolutely all the games announced and scheduled for 2023. For the official dates, we advise you to follow and bookmark our article entirely focused on upcoming games. All the gaming experiences you see here are all those planned for next year, it is not clearly said that they will not be further postponed to 2024.
Having said this, if really all these games (plus many others planned not yet communicated) were to come out, we would be facing one of the most incredible and full years ever which on the one hand certainly cannot be seen as a negative thing, but on the other part we can't help but wonder if we will have enough time to be able to keep up with everything.
We also have articles dedicated to current and upcoming Xbox Exclusives, PlayStation Exclusives and Switch Exclusives, should you need them.
| | | | | |
| --- | --- | --- | --- | --- |
| TITLE | PC | Xbox Series X | S | PS5 | Nintendo Switch |
| A Space fo the Unbound | ✔ | ✔ | ✔ | |
| Abiotic Factor | ✔ | | | |
| After The Fall | | | ✔ | |
| Age of Empires II: Definitive Edition | AVAILABLE | ✔ | | |
| Age of Empires IV | AVAILABLE | ✔ | | |
| Alan Wake II | ✔ | ✔ | ✔ | |
| Aliens Dark Descent | ✔ | ✔ | ✔ | |
| Anger Foot | ✔ | | | |
| Ark 2 | ✔ | ✔ | | |
| Assassin's Creed Mirage | ✔ | ✔ | ✔ | |
| Ryza 3 Workshop | ✔ | | ✔ | ✔ |
| Atomic Heart | ✔ | ✔ | ✔ | - |
| Avatar Frontiers of Pandora | ✔ | ✔ | ✔ | |
| After The Fall | | | | |
| Baldurs Gate 3 | ✔ | | | |
| Bayonetta Origins | | | | ✔ |
| Black Myth Wukong | ✔ | ✔ | ✔ | |
| White | ✔ | | | ✔ |
| Blood Bowl 3 | ✔ | ✔ | ✔ | |
| Crime Boss Rockay City | ✔ | ✔ | ✔ | |
| Company of Heroes 3 | ✔ | ✔ | ✔ | |
| Dead Island 2 | ✔ | ✔ | ✔ | |
| DeadSpace Remake | ✔ | ✔ | ✔ | |
| Deliver Us Mars | ✔ | ✔ | ✔ | |
| Destiny 2 Lightfall | ✔ | ✔ | ✔ | |
| Diablo IV | ✔ | ✔ | ✔ | |
| Earth From Another Sun | ✔ | | | |
| Earthlock 2 | ✔ | ✔ | ✔ | |
| EA Sports PGA Tour 2023 | ✔ | ✔ | ✔ | |
| Eiyuden Chonicle Hundred Heroes | ✔ | ✔ | ✔ | ✔ |
| Endless dungeon | ✔ | ✔ | ✔ | ✔ |
| eternals | ✔ | | ✔ | |
| ever space 2 | ✔ | ✔ | ✔ | |
| exoprimal | ✔ | ✔ | ✔ | |
| fae farm | | | | ✔ |
| Fatal Frame: Mask of the Lunar Eclipse | ✔ | ✔ | ✔ | ✔ |
| | | | | |
| Final Fantasy XVI | ✔ | | ✔ | |
| Final Fantasy VII Rebirth | ✔ | | ✔ | |
| Fire Emblem Engagement | | | | ✔ |
| Firmament | ✔ | | ✔ | |
| flashback 2 | ✔ | ✔ | ✔ | ✔ |
| flintlock | ✔ | ✔ | ✔ | |
| Flock | ✔ | ✔ | ✔ | |
| forspoken | ✔ | | ✔ | |
| Forza Motorsport | ✔ | ✔ | | |
| Front Mission 2 | | | | ✔ |
| Ghostrunner 2 | ✔ | ✔ | ✔ | |
| Glimmer in Mirror | ✔ | | | |
| god of rock | ✔ | ✔ | ✔ | ✔ |
| Gori Cuddly Carnage | ✔ | ✔ | ✔ | ✔ |
| GrimGrimoire OnceMore | | | ✔ | ✔ |
| Gumbrella | ✔ | | | ✔ |
| Have a Nice Death | | | | ✔ |
| Hell is Us | ✔ | ✔ | ✔ | |
| Hogwarts legacy | ✔ | ✔ | ✔ | ✔ |
| Hollow Knight Silksong | ✔ | ✔ | ✔ | ✔ |
| Homeworld 3 | ✔ | | | |
| Horizon Forbidden West: Burning Shores | | | ✔ | |
| Horizon: Call of the Mountains | | | ✔ | |
| Kerbal Space Program 2 | ✔ | | | |
| Lies of P | ✔ | ✔ | ✔ | |
| Like a Dragon: Isshin! | ✔ | ✔ | ✔ | |
| Lone Ruin | ✔ | ✔ | ✔ | ✔ |
| Marvel's Midnight Suns | AVAILABLE | ✔ | ✔ | ✔ |
| Marvel's Spider-Man 2 | | | ✔ | |
| minecraft legends | ✔ | ✔ | ✔ | ✔ |
| Monster Hunter: Rise | AVAILABLE | ✔ | ✔ | AVAILABLE |
| Monster Hunter: Rise – Sunbreak | AVAILABLE | ✔ | ✔ | AVAILABLE |
| Octopath Traveler II | ✔ | | ✔ | ✔ |
| oddballers | ✔ | ✔ | ✔ | |
| One Piece Odyssey | ✔ | ✔ | ✔ | |
| Oxenfree II | ✔ | ✔ | ✔ | ✔ |
| pacific drive | ✔ | | ✔ | |
| Pal world | ✔ | | | |
| Pradise Project | ✔ | ✔ | ✔ | |
| park beyond | ✔ | ✔ | ✔ | |
| Payday 3 | ✔ | ✔ | ✔ | |
| pepper grinder | ✔ | | | ✔ |
| Persona 3 Portable | AVAILABLE | ✔ | ✔ | ✔ |
| 4 Golden Person | AVAILABLE | ✔ | ✔ | ✔ |
| Pikmin 4 | | | | ✔ |
| Planet of lana | ✔ | ✔ | | |
| Playstation VR2 | | | ✔ | |
| Pragmatic | ✔ | ✔ | ✔ | |
| redfall | ✔ | ✔ | | |
| Resident Evil 4 Remake | ✔ | ✔ | ✔ | |
| return | ✔ | | AVAILABLE | |
| Scars above | ✔ | ✔ | ✔ | |
| Skull and Bones | ✔ | ✔ | ✔ | |
| Sounds of the forest | | | ✔ | |
| S.T.A.L.K.E.R. 2 | ✔ | ✔ | | |
| Star Wars Jedi Survivor | ✔ | ✔ | ✔ | |
| Starfield | ✔ | ✔ | | |
| Storyteller | ✔ | | | ✔ |
| Street Fighter 6 | ✔ | ✔ | ✔ | |
| Suicide Squad: Kill the Justice League | ✔ | ✔ | ✔ | |
| Superfuse | ✔ | | | |
| Tales of Symphonya Remastered | ✔ | ✔ | ✔ | ✔ |
| Tekken 8 | ✔ | ✔ | ✔ | |
| Test Drive Unlimited: Solar Crown | ✔ | ✔ | ✔ | ✔ |
| The Day Before | ✔ | ✔ | ✔ | |
| The Expanse | ✔ | ✔ | ✔ | |
| The Great War | ✔ | | | |
| The Last of Us Parte I | ✔ | | AVAILABLE | |
| The Legends of Heroes: Trails to Azure | ✔ | | ✔ | ✔ |
| The Legend of Zelda: Tears of the Kingdom | | | | ✔ |
| The Plunky Squire | ✔ | ✔ | ✔ | |
| The Repair House | ✔ | | | |
| The Siege and the Sandfox | ✔ | | | |
| The Texas Chain Saw Massacre | ✔ | ✔ | ✔ | |
| The Wandering Village | ✔ | | | |
| The Wolf Among Us 2 | ✔ | ✔ | ✔ | |
| Thirsty Suitors | ✔ | ✔ | ✔ | ✔ |
| To The Stars | ✔ | | | ✔ |
| Tron Identity | ✔ | | | |
| valheim | AVAILABLE | ✔ | | |
| Vengeful Guardian Moonrider | ✔ | | ✔ | ✔ |
| | | | | |
| Warhammer 40.00 Boltgun | ✔ | ✔ | ✔ | ✔ |
| Warhammer 40.000 Darktide | AVAILABLE | ✔ | | |
| Warhammer 40.000 Rogue Trader | ✔ | ✔ | ✔ | |
| warlander | ✔ | | | |
| wild hearts | ✔ | ✔ | ✔ | |
| witch fire | ✔ | | | |
| Wo Long Fallen Dynasty | ✔ | ✔ | ✔ | |
| Ys IX Monster Nox | | | ✔ | |