For several years now, with the explosion of Twitch, many have ventured into this streaming service, in an attempt to win and devote themselves exclusively to live broadcasts on the purple platform. However, starting a career overnight isn't easy, as it requires a lot of equipment and technical knowledge. And last but not least a good internet connection, specifically an upload capable of exceeding 10MB. That said, let's get started right away and see what the best accessories for streaming which you need to start streaming.
Before proceeding, you can also take a look at our specific guides dedicated to the best Ring Lights, Streaming Cameras and the best Green Screens. While if you need advice to take your first steps in the world of Twitch, here is the definitive guide to streaming.
Streaming accessories, the best
Microphone: Yeti and Fifine
Pop Filter
Microphone support
StreamCam
Green Screen
Lights set
Game capture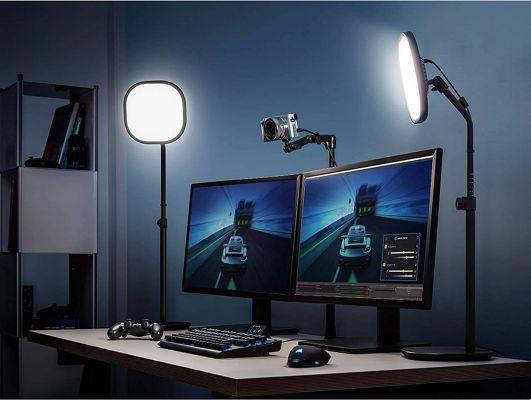 YETI, the best Microphone for streaming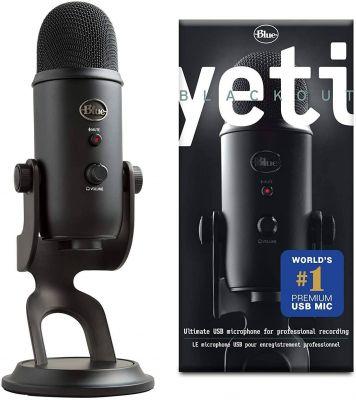 Let's start from the beginning, with a fundamental purchase for any user who wants to approach the world of online entertainment. Even if you have little budget, the suggestion is to direct it in major forces towards the purchase of a new one
microphone
. Your voice is in fact fundamental: it is important that it is not accompanied by noises such as rustling or similar.
That said, we suggest buying one Yeti, a decidedly performing microphone while not ranking at the top of the top and proposing itself at a fairly accessible price, in fact we are talking about 150 €. The design of the Yeti it is simple but captivating, worked with care and above all built with excellent materials which give a resistant feeling. On the front, in addition to the clearly visible logo, we have two buttons: the first allows you to change your voice (very useful action; never have a sudden allergic crisis), while the second is actually a small knob through the which to adjust the volume. On the sides we have instead thin cranks positioned specifically to fix the microphone and avoid possible oscillations. And on the back we find two other options: one for adjusting the gain and another for switching the various audio capture modes. We immediately specify that, if your intent is to use it only during streaming, the ideal choice is the penultimate one, or the pattern designed to capture a single voice coming from in front.
Finally, we close by spending a few characters on connectivity. To connect the microphone to your computer you simply need to have an unoccupied USB port, once this is done the drivers will be automatically installed and it will be ready for use. There's even a headphone jack that's very useful for listening to your voice, so you can make adjustments carefully.
SEE ON AMAZON SEE ON EBAY
If you want to save a bit on the mic and put your budget on one of the other streaming components, we suggest buying this one. FIFINE branded microphone, lower than the YETI but still excellent especially for the price at which it is offered: 47 €.
SEE ON AMAZON SEE ON EBAY
Best Pop filter for streaming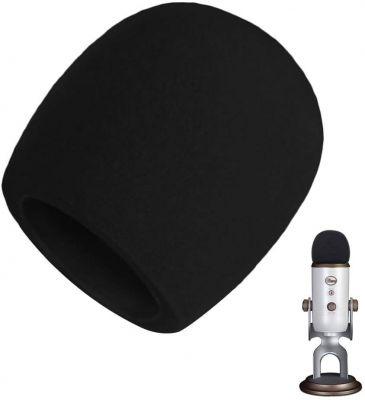 Have you purchased a new and high-performance microphone? Well now you need one
pop filter
to make your new purchase wear, so as to improve it further. There are several: some are mounted together with an arm to be attached to the desk, others - like a glove - are simply worn on the
microphone
.
Mind you, it is not a mandatory purchase, but given the small investment required, it would be a shame to give it up. In fact, you can find it at just under 8 €.
SEE ON AMAZON
Best Microphone Stand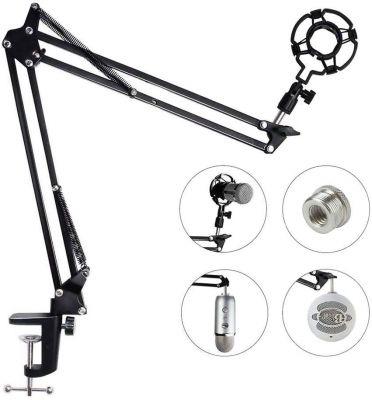 Also in this case it is an optional purchase, which however could be essential for those who have little space and want to optimize it to the fullest, or even for those who simply want absolute comfort.
Stable, sturdy and durable, this stand clips easily to your desk and can be adjusted both horizontally and vertically. It even includes a dedicated space for inserting a pop filter; if you are interested, you might as well proceed with the purchase and optimize your setup as best as possible.
You will take all this home with you just under 20 eurosa rather low cost.
SEE ON AMAZON SEE ON EBAY
Logitech StreamCam and C922, the best webcams for streaming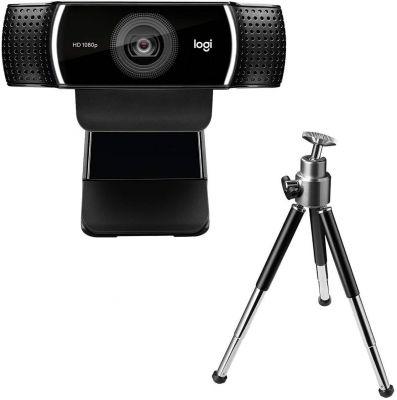 Another fundamental piece of your setup is the
webcam
. There are really a lot of them on the market, some go as far as
3840x2160p resolution
. If your intent is mainly to play video games, our advice is not to exceed
1920x1080p
, quite important resolution and also suitable for a full screen display. Practically perfect if reduced to a window to give space to the game.
The model we suggest is C922 di Logitech, a webcam very performing and with a limited budget; costs approx 90 €.
Installation is very simple: just like for the microphone, you need to connect the USB cable supplied directly in the package, after which wait for your computer to install the drivers and you'll be ready. There webcam is automatically recognized by programs such as OBS, so you will be able to configure various parameters directly from the software, without having to download the official application of Logitech, which we recommend only if your intent is also to take pictures or make very short videos.
Finally, we briefly tell you about the design of this one webcam, very elegant and equipped with a simple kickstand that allows you to place it on top of your monitor or other not too thick objects.
SEE ON AMAZON SEE ON EBAY
If, on the other hand, you don't want to spare any expense, there is also Logitech StreamCam, the latest model of streaming webcam from Logitech designed for social communication and stories. It is an extremely versatile machine capable of recording video in 1080p at 60 fps. The perfect tool for every streamer but it costs almost 50 euros more than the previous model.
SEE ON AMAZON SEE ON EBAY

Best Green screen for streaming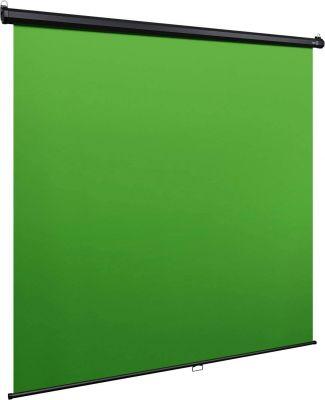 If your goal is to do talk shows, perhaps even inviting guests to deal with some specific issues, a very professional solution would be to purchase a
green screen
. It is a very banal cloth, usually green, to be placed behind you. Once this is done, open your software dedicated to streaming – like
Viewer discretion
– and go to the filters, at which point select "chromatic key" and manually adjust the settings until you get a completely clean background to use to show multimedia files.
If you don't want to spend 150 € for the purchase of a professional set, the advice is to experiment with a uniform sheet or blanket, preferably green, to be accompanied however with a good setup of lights, otherwise the program will not be able to eliminate the background properly. For more advice, check out our guide to the best green screens.
SEE ON AMAZON SEE ON EBAY
Best Set of Lights for Streaming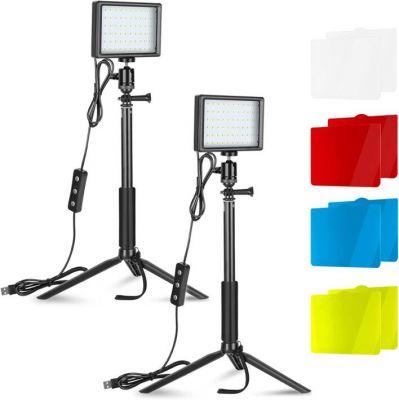 True, with the right color correction you could already appear well lit and therefore ready for your stream. Yet, especially if you use the green screen, the purchase of a
set of lights
is critical. Don't worry, you don't necessarily need to shell out a fortune, also because I don't think your goal is to make a show that rivals programs on TV, but rather to create excellent quality streaming. Fortunately, there are sets that sell for just under
50 €
and equipped with 2 lamps, tripods and colored filters: everything you need in short.
SEE ON AMAZON
Avermedia and Elgato, the best game capture for streaming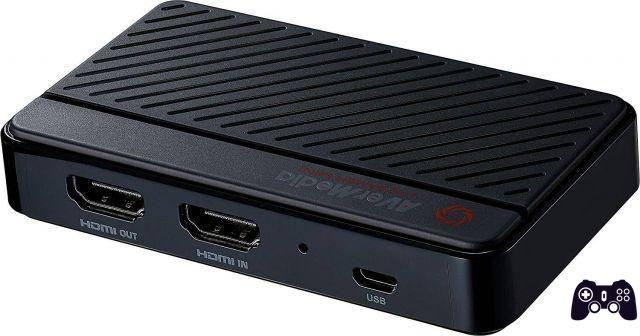 We conclude with a practically mandatory purchase to play live video games. We are obviously referring to the
game capture
, a solution necessary above all to capture the video stream of a console game; if you play on
PC
and the latter is performant, it may not be a necessary purchase, so be warned.
The model we recommend is AverMedia Live Gamer MINI, an excellent but not too expensive product, well suited to those who are satisfied with Full HD resolution.
This device has two HDMI ports: one dedicated for input and one for output. In the "in" port you will have to connect your console, while in the remaining "out" port your screen or in any case the source you want to use for viewing the game. Once this connection is made you just have to power everything through the USB port and allow ad Viewer discretion and the like to recognize yours AverMedia eat video device.
AverMedia it is also a convenient solution for gameplay recording: through the proprietary software it is possible to set everything for recording; the required steps are few and all very clear. Furthermore, it is a very small device that you can close in a fist, perfect for gaming stations full of gadgets and devices. Content also the price of slightly less than 100 €.
SEE ON AMAZON SEE ON EBAY
If you have some budget left over and want to achieve 4K resolution you might want to consider purchasing Elgato HD60S+. There are two types of this capture card, one to be attached directly to the motherboard and another, much more similar to Avermedia, to be connected via USB. We strongly recommend the second one, which is much easier to install and use.
SEE ON AMAZON SEE ON EBAY
How to choose accessories for streaming
Although there is no precise guide to how to choose streaming accessories, we can give you some advice that will surely come in handy both to save a little and to orient you in the immense world of streaming. Most people now prefer to stream with a smartphone (in case here's a cheap and recommended one), but if you want to become a professional it will be useful to answer these questions and evaluate the following characteristics.
What to stream and what topics to bring live?
Answering this question will help you orient yourself and understand which of the listed tools you absolutely need. If you simply want to vlog, all you need is a cell phone and a good microphone. If you want to stream your own gameplay, you will necessarily need a game capture because often the capture cards present in the consoles do not allow great freedom of action. Also, if your goal is to go beyond simple gameplay and you want your face or studio to look nice and bright, a dedicated set of streaming lights can be the difference between a good stream and a mediocre one.
As it regards instead the topic to bring live, that depends a bit on your way of being but whatever you choose, always make sure it's on trend. On this front we can only give you gods summary advice but we hope they will be useful to you. First choose a topic, something you are not only passionate about but also very knowledgeable about. In fact, the public can be difficult to deal with and it is therefore good to know 100% what we are talking about. Evaluate the topic carefully, streaming a game just because everyone else is doing it may not be the ideal solution. If you do it you have to do it in a particular and different way (especially if you have just started) otherwise it is better to opt for a less popular game, but which at least is only you streaming and therefore you avoid the competition. See what other streamers are up to. Discover their techniques, their approaches to the public. Pay attention both to the way of dealing with the spectators but also to the way of dealing with the element dealt with. Study their modus operandi and use it as a basis for creating your own.
Wanting to give practical examples, if you like talk about technology, useless (unless you make a program on the technology of the past) to talk about video recorders, you will necessarily have to always be informed and bring the trendiest tools of the moment live. If you want instead bring some gameplay, you can range from an avalanche of titles but also in this case there are the most played ones and which will have more following than old and now forgotten titles (even if you can always launch a retrogame column and draw a good niche of loyal gamers on your side to the past). The possibilities are endless and on Twitch you can easily see how many players are playing a given title and which ones are the most played.
Finally, don't underestimate the chatter. In fact, as it often happens to see on Twitch, those who don't play win now. We're not talking about losing dignity by streaming a dip in the pool in skimpy clothes or licking the mic, we're talking about build a relationship with your audience. Knowing who follows you, being interested in their life is essential for creating a community and a following of people interested in your work. Between one game and another, therefore, take some time to have a Just Talk, to show your opinion on some topics in the world or simply to deepen the bond with those who follow you.
Are green screen and stream cam really needed?
Depends! In the sense that if you are not into video and you only want to stream commentary con voce, then you won't need either a green screen or a stream cam, but you will certainly need a good microphone capable of optimizing speech and canceling background noise. On the contrary, if, as they say, you want to put your face on it, then you will necessarily need the stream cam and the green screen in case you don't have a good background to put on video. The pop filter, to avoid noise, and the microphone arm are not essential, but highly recommended to bring quality streaming to the network.
However, there is an alternative to the stream cam. If your budget does not currently allow you to buy one, you can use or a camera, the important thing is that it's not too old and that it records at least in Full HD, or a smartphone. The Xiaomi Poco M4 Pro is perfect for streaming but also for IRL live, it's cheap and with one fell swoop it allows you to have practically everything you need to stream.
The characteristics to be evaluated
Although it is a guide with different objects and therefore with different characteristics, we have created a list with the better features that each of the purchased items should have. In this way you will always know which products to buy and which ones you should leave aside.
Streamcam: the streamcam is the most complex object of this selection and usually the most difficult to choose. Our advice is to aim for well-known brands because they are usually easier to use and above all compatible with the software you will need to use to stream. If you want to save money, as already suggested, you can use your smartphone or a camera if you already have one. If, on the other hand, you have to buy a streamcam, we recommend a machine that records 1080p and with automatic focus. Even if a 4K cam records more detail, remember that on Twitch you can only stream up to 1080p so your video will still be aligned to that resolution. The automatic focus, on the other hand, will help you a lot by letting you stream undisturbed and focusing on your face with every movement. Here the best gaming webcams on the market.
Microphone: as far as the microphone is concerned, we don't have many recommendations, the important thing is to have a good frequency. The higher it is, the better the sound will be converted. A frequency of 44,1 KHz is perfect; but even better would be 48 KHz, and 96 KHz available, however, only in top-of-the-range products. To help you choose, here is a guide to the best microphones for streamers.
Lights: the lights must be chosen once you understand what to stream, if you do VLOG or you don't want professional lighting, a ringlight will surely suffice, here is the guide to the best ringlights of the moment. If, on the other hand, you want to aim for something more professional and performing, then a set of lights is better, but make sure you have enough space at home because they could be very bulky.
Game capture: the capture card, as we said, is essential only if you want to stream video games. In this case, the advice to choose well-known brands is always valid, because they are more compatible with the various software, but try to choose cards that are able to record at least up to 30 fps or higher. Here you will find all the advice to buy the best capture card of the moment.
Advised price
There are so many combinations of streaming accessories that recommending the right amount to spend is really complex. However, we can tell you that usually with approx 500 € can you put up a set by real professionals of the sector, while with 300 € you can do one good quality set and that could also accompany you for several years. Of course, if your budget is much more limited, you can try to cut back on various expenses and spend the minimum on each of the products listed. In this case you could also do with 200-250 euro, perhaps cutting on the green screen, but create a discreet composition for streaming below this figure it begins to be really complex, especially if you want products with good quality.