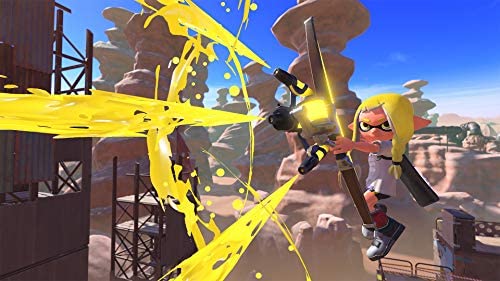 Prime Day, along with Black Friday, is one of the best times for gamers to shop: in fact, not only are there many discounted gaming peripherals such as monitors, steering wheels and keyboards, but also physical copies of the games.
Splatoon 3, the third installment of the Nintendo franchise released just a month ago, is currently on sale on Amazon for €49,98, so ten euros less than its standard list price of €59,99. Considering that the Japanese company very rarely lowers the rates of its securities, this is an opportunity not to be missed.
In the single-player mode of Splatoon 3, players take on the role of Number 3, who must face the evil Octarian army, supported by the New Gill Division. The co-op Salmon Run also returns, where you can play in the company of your friends and join forces to defeat the bosses led by Salmonarca.
Obviously, Splatoon 3's most exciting mode is multiplayer, where you can join the fray together with other online players and conquer territories with strokes of paint. Compared to the previous titles of the franchise, new weapons have been introduced, both main and secondary, even more powerful and original; new outfits with which you can customize your character; new moves to use to destroy enemies and new maps to explore.
Also read: Amazon's best October Prime Day deals
Splatoon is one of Nintendo's most beloved titles and the third installment became the best-selling video game ever in the first three days of its launch in Japan. The average of the reviews is around 9/10, so if you were thinking about whether to buy it or not, Prime Day represents the right time. In fact, we invite you to take advantage of the offer as soon as possible by referring you to the dedicated page, and remembering to subscribe to the Amazon service if you have not yet done so, since the discounts will end soon.
Furthermore, before completing your purchase, we strongly suggest that you also subscribe to our three Telegram channels dedicated to offers, with specific channels dedicated to: Offers, Hardware & Tech and Clothing and Sport. Happy shopping!
» View the offer on Amazon «
Follow us and always stay informed on the best offers!
Events » Amazon Prime Day | Black Friday
Offers and Discounts » All offers | Discount Codes
Telegram channels » General Offers | Hardware & Tech | Clothing and Sports
Buying guides » SOS Home & Garden