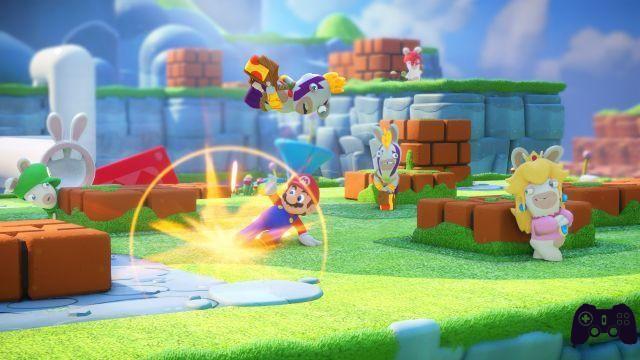 A few weeks ago we were guests of Ubisoft Milan, which we still want to thank, to try the new downloadable content dedicated to Mario + Rabbids: Kingdom Battle, called Donkey Kong Adventure. In addition to the dedicated preview, which you can find below, we were also able to chat with Davide Soliani, creative director and famous "Ubisoft man" who thrilled everyone at the presentation of his title on the stage of the last E3 together with Shigeru Miyamoto. We just have to leave room for Davide, whom we thank again for his availability and for the kindness he has shown us for the occasion.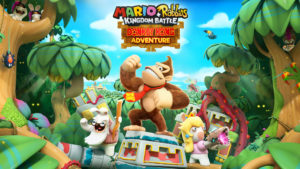 To learn more:
Mario + Rabbids: Donkey Kong Adventure, the monkey strikes again
First, how do you feel a year after the famous speech during the Ubisoft conference at E3 looking back on what happened on stage?
In fact, every now and then I ask myself too. It depends on the moments, sometimes I think it's still not true while sometimes I realize it. The best thing is to see that the team has completely changed, in the sense that they have done the work we have done and it has paid off. The fact that now they are proud of everything that has been done and has happened motivated them even more, they already were so much while now they are really determined. It's just as good as a feeling.
So has anything changed in everyday life?
From a business point of view yes, because if before we put 200%, now we also do 210. What has changed are the people, who write to me for any kind of thing. Sometimes they call us to sign the box of the game, sometimes the journalists call me and they contact me a lot on Facebook and Twitter.
I am one of those who contacted you to report some bugs (laughs). I love seeing the relationship you have with fans on Twitter, skirmishes with Grant (Kirkhope, the composer of the game's music ndA), but how do you live this notoriety? Did it change anything in your routine?
No, I just have to use a little more of my time - but I do it with pleasure - to respond to people. In the end we are all as before, super achievable.
Now let's move on to this DLC, how did you come up with the idea of ​​using Donkey Kong? Was it already planned before the release or did it come after? Was there any other Nintendo character you would have liked to work on?
Then. Characters that I would have liked to work on I would say all, we have chosen only one. Donkey Kong is an extremely beloved character and is very attached to Mario, certainly more than others historically. We absolutely wanted to translate Donkey Kong's physical appearance - who is very agile and has muscular and very long arms - into playing skills. This is why the entire combat system has been rewritten from scratch, in order to give space to him and all his new abilities that did not exist before in Mario + Rabbids: Kingdom Battle. So much so that all the programmers for a while did not like us very well after receiving these requests (laughs), because it was not just adding a new story and new dialogues but rewriting a lot of the code. But I think that when you play a game it is important not to sit on your laurels and to bring something new. To conclude, I would tell you that we only decided to use Donkey Kong after E3 last year.
You have carte blanche on everything, you can take a Nintendo character and work on it. I know it's a question they can ask you often and I already guess the answer, but who would you choose and how would you transform it?
If you can imagine the answer, I'm curious to know it.
In my opinion Zelda.
Well, let's close it here then (laughs) No, I can't answer that question but I'm sure if you follow Twitter you'll understand the things I like about Nintendo.
Okay, so I'm not asking you how you would like to transform it (Laughs)
So this is a good question, but I could never answer you on the spot. Transforming something as iconic as Mario took a long time, let alone other Nintendo IPs, it would take a lot of work. Surely, if one day I find myself still having the honor of working with them, I would try first of all to surprise them and, then, to surprise myself.
Do you have any messages for your fans and those of your studio?
Look, I actually don't have those great messages to pass, I can only be ultra happy with everything that has happened and that's the reason why I always try to answer everyone. When we developed Mario + Rabbids: Kingdom Battle, as I have often said, we tried to do something with the players in mind always, imagine this invisible, positive energy that we were hoping to give to players in the future in hopes of having it in return. . The answer has arrived and it has been far superior to what we would have expected and more than that I could not be happy anymore. In my opinion the best thing we received in return from making this game is the joyful and participatory atmosphere that we encountered, which is an ultra important potential energy since in the future, whatever game we play, we will try to make it flow too. in that new project.
It was a pleasure for me to talk to you. Mario + Rabbids was one of my favorite games of last year, I do not deny following it from the various leaks that came out in the months before the announcement and I do not imagine how difficult it could have been for the team given the comments of the people on the cosmic nothing.
Yes, it was very difficult for the team. As I said before everyone was projected to try to surprise the player and give love and for three weeks it was pretty tough because they received the exact opposite.
The web was really critical in the beginning.
Critical is a really nice way to say it (laughs)
well ... yes (laughs). I was already interested in the project at the time being in my ropes, as a lover of strategic rpg, but E3 was the apex - even emotional - both as an expert and as a player. I saw your gaze, even how the public understood the title and I tried to put myself in your heads and I said to myself "here they had a good shock"
Yes yes, every now and then I look at the video and I see that Grant is laughing like a damn (laughs)
I guess when you work on something, now I don't know how much you've actually worked on it, for a long time and you get some preemptive criticism and then see what came next it must have been nice
Yes, it was a really good blow in both directions. First because the criticisms were based on an image and it is wrong to judge only based on that because they are real prejudices. But then it all disappeared because the reaction immediately after it grew until just before the launch was so positive. Then I got worried again, because you never know, but the welcome of the players after the game was also wonderful. I made the plane trip to Los Angeles hoping to have at least one nomination for an award (those given by journalists of the newspapers who try a certain game at the fair during E3 edA) and we received about 52 awards from critics. They are those things that will never be repeated but beautiful all the same (laughs). We had a series of coincidences that all took place together and it will be unrepeatable, it is something that I carry in my heart as will the whole team.
I thank you, now as a journalist, for the occasion as well as I thank the whole team for being available during the afternoon for questions and so on.
Thank you for the interview and I hope that the Mario + Rabbids: Kingdom Battle DLC will please you and all players.