Friday, November 4 is a date to remember with honor for Esports Italians. The historic tournament of League of Legends, Red Bull FactionsIn partnership with PG Esports was held in Milan for an unforgettable challenge, with an adrenaline-pumping atmosphere.
The highly anticipated final of the competition has transformed Jai Alai Ball in the paradise of esports The challengers were the Athlete Sports and Macko Esports, two veteran teams in the competitive landscape who have faced each other before, with differing results. This time to rule the Summoner's Rift were the Macko Esports, fielding all their talent managing to exploit all the peculiarities of the Factions system.
As in almost all targare competitions Red Bull, this too represents a more complex and unconventional challenge: players have the possibility to access a limited pool of champions. Players could only choose characters belonging to two factions that characterize the universe in which it is set League of Legends. THE Macko Esports they managed to maintain control of the scene most of the time, ending the night with a 3 to 1 for the Bear.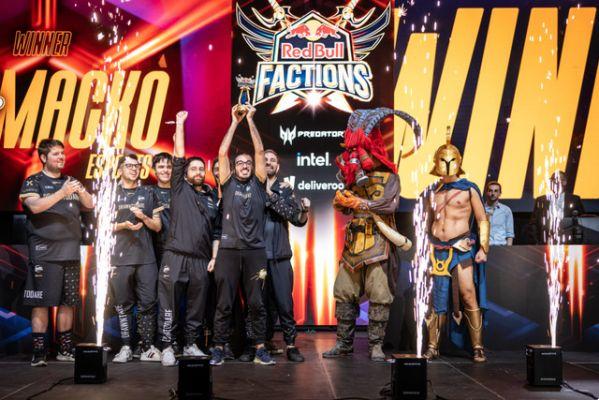 Hundreds of live attendees filled the expansive venue, with professional cosplayers and pro players waiting for them as well as fan-favorite casters like veterans
KenRhen
e
Terenas, Moonboy, Etrurian
e
Juannett,
accompanied by expert analysts
Wolcat, Juniper
e
Counter6.
The real icing on the cake was the remote participation of
Breeze:
the team coach
AnC Outplayed
and well-known pro-player, a true innovator of the way to play
League of Legends,
he was in fact the official co-streamer of the event. In short, the
Red Bull Factions
and its final are once again confirmed as an essential appointment for all fans, a true classic of the panorama
Esports,
thanks also to its exclusive mode which, now in its sixth edition, fans have learned to appreciate. Not only for the enthralling evening, but for the entire duration of the competition, followed by a large audience even in the previous phases, the support of the technological partners Intel and Acer was fundamental, who made the ideal hardware available to the players their needs, and of
Deliveroo,
the leading online delivery platform. The adrenaline-pumping Friday evening further consolidates the importance of the city of Milan as the nerve center of Esports, thanks to the increasingly numerous and impressive live finals, the great proplayers and casters, but above all for its ability to welcome the hundreds of fans who rediscover the special atmosphere of a real event dedicated to them.