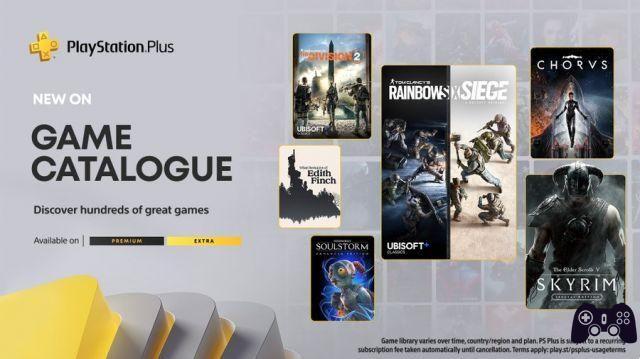 After Xbox Game Pass, it's up to the PS Plus to flex its muscles. Over the last few hours, in fact, Sony has announced the new games that will become part of the catalog of its service, obviously intended exclusively for Extra and Premium subscribers. A month that also includes the titles of Ratchet & Clank, which we had already told you about at this address.
There are so many new features, and the PS Plus November catalog is definitely full of games for all tastes. The two biggest names are certainly The Elder Scrolls V: Skyrim, available in both PS4 and PS5 versions, but Kingdom Hearts 3 also joins the enrichment this month. Just the Square Enix series is the protagonist, with many other games featured including Melody of Memory.
The PlayStation Plus Game Catalogue lineup for November includes:
➕Skyrim
➕ Rainbow Six Siege
➕Kingdom Hearts
➕ The Garden Between
And many more. The full game list: https://t.co/Pepjw9EckR pic.twitter.com/BYAxeYGdKN
— PlayStation Europe (@PlayStationEU) November 9, 2022
Space, of course, also for decidedly smaller projects, such as Chorus, The Gardens Between and the inevitable narrative adventure What Remains of Edith Finch. You can take a look at all the games available in November 2022 thanks to the list just below, complete with target platforms.
The Elder Scrolls V: Skyrim – Special Edition | PS4, PS5
Tom Clancy's Rainbow Six Siege | PS4, PS5
Kingdom Hearts HD 1.5 + 2.5 ReMIX | PS4
Kingdom Hearts HD 2.8 Final Chapter Prologue | PS4
Kingdom Hearts III | PS4
Kingdom Hearts: Melody of Memory | PS4
Oddworld: Soulstorm – Enhanced Edition | PS4, PS5
Tom Clancy's The Division 2 | PS4
Tom Clancy's Ghost Recon Breakpoint | PS4
chorus | PS4, PS5
What Remains of Edith Finch | PS4
The Gardens Between | PS4, PS5
Earth Defense Force: World Brothers | PS4
Earth Defense Force: Iron Rain | PS4
Onee Chanbara Origin | PS4
It is certainly a very interesting month for PlayStation users, who will have several video games to play during these 30 days. In addition to the PS Plus titles, in fact, from today it is also possible to buy God of War Ragnarok, of which we told you ours at this address.