A gear, if tampered with or not working, needs to be fixed or changed. Life works just like that. Sometimes it is surrounded by contradictions, and often, however, she is surrounded by the unknown. A message would be enough to let people know that they are still available, and it might perhaps be necessary to retrace one's steps, returning to the place of birth, which has been abandoned to pursue new perspectives and other horizons. Ambitions, dreams, a boyfriend or simply any adventure. No, not the one that Bilbo Baggins experienced, or any other character in literature.
I've learned that, once Pandora's box is opened, it's not misfortunes or the end of the world that come out of it, nor natural disasters. Life is strange, and in NORCO that is best understood only after the first act is done. It doesn't take much to understand what lies ahead: a comfortable bed, a forgotten past, some faded memories and old childhood friends. Then there is a sad event: a mourning. A mourning which, unfortunately, it has shattered and devastated Kay's existence, the protagonist of the video game developed by the talent of Geography of Robots and published by Raw Fury.
Welcome to NORCO, the city that doesn't need sleep
I admit that, over the years, I happened to interface with several independent productions, some of which have left me something. On many occasions conflicting feelings, and in very famous cases far more than certain noble and well-known productions. Imagine recreating a context that goes beyond the areas we know, in a city that never sleeps, but not because it has difficulty doing so, but because he is too afraid of missing something, also the less relevant event. Imagine a world which, unlike others, lives immobile, absorbed by power, devastated by it, by interests, by politics and by hypocrisy.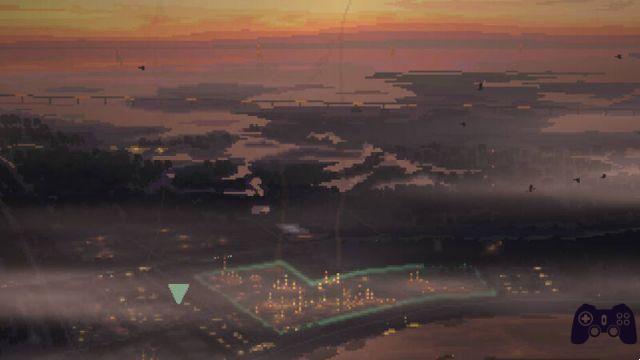 Some of you could clearly see our reality, dried up exactly by those profiteering that, unfortunately, are not lacking in NORCO. It doesn't take much to realize it: huge chimneys, outside the city centre, carcinogenic fumes rise up and caress the sky and take the place of the clouds, while then everything runs out as soon as you close your eyes. No, it's not the smoke. No, it's not the clouds. It's a day that goes away, between the harmful gas of cars and motorbikes, while what happens rapidly loses its value. Nothing can be seen, because of that noxious smoke which, rising higher and higher into the sky, now obscures the sun and the moon. There's nothing left, you can't feel anything, not even the wind on your skin and the rustling of the trees. Looking closer, there are no more trees: there are freshly changed smoking tires thrown away as best they could to make room for the more functional ones. A little closer, however, there is a small river that was once inhabited by trout but is now full of cigarette butts, envelopes, syringes and harmful materials. NORCO is danger, NORCO is fear, NORCO swallows you like Bangkok but spits you back more inhuman than before, and it's a middle world that, unlike others, doesn't need to hide in the alleys. Contemptuous, self-confident, ruthless and cruel, NORCO doesn't look you in the face.
Geography of Robots, producendo NORCO, he knew very well that he was going to take a risk. A video game that has never hidden itself since its announcement, presenting itself to the public with simplicity. No big claims, no frantic and exaggerated marketing campaigns, and very few reviews, but many, many players who, by approaching NORCO, they were enchanted by it. Initially arriving on Steam, making its way through the hodgepodge of indie video games, NORCO has had an overwhelmingly positive reception in the first weeks of release, winning the award for best indie debut by outclassing rather high-sounding names.
In this sense, the independent team is certainly among those who, most of all, he never hid that he was playing his first video game, consequently demonstrating so much humility. An added value which, of course, makes its way into a panorama which by now, more and more frequently, prefers to limit itself and offer a few truly memorable works. NORCO, precisely, is a video game developed by outsiders who, demonstrating so much talent and simple but effective ideas, knew perfectly well that it wouldn't be easy. Nothing is, actually. Kay's life is not, which in addition to mourning, she has to get used to novelties that could ruin her entire existence.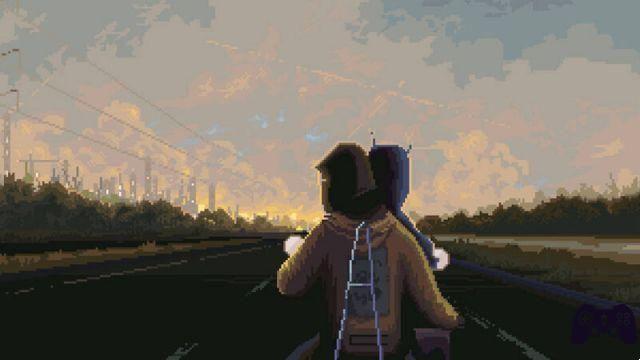 It is a risk that, however, it is better to run without expecting anything else. But let's proceed in order, from a sudden disappearance. The lights go out, the curtain opens and the gear of the refinery is still not fixed. It's still squeaky and annoying, it could use some oil. But does anyone really care, among those skyscrapers overlooking the fallow fields, the puddles of mud and feces, among the alleys those dangerous alleys, that no one checks? Worth coming back, in a similar place?
The sad story of a lost daughter
Kay, and she doesn't hide it, she wouldn't have wanted to come back. She did it for her mother, who died early from her cancer. She is a single girl, but she has a brother, Blake, on whom she can count. Or so she thought before returning home, or what she left of it. The Shield, a sort of agency that administers city life, has full ownership of the refineries and has secret political deals on new contracts and construction. No one is safe, not even the most middle class or wealthy. Everything is decided at the last minute, everything is not thought out or catalogued, or that's how I thought it worked until I realized it was better not to take anything for granted.
Not making you spoilers, just know that NORCO, unlike productions more considered, it is irrefutable proof of how a perfect narrative marries commendably with the many features of an interactive production. Strengthened by a unique context of its kind, NORCO follows the narrative style of Disco Elysium, inventing from scratch a commendable and impressive plot intuition for a story that, in reality, was only supposed to be a classic tale like many others. As I mentioned before, however, NORCO is a production that tends to follow the classic examples of other productions, managing to offer a story that is not only original and impactful, but even strong in recreating a relationship between the various player characters and not absolutely commendable.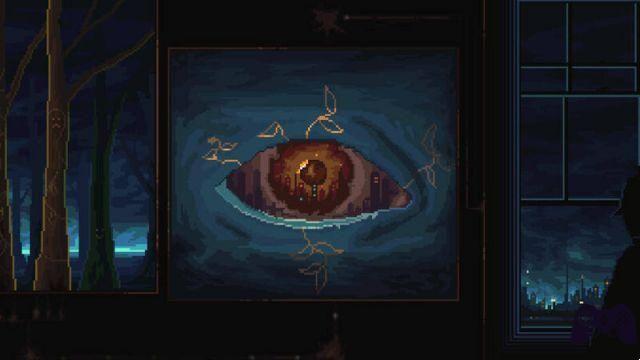 The study carried out by the team, who took care to package the work very carefully, covers the branches of philosophy, science and even mysticism. A charm that, in addition to being appreciated, represents the irrepressible talent of the development studio, who tried to talk about many issues in the right way, involving and exciting. The excellent writing, in addition to covering the main characters, is also reflected in the dialogues, some of which are so clever and spot on that they may remain with you even after production has wrapped.
Every word, in NORCO, it has weight and its use, and it's not at all obvious, especially for a narrative adventure that tries to be different from the others without however proposing major upheavals in the formula adopted. In addition to being functional, therefore, it is above all fitting and well orchestrated. Thanks to the never carefree tone, each character is characterized as if the city, in one way or another, had taken something away from him, as if he had deprived him of the most important thing and on which he could count. Kay is an adult, her brother has disappeared and she must find him at any cost, no matter what the cost. Meanwhile, she finds old friends and makes new relationships, some dangerous and others where he fears he's the next sacrificial victim.
There is violence in NORCO: there is no blood, but it exists; it is in the alleys, in the big skyscrapers and in the bars. Hunger, unemployment, desperation and a planet that by now, due to man, a short may stop working. It is inevitable, it can happen, nothing can be done to prevent it. It's like in Don't Look Up, with the difference that there isn't a comet to threaten the desperate lives of its citizens, but the very nature of those men who grab anything.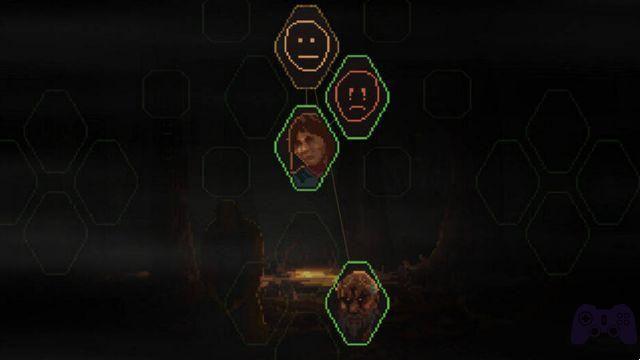 It is ruthlessness, nothing more. It's blood in the streets, it's death and despair, and nobody seems to care. One survives, yes, and nobody cares to let him live. NORCO promises peace, promises work and promises a comfortable life away from danger. Reality is another and the writers of the team, managing to fit dissent with everyday life and its hypocrisies, have underlined how much NORCO is the real protagonist of the gaming experience. It is not only, therefore, a frame to admire and then move on to something else. Now it is to be studied, respected and praised, above all.
Difficult, mind you, because no one is predisposed to being told that something is wrong, yet this is how the world goes, and those who live it intensely already know that they have something to cure. NORCO, however, seems irrecoverable: by now contradictions, hypocrisies and fears have taken over. They will be worse than before, they will have no mercy, there will be no peace and no one will be able to bear the end of everything. Either death, or make up for living. Sometimes the first is better, if everything runs out. The real final message of NORCO, on the other hand, is precisely this: if existence does not give hope, better look for it and resist, but remembering that it is such a chaotic world out there as to be utterly deplorable.
An effective and functional gameplay
Without making them too long, NORCO is a narrative adventure with detective elements, even strong in many puzzle sections, some of which are very funny but sometimes all too similar to each other. The game view casts its light on the various characters of the events told for us by Geography of Robots, and it turns out that the independent work is also an effective and fun point and click. Nothing too complex, mind you, because the team has decided to meet the needs of the players in a simple way, not going overboard with too many additions but making every feature of the gameplay one of a kind.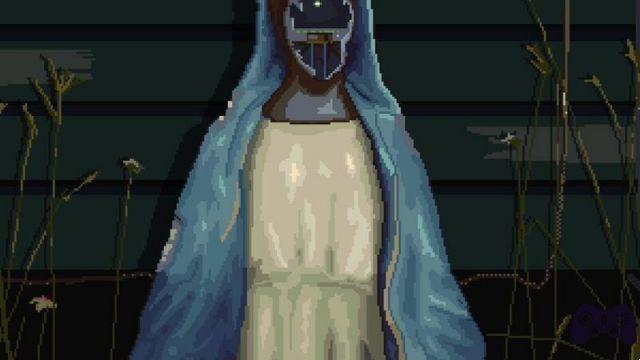 The most evident peculiarity is the psychic map, to be used when you need to discover someone's past and what it hides. Investigating is fun, because it pushes you to talk to anyone, listening to dialogues and sometimes making dangerous and razor-edge gestures. Game design, however simple, works great and surprises, also focusing on short but interesting fights, which, however, do not represent the very soul of the production.
In this sense, NORCO puts each player's answers and choices at the center. Regardless of what happens, therefore, there are consequences that cannot be avoided in any way. Furthermore, what surprised me is the discovery of every irrelevant and small detail, which must be brought to light in order to better understand the past of Blue, Kay's father and Catherine, her mother. In the course of experience, in fact, the game is split between the main protagonist and Catherine, allowing you to understand the two sides of the coin and all that is hidden in the depths of NORCO.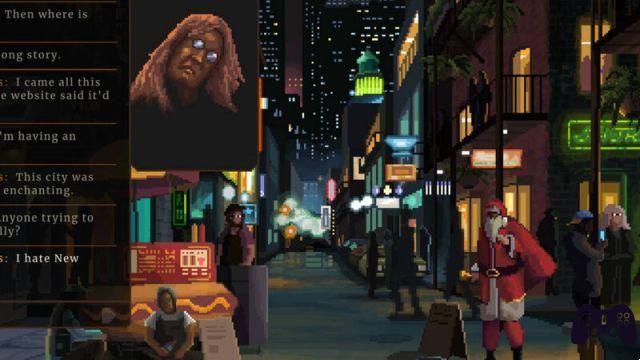 In playful terms, in short, the production is this. There are simple and easy to approach puzzles, which may not appeal to experts. There is some combat that could have been done better, but that's not what the team wanted. Net of this addition, Geography of Robots has marked the ground with the words: their importance, in this unique video game, is the very essence of the production. Each sentence has a weight, like any type of gesture, even the most insignificant, which I was happy to do to understand the truth behind Blake's disappearance.
NORCO is a beautiful pixel art city
As I mentioned before, NORCO is set in… Norco, a town that really exists in the southern United States, in Louisiana, a land of rivers, swamps and complex fields to sow. In NORCO towering skyscrapers, bars, open sewers and miserable places, sometimes inhabited by disreputable people. And I have visited them all, I didn't get scared and I exceeded my limits, knowing shady and disreputable individuals.
The graphics, absolutely in pixel art, are a not indifferent glance. In fact, the development studio made every particle colored in the right way, even drawing the most important and least influential characters by hand, such as the teddy bear who kept Kay company when she was just a child. And going deeper into the experience, better understanding what is hidden in every nook and cranny, I discovered incredible stories, moments of reflection and a very careful attention to political and social dynamics. NORCO is an isolated town, forgotten by the rest of the United States and the entire world, and maybe it's for the best. Now it is governed by corporations, there is no mayor or even rules. It's a classic no-man's land that offers a lot of settings and places to see, and I didn't imagine there were so many and all varied, each with a story of its own and parallel, at the same time, to that of Kay.
NORCO is a city, a thought and a word. NORCO is the dream of a team that, with simplicity, he wanted to talk about heavy issues through an overwhelming and divinely written story, offering a try, as the first debut video game, absolutely commendable. Winning is simple, but being able to convince is even more so. NORCO is a rare gem, these days, in which it doesn't take much to be happy. NORCO it's you, it's me, it's us. And that's okay. Missing it could be a great sin.