I admit it, when it was announced New Tales from the BorderlandsI didn't contain my enthusiasm. In short, anyone who has followed Borderlands since its inception and has played the graphic adventure Tales from the Borderlands developed by Telltale Games, I think knows very well what I'm talking about, and knows what it meant for those who, in Pandora, have left much more than their own heart. And I don't mean the wallet, even if the risk of having it taken away by some Sanctuary bandits has always been on the agenda even back in 2012.
Many bullets, explosions and Crypt Hunters have passed since then, and we can comfortably say that it was fun to experience the adventures of Mordecai, Zero or Zane, as well as Rhys and Fiona right in Tales from the Borderlands, arrived in the golden age of narrative adventures created by the American studio, recently returned – albeit with a few less components – in today's panorama after the bankruptcy occurred in 2018.
In fact, that kind of collaboration between Gearbox Software and Telltale Games was expressed in an apt way and proposed an adventure which, inspired by the events of the first two chapters, entered the hearts of fans, proposing an epic, fun, engaging and, above all, , multifaceted and exaggerated. Telltale Games came from the stratospheric success achieved with The Walking Dead, while Gearbox Software had an enviable and respectable historian who was able to present himself in all its glory. Many thought, at the time, that such a collaboration could actually package a product far from expectations. AND but it went well, because Tales from the Borderlands was a video game that came at the right time, bringing with it a breath of fresh air in a landscape dominated by too many open worlds. And for a while, actually five long years, it was thought that there would never be a continuation of Tales from the Borderlands.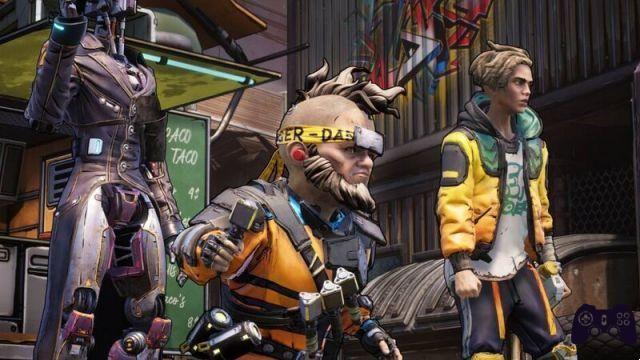 This was until last August 23, just before gamescom, the summer event dedicated to the world of video games. A trailer, three new characters and a story set in Promethea, the planet where the events of the third chapter of the franchise are set. That's right, forget Rhys and Fiona (but not totally) and start making room in your heart for three iconic underdogs who have nothing to envy to the dynamic duo we've known in the past. Why, if it weren't clear, New Tales from the Borderlands is not a sequel to the first episode, but a totally separate story, which deals with the events of three new protagonists in a unique and original way. But let's proceed in order, from the beginning.
Three new stories, three new intertwining plots, three new adventures
We play as Anu, his brother Octavio and Fran, three real failures who live from hand to mouth and are concerned only with making ends meet. Anu is a scientist from Atlas, one of the great sellers of cutting-edge technologies led by Rhys, while Octavio is a former petty thief who steals from the rich to give to himself. And Fran instead? Fran is the owner of the worst frozen yogurt shop in Meridia, the capital of Promethea, and she has a major anger management problem. Three protagonists, a corrupt world and a city that can take your life at any moment. It's not about Night City, mind you, rather than a Sodom that does not allow anyone to live honestly, preferring profiteering and cruelty. In fact, when developing a graphic adventure, the mistake is often made of having to run from one event to another without first giving a context to what happens during the discovery of the experience.
With New Tales from the Borderlands, on the contrary, I found myself faced with a story that comes slowly to its twists and turns, to its contemptuous and ironic moments, never disdaining to leave the player literally dry-mouthed, both for the emotion and for the excellent realization and interpretative ability of each protagonist. The plot begins with Anu, who finds himself having to deal with the Jabbers and a clumsy helper, in search of the perfect weapon which, unlike the others that Atlas sells to its customers, does not kill but sends the poor victim he finds himself on his way to another dimension. This drives Rhys, who returns in New Tales from the Borderlands always with his ironic and desperate tones, to fire the young scientist.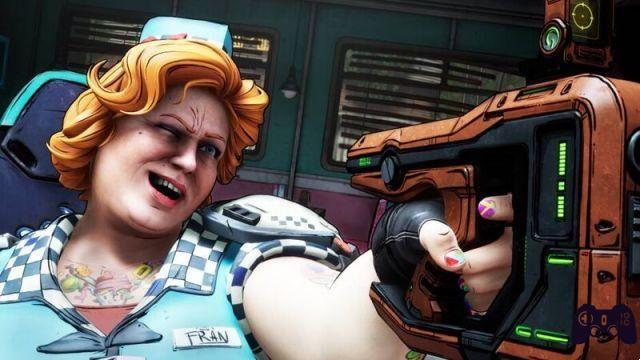 Meanwhile, Octavio, who lives from day to day and dreams of an illustrious future, he befriends an assassin bot named L013 (yes, the robot you see on the cover, ed). At the moment she finds herself helping Fran, who as always manifests her dissatisfaction with life by getting angry and, above all, hiding his real feelings. Not making further spoilers that could ruin the story, just know that the succession of events within it manages to have a moral capable of captivating and leaving you speechless. These three new characters, who take the place of Rhys and Fiona respectively, convince with their synergy, which for the entire duration of the experience is built precisely because the player feels their complicity.
Returning to the plot, the three protagonists find themselves having to survive the invasion of the Tediore Corporation, led by the stubborn and wicked Susan Coldwell, a woman who might remind everyone of Handsome Jack for her sense of humor, but which, in reality, it is unique in its cruelty. The team, finding themselves in a web of intrigue that is impossible to remove calmly, therefore find themselves having to count on each other, trying to do everything to survive. As the experience progresses, their relationship strengthens more and more, often in a completely unique, as well as unpredictable way: relevant details about their lives come out, specifically about Fran, who hides a sensitive soul. Anu, on the other hand, remembers the stormy past with her brother, once forced to fend for himself even in complex situations for anyone.
What surprises me, in addition to the writing of the main protagonists, is especially the construction of the context and the game world. Despite being a narrative adventure, New Tales from the Borderlands takes the player back to Promethea without leaving anything out. In fact, I have traveled the streets, seen places in the metropolis, attended parties and experienced particular situations, and the sense of humor that made Borderlands famous in our favorite medium has never been lacking. In recent weeks, especially from some comments on social media after the publication of a post announcing that the game had gone gold, I read that New Tales from the Borderlands would have very little of the series it was named after.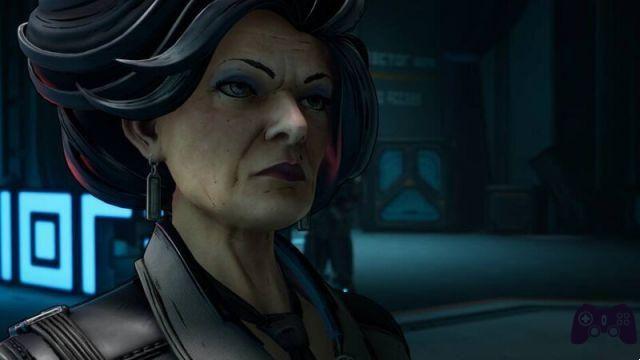 But that was not the case, because it is Borderlands to the nth degree, with all the lore of the case that rules it and, guess what, there is no crypt to open, which means taking some risks, going beyond to the dictates of the past in which a Hunter was always impersonated ready to take possession of treasures of all kinds, possibly becoming richer than Handsome Jack. That of New Tales from the Borderlands is probably a better structured story than in the past, as well as more fluid and better especially thanks to the interpretations of the actors behind Anu, Octavio and Fran. In addition to lending their facial expressions, they have enchanted thanks to their voices, specifically Anudhar (the full name of Anu, if you hadn't understood), often a victim of panic attacks, which I often have – and I don't say this lightly – elicited more than a laugh.
In contrast, however, Octavio is a protagonist who always seeks a solution to everything even when there is absolutely no need, with Fran to give him a hand because she is the classic person who literally has his fists in his hands, always making himself available for others even in difficult moments. If on the one hand there is therefore an excellent writing of the main protagonists, on the other there is an extremely accurate realization of the world that surrounds the player, but not only him.
Choosing not to set New Tales from the Borderlands in another place far from Pandora is, in fact, a choice that I absolutely support because it follows the line already dashed in the past with Borderlands 3, which saw Zane - in this the character among the four selectable I chose for my adventure – go from one part of the universe to another with the aim of stopping the evil Calypso. Although things get simpler in New Tales from the Borderlands, that wonderful tone that has always distinguished the series is never missing. Also on this occasion, and it could not be otherwise, it returns preponderantly, projecting the player into an increasingly fascinating as well as unmissable universe.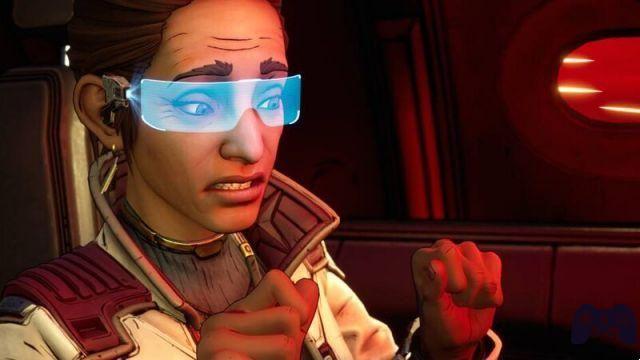 Strong, therefore, of a narrative built around the main characters, who in this case far surpass Rhys and Fiona both in context and through writing, New Tales from the Borderlands from the point of view of the plot gets to the goal, transmitting in the end a sense of bewilderment that, even now, I feel as I type these words on the keyboard. What didn't convince me, however, are the compositions chosen for the opera. Unlike Tales from the Borderlands, where I fell in love with First Aid Kit's My Silver Lining, the musical compositions are pretty forgettable. Despite the lack of noteworthy soundtracks, this new story will make you cry, reflect and, above all, laugh out loud, especially for certain situations that also pay homage to the medium itself, which, however, is better not to reveal.
New Tales from the Borderlands is even more interactive than ever before
For those unfamiliar with graphic adventures, he must know that it is a genre in which the plot is the real protagonist of the events that take place within it. In the case of New Tales from the Borderlands, just as happened in the past with Tales from the Borderlands, phases of interaction and cutscenes alternate, with the possibility of choosing which answer to give to a character, and so on, discovering further facets. Some of them can even change the fate of a bond or the ending, and New Tales from the Borderlands remains faithful to the classic formula of other productions such as Life is Strange, although Gearbox Software's new video game is better developed from this point of view. The classic formula is not renounced with the typical quick time events, which now distinguish every narrative adventure and which, in New Tales from the Borderlands, are implemented in an intelligent way and positioned where there is a need, especially when you experience complicated and borderline situations.
In New Tales from the Borderlands you do not give up exploration but, above all, the three objects of the protagonists. Anu wears glasses capable of scanning any surface, while Octavio an Echodex capable of letting him know everything about a person, and Fran sits on a chair that flutters five centimeters from the surface, the only way she has to move and reach a point of interest, and which defends it from any threat. If you don't believe me, know that she is even able to freeze someone without too many complications. Throughout the episodes, just like in Borderlands, it will even be possible to change clothes and hairstyleInnaddition that will please the maniacs of beauty.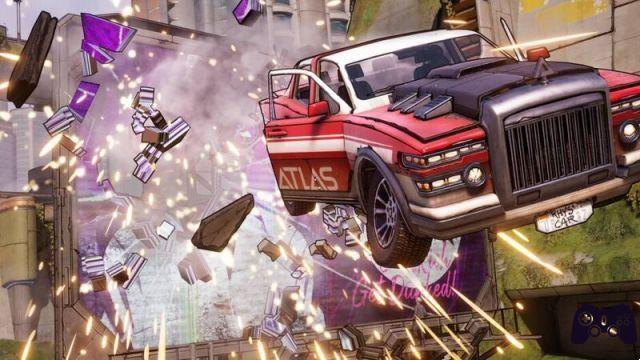 Another pleasant addition, which however loses its bite once the video game with all its endings is over, is the fight between the Vaultanders, a sort of challenge between silhouettes inspired by Dungeons and Dragons in which you choose the models to fight in an arena however uninspired. In fact, it will often be possible to resolve situations thanks to this game, which however will not push you to experience it in its entirety outside the main story. In case of victory, in fact it will be possible to acquire the opposing Vaultlander. Yes, in case you were wondering, there is also the possibility of finding the late but never forgotten Handsome Jack. Net of some criticisms, the gameplay of New Tales from the Borderlands therefore remains faithful to the past and to many other narrative adventures, preferring in this sense not to take any risks, although the playful and narrative parts manage to mix well, convincing and entertaining.
The end is just a great, unpredictable beginning
Promethea, as I mentioned before, is an exaggerated and luxurious place, as well as full of shops of any kind. It is impossible, in fact, to remain indifferent to what is around, while exploring its streets littered with corpses and cybernetic systems scattered on the asphalt, hopefully maybe to make any kind of dream come true. The artistic direction of the work of Gearbox Software, in fact, does not betray what has been done well in the past and once again has packaged a wonderful test of aesthetic performance.
Borderlands 3's cel-shaded graphics engine returns in dazzling form, without however renouncing a setting closer to Telltale Games' video games, even if the refinement in the textures is closer to the third installment of the Gearbox Software franchise. The polygonal models, a concern, recall the excellent work done in the past with Borderlands 3 and are aesthetically more in line with Zane and Fl4k, compared to Zer0 or Brick.
On the technical side, however, we have nothing to complain, so much so that New Tales from the Borderlands is well optimized and guarantees a stable frame rate even on a mid-range PC. We have not encountered any bugs of any kind, except for some longer loading in excited moments. Net of this, at times we have noticed slowdowns during the quick time events due to the many objects on the screen.
The end, it is said, is just a great, unpredictable beginning. New Tales from the Borderlands is a work that comes at a time somewhat saturated with productions, but which could carve out its own space without too many complications. Not only because of the name it bears, not only because of its excellently blended story and gameplay, but above all because of its personality, which was something that Gearbox Software absolutely had to include. It's Borderlands in its purest form, with its ironic, iconic, heartbreaking and sad moments. It's a new chapter, and we're sure it won't be the last.