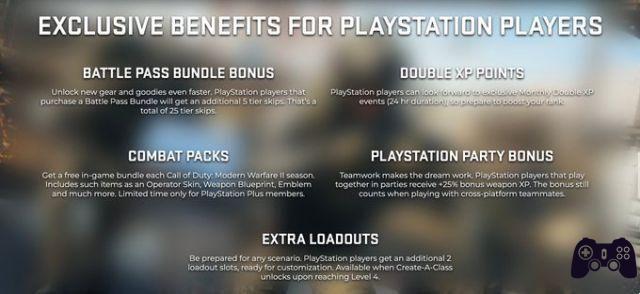 With the launch of Call of Duty: Modern Warfare 2 happened today, the veil has also fallen on some types of additional content exclusive to PlayStation content. Content that has already set social networks like Twitter on fire and deemed slightly too far for an online game with the ability to enable cross play between platforms.
As reported on Twitter, in fact, PlayStation players who play a Call of Duty: Modern Warfare 2 can get a number of significant benefits. Among these we find an extra space for equipment and double experience points every month, as well as an XP level bonus for all those who play in console parties. All of this combined with Combat Packs, which also include weapon blueprints.
Obviously this kind of content has generated a series of discussions, especially considering the CMA's Claims on Activision Blizzard Acquisition by Microsoft. According to the CMA and Sony, the presence of Call of Duty on the Game Pass with relative advantages would be harmful to consumers, but according to some users the same thing is already happening now, with PlayStation players having access to decidedly important advantages, at least according to the opinion of the players.
Wtf is this shit. Exclusive PlayStation advantages with permanent xp gains and extra loadouts?! This crosses the line. #xbox #ModernWarfare2 #MWII pic.twitter.com/WWySvscV5p
— Rebs Gaming (@Mr_Rebs_) October 27, 2022
Call of Duty: Modern Warfare 2 is available starting today on PS4, PS5, Xbox One, Xbox Series S, Xbox Series X and PC. In the future, the series could also land on Nintendo Switch, provided of course that Microsoft manages to complete the acquisition of Activision Blizzard. The intent of Phil Spencer, in fact, is to treat the franchise exactly like Minecraft, although obviously at least for now it is still too early to find out what the next appearances in the series will be. Keep following Tom's Hardware for all the news and upcoming announcements from the world of video games.