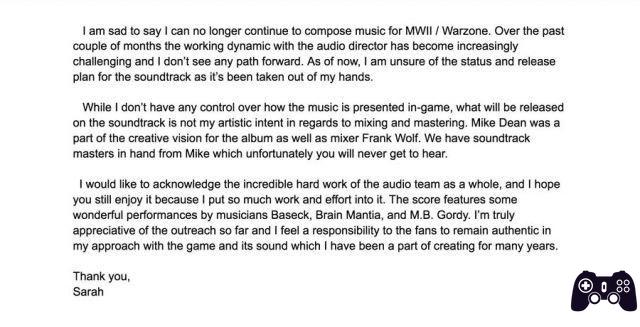 With the release of Call of Duty: Modern Warfare 2 players are wondering where the game's official soundtrack has gone. For a week, in fact, the title has now been available for PlayStation, Xbox and PC consoles but there is no trace of the songs that accompany the various elements of the game.
There's a reason the official Call of Duty: Modern Warfare 2 soundtrack has not yet come out, and it is to be found in the departure of the composer, Sarah Schachner. In fact, the composer has decided not to work on any type of musical content for the series, so much so that she does not want to be involved in any mixing and mastering process. Everything comes from a new direction, requested by Stephen Miller, who did not find the author's favor.
In his Twitter message, Schachner stated that he has no control over the music presented in the game and that what will be published will not be the result of his work. Furthermore, all of his works are in the hands of two other figures involved in the creative process, who unfortunately will never be heard. Clearly all this has led to a delay in the publication of the soundtrack and we do not know how much he will impact on a purely working level for the next Call of Duty content. Indeed, at present, we do not know whether Schachner's place has been replaced by some other composer or composer or not.
Many of you have been asking about the MWII soundtrack release.
Here is my statement regarding that: pic.twitter.com/UEqgpCTjUg
— Sarah Schachner (@SarahSchachner) November 3, 2022
The soundtrack is only one of the latest problems that have afflicted Call of Duty: Modern Warfare 2, which between day one bugs and a recent dispute that risks depriving players of a particular map, does not seem to be experiencing an excellent moment. at least on a purely relational level with the public. The hope is that all these misunderstandings will be able to return as soon as possible, also to put an end to news of this kind.