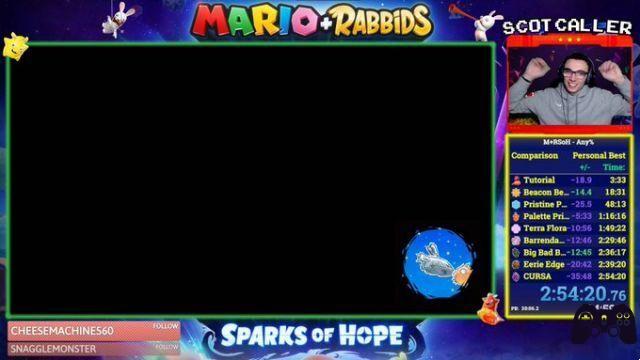 An enthusiast of Mario + Rabbids: Sparks of Hope He managed to complete the game 100% in about three hours. The general reception towards the title has been extremely positive both by historical fans and last-minute buyers, and all this love has also poured into the live broadcasts of streamers, who, in their sharing, always try to push themselves beyond.
@DavideSoliani Did you ever think your game could be completed in less than 3-hours? No glitches or cheats!? I think I have the first any% run of the game. Fantastic work! Loved every second of it. This is only the beginning! #MarioRabbids #SparksOfHope pic.twitter.com/qORJUHr6mV
— Scotcaller (@Scotcaller10) November 20, 2022
This new record with Mario + Rabbids: Sparks of Hope it was shared, specifically, by the streamer Scotcaller, with an image posted directly on his Twitter profile, as proof of the great feat he has accomplished. In presenting this achievement Scot specifies that in realizing it it did not use any glitches or cheats whatsoever, saying that he "loved" every second of this run dedicated to both speed and completion in every part of the game.
The numerous comments below the post, and the general responses to this feat, from the community of Mario + Rabbids: Sparks of Hope, shouldn't be surprising at all, also because the reception of this new Ubisoft chapter has highlighted a great interest from the masses right from the start, also confirming it towards its future.
We remind you that these days have also been revealed the first DLCs dedicated to Mario + Rabbids: Sparks of Hope, indicating their earliest publication around in early 2023. The specific details of each of them are not yet very clear, having only been announced for the moment, envisaging more substantial updates later.
All this attention towards Mario + Rabbids: Sparks of Hope it can only inspire confidence in the brand, and in a community that has apparently never tired of its characters. We just have to wait for new details regarding the next steps of the video game, also throwing an eye on the ability of its fans to break their own records.