High on life debuted today on Xbox consoles and PC. It is one of those games that was anticipated by the insider The Snitch, who in the course of a very short time has unveiled several announcements, all of which in the end turned out to be true. However, the method used by the Twitter user is not one of the most common: no reports or articles, but short and cryptic clues that stimulate players to wonder about which game or DLC will be announced after his tweets. A practice that has not been taken very well by the developers responsible for the latest exclusive third party from Microsoft, who have decided to respond within the game.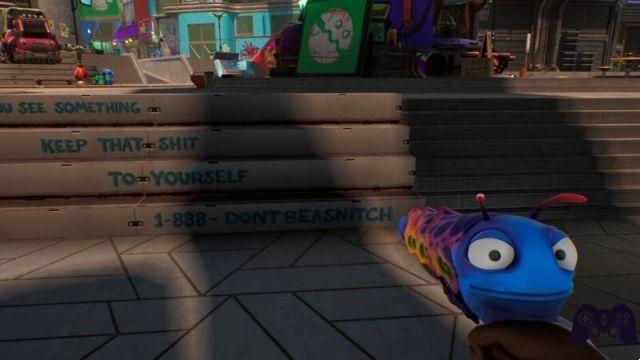 In fact, in the first twenty minutes of High On Life, players can come across what is in all respects a clear reference to The Snitch. Nothing too hidden: an inscription on a stairway, inviting anyone who knows something to get the facts about him. "Don't be a snitch", the final words of the writing. You can take a look too, thanks for the screenshot which we "captured" during one of our tests of the title, which took place immediately after the game was unlocked on Xbox Game Pass.
In the dictionary, to be a snitch means to be someone who literally snitches. The reference is therefore direct, not too veiled and gets to the point. The insider had unveiled High on Life using the tweet that you can reach at this address and that practically no one had understood: the game was in fact only announced during the Summer Game Fest 2022 Xbox conference.
As we reported at the beginning of the news, High on Life is available today. Also behind the game is one of the authors of Rick and Morty, one of the most popular television series of all time in recent years. Keep following Game Division for all the news and upcoming announcements from the world of video games.
Before saying goodbye, we invite you to subscribe to our YouTube channel.