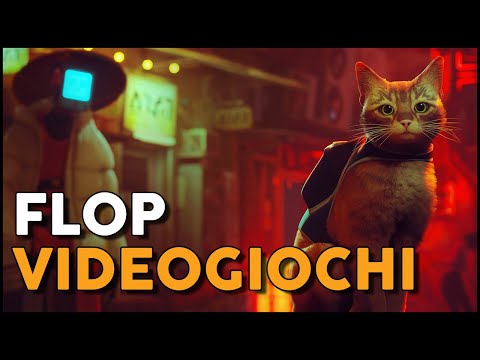 Another year is coming to an end and despite the "reduced" releases we still had the opportunity to play quite a bit. Precisely for this reason, as per tradition, we are ready to tell you about it the ten products, themes and FLOP moments of this 2022.
Before starting, some important clarifications. First of all, it is essential to specify that when we "speak" of FLOP we mean everything that during 2022 somehow did not fully meet expectations or who has disappointed more than expected and not with something extremely negative in an objective way.
Furthermore, the list was drawn up through an internal discussion of the editorial staff, where everyone had the opportunity to express their opinion on a particular title or dedicated theme. This means that it is said that if a video game has obtained an excellent rating in our reality it is necessarily TOP, on the contrary, it could have disappointed some of the users or the guys who write for us, which would lead to being identified as a FLOP.
During the next week, an article entirely dedicated to the TOPs will also arrive, or rather to the experiences that we particularly appreciated in 2022, but until then, enjoy our choices for these 2022 FLOPs, inviting you to have your say in the reserved space to the comments.
FLOP 2022, the videogame disappointments of the year
Stray
Yes, we know: Stray has been nominated for game of the year and won numerous independent awards, but is it really a great title? For us in the editorial team it is halfway, or rather it is a good experience which perhaps however has undergone an excessively excessive collective acclaim.
A huge artistic sector, but moved by a simplistic gameplay (sometimes boring) and a story that deals with an interesting theme, but told in a trivial way. Although for many Stray is a TOP, for us in the editorial staff (with almost all votes in agreement) it is among the FLOP titles of 2022. A nice meowing cat is not enough to make an experience fantastic.
Pokémon Scarlet and Violet
Sales record, gameplay always extremely attractive but a technical sector that is really at the limits of sufficiency. Pokémon is like this you either love it or hate it and in its Scarlet and Violet version it has probably reached the pinnacle both negatively and positively of what it represents.
What we can hope is that Nintendo does not focus only on earnings, but that it aims to improve the quality of one of the most important franchises ever in the videogame field.
Gran Turismo 7
Foreword, I liked Gran Turismo 7, otherwise I wouldn't have rated it positively in the March review. However, I feel like "punishing" him, because Polyphony is a software house that really loves cars, loves driving, but not the side dish.
In 2022 I would have liked to play a product with modern artificial intelligence, with an at least discreet damage system and a next-gen visual sector. Instead I found myself faced with an exceptional driving model surrounded by incredible content, but also by an extremely banal AI, a zero damage system and a graphics sector that was excellent (in some parts), but also very backward in others (rain system, backgrounds of the circuits).
Gran Turismo no longer travels alone, has important competitors and can no longer afford to be left behind. The hope is that the team can continue to update the game, bringing it to the levels it deserves in all respects.
The New Gen and price increases
The real FLOP 2022 is the current generation of consoles: mediocre, insufficient at times (we also talked about it in a video on the channel). A generation that does not mesh, does not have exclusive titles for PS5 and Xbox Series X|S of importance and it is not surprising.
In addition to this, the increase in the price of Xbox games and PlayStation platforms does not help, with the latter continuing (after two years) to be difficult to find in shops and stores.
Next year it will already be the third, will we finally be able to see something really interesting? Or should we keep the PS4 and Xbox One ballasts for quite a while longer? Meanwhile, the PC market goes ahead with technologies, forced to stay still with video games due to little news on the gaming side.
Overwatch 2
The first chapter is remembered as one of the best FPS (hero shooter) video games ever, perhaps the last great Blizzard video game before a series of long problems and controversies that have completely ruined the good name of the company, which now however seems to have recovering and about to launch a Diablo IV that smells of such quality.
Net of this, however, Overwatch 2 has failed to enter the hearts of the players for a long series of reasons: the genre is now little played, reduced content and few improvements compared to the first, popular, chapter. Overwatch 2 will necessarily have to go a long way to be able to reach the levels of its predecessor.
Google Stadia
The closure of Stadia, Google's streaming project, is certainly among the most burning disappointments of this year. A valid product from a technological point of view, perhaps the best Cloud Gaming on the market, but presented with a suicidal business model that has compromised its success.
We don't know if Google will sell or otherwise share its technology with someone (they would certainly be nice), but it is clear that the disposal of Stadia is really a disappointment, especially now where other companies such as Microsoft, Sony and Nvidia are investing to develop even more Cloud Gaming, with a large catalog but a general stability decidedly far from the results obtained by the Mountain View company.
The Callisto Protocol
Evaluated positively by myself, The Callisto Protocol proved to be an excellent title with a very interesting technical and gameplay base. Within the editorial staff, however, it was decided to consider it a FLOP due to the expectations that had been created around the experience itself, perhaps too high and anchored to its likely resemblance to Dead Space.
In addition to this, the PC version (which we have not yet had the opportunity to try) came out very problematic and with some defects that have not yet been resolved. In general, it is an interesting product with good qualities, the team could consider the feedback to work on a better sequel and able to respect the premises of all the players.
The controversy surrounding the Activision-Blizzard acquisition
In itself, the acquisition of Activision-Blizzard by Microsoft cannot be seen as a negative thing: titles in the Game Pass, greater control over a company with many internal problems and greater investments in video games now lost to oblivion such as Spyro, Soldier of Fortune and so on.
However, Activision-Blizzard also represents one of the strongest publishers on the market, capable of moving the masses and changing consumer opinion. For this reason Sony has waged a real battle to block the acquisition, a situation which has inevitably compromised the timing of the acquisition and which has generated an endless series of controversies which are monopolizing the news of the last few months.
Impossible not to consider this situation FLOP, where we ended up discussing more of "market and money" instead of videogame experiences.
A poor Xbox lineup
If 2021 was the year of Xbox, 2022 was the exact opposite. The Xbox gaming division disappoints with the heavy postponements of Starfield and the interesting Redfall, two of the "biggest" titles that were scheduled for release this year. The beautiful Pentiment, the final form of Grounded and the discreet As Dusk Falls are certainly not enough to save a decidedly disappointing situation.
In addition to this, the reviewable support of Halo Infinite and a series of questionable communication choices (no gameplay from the countless games announced years ago) have made the current year one of the worst for Xbox, which for a company that wants to invest in Game Pass (again indisputable) knows that he has really done too little. We'll see if 2023 with Forza Motorsport, Starfield and Redfall things will change for the better.
Steam Deck*
I know what you are thinking "Steam Deck is a great platform, why is everyone criticizing it?". Actually Steam Deck is not a real FLOP, we can consider it in limbo. A mobile PC that can do everything we ever wanted… but with many, many limitations.
Excessive weight, unsatisfactory cooling system and fluctuating comfort, as well as performance not exactly adequate for all types of games. However, it is also the first experiment by Valve and there is room for improvement and it is also important.