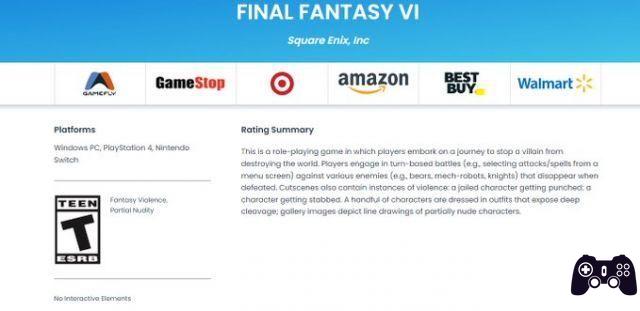 The hardcore fans of final Fantasy they know it well: the first chapters of this series have literally done history of video games. Depriving yourself of it, if you are passionate about it, is therefore an extremely inadvisable if not crazy choice. Over the years the first 6 chapters have been republished everywhere and in many different sauces, returning remastered and cleaned only on the store of Steam. It looks like things are about to change.
Final Fantasy Pixel Remaster games are ESRB rated for Switch/PS4 https://t.co/WiMLqZpNlL pic.twitter.com/n5gwfejnvg
— Wario64 (@Wario64) December 12, 2022
After coming out exclusively on Steam and remaining that way for about a year, it seems that the first 6 historic Final Fantasy remasters are about to also land on the various consoles. This was confirmed by the famous news aggregator Wario64 through a post on his personal Twitter profile, noting that these video games have been classified for PS4 and Switch by the ESRB site.
Obviously this specific information on Final Fantasy has not been confirmed in any way by Square Enix, even if such a dynamic, on the web, is not at all anomalous to the corporate modus operandi of the sector. In many cases, in fact, some publications were anticipated precisely by the release of such cards.
Staying on the future theme, in these days many details have been confirmed regarding Final Fantasy XVI, such as its official release date. Furthermore, if you are interested in Crisis Core Final Fantasy 7 Reunion, we invite you to take a look at our review on the new Square home restoration.
Even if the projects currently underway seem to be many, a remaster of the first 6 historical chapters would not displease historical fans who have never stopped loving the origins of their favorite series, literally consumed in every nook and cranny and version over the years.
Before saying goodbye, we also recommend that you drop by on our YouTube channel, where you can find videos dedicated to the videogame world at 360 degrees, with curiosities, goodies and reflections on the sector and the current approach possibilities it offers.