EA doesn't love me! I see no other reason than this for inviting me to this closed-door presentation of the new Dead Space Remake (which you can pre-order on Amazon). You know how far January 27, 2023 is still, just as you know how much I waited for nothing but to retrace the distressing corridors of the USG Ishimura... yet he wanted to invite me, making me wait even more spasmodic about this operation as much talked about as awaited by who, like me, grew up on bread and survival horror.
How do you say? Fanboys?! No, no, don't get me wrong! As much as I adored the first two Dead Spaces, and almost all the satellite productions related to them, since the announcement of this remake I have begun to experience conflicting emotions. And no! not because remake, remastered and reboot are "horrendous initiatives aimed only at speculating on poor chickens" but for the simple reason that a work like Dead Space deserves to be revisited with the right respect and awareness, in order to avoid sending everything to shit like EA herself did with the third chapter (which we must always remember that it never existed and was always just a bad dream).
Before you start to wince, or take up the pitchforks, because I ventured to say that I'm waiting for the remake of a title released "only" in 2008, I would like to remind you that in addition to being one of the most important productions, for the survival horror genre, of the seventh generation of game consoles, it was also a title capable of teaching. Capable of gathering the excellent ideas proposed by Capcom with the historic Resident Evil 4 and showing the world that it was possible to create a third-person survival horror without exceeding the action components, inserting co-op of any kind or punching boulders at room favor.
Furthermore, let's not tell ourselves stories, Dead Space is a brand that deserves to be dusted off and there are no other ways than through a remake capable of restoring the same sensations as the original chapter, through playful solutions in step with the times. How do you say? Would a new chapter have been enough? No! After the havoc done with the third episode of the series, a fourth chapter would have been viewed with skepticism, not to mention that the series has now been away from the scene for about a decade. Ah! I see! You say that a new IP in these cases would make more sense… should I remind you of the flood of criticisms directed at The Callisto Protocol because it is too similar to Dead Space, as if one always forgets that the two productions share the same creator?
Dead Space Remake, a new beginning
The reality of the facts is that to bring Dead Space back to life, a remake was needed, a production that resumed that essence aged damn well and dressed it in a new dress, in some ways more elegant. The real problem of these productions always remains the same: how do you improve something that, at least in our memories, was already perfect? The truth lies precisely in this sentence because, drum roll, Dead Space wasn't perfect and EA Motive showed it to me in no uncertain terms during a presentation capable of reassuring me about the success of this undertaking.
Similarly to what Capcom did with the remake of Resident Evil 2, EA Motive with Dead Space also decided to take the original product and fix all those aspects that, for one reason or another, didn't work yesterday as today . In addition to this enormous restoration work, the developers have also decided to include all those aspects that cannot be missing in today's video games, including some particularly interesting innovations. Starting right from the USG Ishimura, the huge spaceship which, as in the original Dead Space, is to all intents and purposes an integral part of Isaac's adventure and which in this remake has been made completely explorable, without all those constraints generated in the original version of the title from chapter changes or, very simply, from uploads.
One must not misunderstand the words of EA Motive, because as far as the USG Ishimura will be fully explorable, there will remain some areas that initially cannot be visited freely for purely narrative reasons. At the same time, however, the possibility of making the famous spaceship a freely explorable map has allowed the developers to introduce a completely new element in the Dead Space remake: the Intensity Director. This novelty sets itself the arduous task of keeping alive everything undead that moves through the corridors of the Ishimura, making the backtracking phases always different and unpredictable. The basic concept of the Intensity Director is to ensure that the player, even once he has become familiar with the intricate plan of the Ishimura, will always think twice before launching himself to recover a previously left resource.
After presenting the Intensity Director, the event guide did his utmost to show how Dead Space follows a very important mantra: rimanere "True To Original". To confirm his statement, I was shown an excerpt from the third chapter of Dead Space, placing the video side by side with an excerpt from the original game to show how much the developers wanted to keep the most iconic scenes, settings and jump scare intact. 2008.
We are undoubtedly on a different level compared to the Capcom remakes as Dead Space does not limit itself in wanting to "tell a story better" but works hard to improve the original game in many respects, remaining firmly in balance between the 1:1 copy and a completely new product. The video shown to me, in fact, shows a much better Dead Space than in the past, starting with a technical sector which, in practically every aspect, manages to make the general atmosphere even more anxious, where possible.
Isaac's voice changes according to his emotions, clearly showing fatigue, fear or lack of oxygen during radio conversations. What if you're wondering if I'm crazy? No, I'm not. EA Motive has decided to let Isaac speak in Dead Space, deeming this aspect of the original game too old to survive today. A questionable choice? Yes, until you notice how the dialogues present in this remake work without damaging the original atmospheres and, indeed, managing to make the narrative sector richer.
The rest of the presentation did its utmost to show how the "horror" aspects of the original title have been maintained, and even expanded, and how new technologies have made it possible to create a lighting system that is better in every respect, to offer a very more natural and able to allow the player to exploit Isaac's skills in a creative way and to guarantee a much more nuanced sound sector.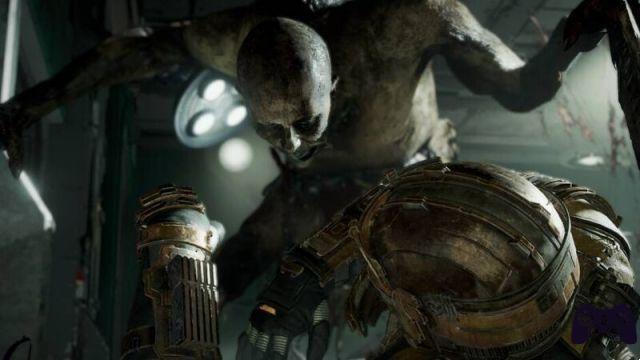 To close the presentation there was a very small moment dedicated to the importance of the Dead Space community during game development. EA Motive, in fact, wanted to consult with them in order to offer the best possible experience, first of all meeting the requests of the players. As I told you earlier, Dead Space has shown itself in splendid form and the recent presentation has done nothing but hearten me on the work of EA Motive. The remake seems well developed in every aspect, respectful of the original material and designed to embrace old and new players and offer itself as a restart for a series that has disappeared from the spotlight for too long now.