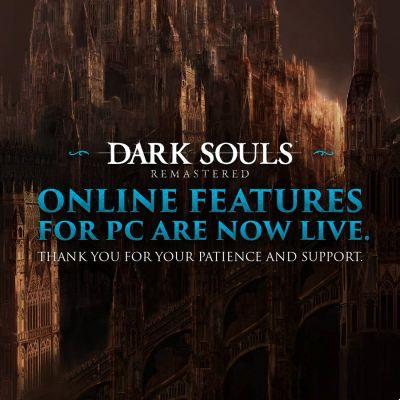 It took a while', but finally we can say it: the Dark Souls trilogy on PC is finally back online in its entirety. In fact, today FromSoftware announced the reactivation of the servers of the first game, obviously in a remastered version, given that the original one (the Prepare to Die Edition) it will no longer be fixed.
"The online features of the PC version of Dark Souls Remastered have been reactivated. Thanks again for your patience, your understanding and your support ", reads the short twitter launched over the last few hours. The press release is decidedly concise, but these few words are enough to see how the whole fan base around the game has begun to celebrate on Twitter, where the news was launched.
And how could we not understand them? It was early January 2022 when the Dark Souls series servers on PC were shut down due to a very serious vulnerability. The first to come back online, at the beginning of summer, were those of the third chapter, followed a few months later by the second. Today, almost a year after their shutdown, even the servers of the first chapter are available again. Thus ends one of the most absurd stories in the world of video games, which saw FromSoftware being forced to shut down everything only after the vulnerabilities in question, which had already been present for some time, had been made public.
Online features for the PC version of #DarkSouls: Remastered have been reactivated.
Thank you once again for your patience, understanding, and support. pic.twitter.com/IZ8lsfx3Tx
— Dark Souls (@DarkSoulsGame) November 9, 2022
Now, however, it will probably be the case to definitively retire the Dark Souls series. In fact, after Elden Ring, FromSoftware should be working on a new Armored Core. There is still nothing confirmed at the moment, however most of the rumors and rumors (decidedly true in some cases) they are pointing in that direction. Will it really be time for a revival of the series or are Hidetaka Miyazaki and his colleagues working on something completely different?